Published: July 31, 2005, By Edward Boyle, Contributing Editor
Narrow Web Converting Industry News
Proof on Same Substrate You Will Print On
COHOES, NY—Macaran Printed Products, whose customers include prominent companies in the food and beverage, pharmaceutical, health and beauty, office, pet, and household products industries, recently installed a Prediction digital halftone proofing system from Latran Technologies.
Says Sonya DiGirolamo, manager of Macaran's prepress department, "From a prepress standpoint, we selected Latran's Prediction based on one thing that no other proofer we looked at could do—proof directly on the same specific substrate that we were going to print the job on. We also like the fact that we have more control of the proofs to the printed piece because, like our press, the Latran prints the proof using dots."
Macaran's controller/CFO Ed Wixted adds, "…Our previous proofing system would give us a ballpark idea but was not anywhere near as precise as we're able to get with Prediction." DiGirolamo says the Prediction is quick and easy to use, and she enjoys the consistency and repeatability of the system. "In one week, we output about 40 proofs for an account. We produced them consecutively…[they] were extremely consistent from one to the next."
SUPPLIER INFO:
Latran Technologies—latran.com
---
---
Instaprep Fulfills Its Promises
Dick Vaughn, owner of KDV Label, Waukesha, WI, boasts, "We print everything from narrow-gauge film for the beverage industry, to blister cards and thermal labels, to highly durable labels for industrial applications." With this range of products, Vaughn knows what he wants in a press. And what he wanted when he chose a new press recently was the Aquaflex Instaprep.
Vaughn's had four Aquaflex presses and "felt confident the 10-inch Instaprep would stand up to its promises of fast job turnaround and excellent registration."
The press features the patented ICT quick-change system said to enable tool-free, off-line job setups and cleanups. Says Vaughn, "With the Instaprep's quick-change system, we've increased our uptime and productivity and reduced our labor cost."
SUPPLIER INFO:
Aquaflex—aquaflex.com
---
---
Flexo Press Applies Holograms
The first Omet Varyflex press for the tobacco industry is heading to a box plant in China.
With ten printing stations and two in-line die-cutting stations, the press can interchange one rotogravure printing unit and one silk screen unit. Both can run UV and solvent- and water-based inks.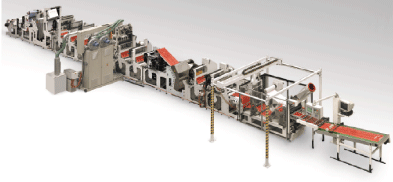 Hologram application units serve to protect products from counterfeiting. These include a hologram inserting unit that runs to 100 mpm with up to six stripes of holograms; and a hologram paper unit that allows the in-line production of hologram paper and carton.
Once a substrate has been printed and had all value added, it can be laminated with film or cold foil and be varnished to protect the artwork. The board then is fed to die-cutting stations where the boxes are embossed, creased, and die-cut. The press will be used mainly to produce cigarette and tobacco boxes and their packaging, including soft-pack, flip-tops, outer boxes containing ten single packs, and wraparound film on the boxes.
SUPPLIER INFO:
Omet—omet.it
---
---
Nilpeter Strengthens Latin American Presence
SLAGELSE, DENMARK—Nilpeter A/S reports it is continuing to strengthen its presence in Brazil and Latin America, most recently through its attendance at the second Latin American Label Summit in São Paulo, attended by 580 delegates.
"Establishing closer contact with our customers and partners in the region helps us to better understand local needs and provide the products and services that stimulate growth not just for us, but for the entire industry, "says Jakob Landberg, sales director at Nilpeter.
To this end, Nilpeter teamed with New Foil Machines, Rotoflex, Raflatac, and ANI Inks to form a combined Label Lounge at the tabletop exhibition, where visitors found a wider range of label and package printing options.
---
Boise Commits to P-S Market
BOISE, ID—Boise Paper, a business segment of Boise Cascade Co., expects to increase p-s paper production by an additional 50,000 tons to more than 150,000 tons by the end of 2006. Boise, a manufacturer of p-s papers for more than 30 years, offers a wide range of substrates for facestocks and release basestocks.
The company also will conduct a strategic review to determine the best means of expanding p-s production to meet global customer demand beyond 2006. Among the alternatives: rebuild an existing 250-in. machine for p-s paper production.
---