Published: July 31, 2005, By Edited by Deborah Donberg
Covering the Full Spectrum of Industry News, Events & Activities
EUROTALK
Labor & Labels Collide
by Corey M. Reardon, AWA Alexander Watson Assoc.

A serious situation arose recently in the Finnish paper industry. Paperilitto, the Finnish Paper Workers' Union, had been talking since November 2004 with employers over compensation for keeping mills open over the Christmas and midsummer holiday periods.

The employers' offer of a cash payout and an 11-hr reduction in annual working hours was rejected. The result was weeks of union protests, wildcat strikes, and an overtime ban for more than 24,000 workers. On May 18 member companies of the Finnish Forest Industries Federation—including UPM-Kymmene and Stora Enso—imposed a 4-wk staff lockout to minimize the negative effects of repeated shutdowns of the pulp mills and paper machines.

To compound the difficulties, the paper union in neighboring Sweden supported the Finnish paper workers with an overtime ban at 16 mills there. Strikes and the lockout shut down production for 47 days; Finland's paper industry was at a virtual standstill for more than six weeks.

A new 3-yr collective labor agreement between workers and employers led to re-startup on July 1, but the cost was high. One-third of Finland's total exports are in paper industry products, and the situation impacted other Finnish industries (particularly road transport and shipping) as movement of forest products came to a standstill. Lost earnings are said to be in the range of ₢1.5 billion.

There are also implications for the global print and packaging industry: Finland represents about 15% of global paper products production, including specialties such as label facestocks and release liner, with an even higher percentage of release liner base for labeling coming from Finland.

Higher pulp prices later this year already have been predicted, but market shortages of paper—already in evidence for some qualities—certainly will lead to even greater pressure on margins in the label industry. This could further drive the industry to look at film products.

Paper label stock producers have in some degree been protected from major loss of business to film label stocks by the lower price of paper compared to film, but if this differential is eroded, the move to film could be accelerated.

AWA Alexander Watson Assoc. is an international market research consultant company for the converting and packaging industries.
---
---
Flame Treaters Added to Operation
When Douglas-Hanson, Hammond, WI, wanted to improve products and productivity, it chose PowerFlame surface treaters from Enercon Industries Corp. for its coating and laminating lines. The first treater will be installed on a Polytype extrusion coater/laminator. Douglas-Hanson serves a market base that includes p-s labels, flexible packaging, p-s tapes, automotive sealants, and medical products.
SUPPLIER INFO:
Enercon Industries Corp.—enerconind.com
Polytype America—polytype.com
---
---
Gravure Press Goes to Yonkers
Excelsior Packaging Group, Yonkers, NY, has purchased a Heliostar GE rotogravure press from Windmoeller & Hoelscher Corp. Excelsior provides packaging to the food, industrial, medical, and healthcare industries.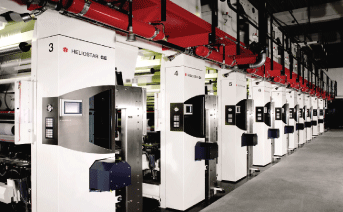 The ten-station press features in-line lamination and in-register backside coating. It is expected to be installed at the converter by the end of 2005 and to be fully operational by January 2006.

W&H reports this is the first North American installation of the third-generation Heliostar press, which was introduced at Drupa 2004.
SUPPLIER INFO:
Windmoeller & Hoelscher—whcorp.com
---
---
Inserter Module Comes with Static Protection
The P500 inserter module from Tamarack Products features Ion Industrial's multi-bar Virtual AC static neutralizer to protect RFID circuitry from damaging electrostatic discharge (ESD).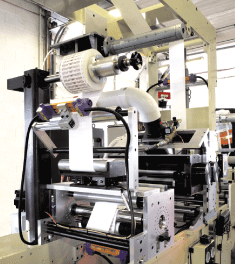 To prevent ESD failures, Tamarack partnered with Ion to determine strategic placements of the Virtual AC bars within the RFID applicator. The Virtual AC modular systems are said to be uniquely suited for multiple locations. On the Tamarack P500, seven bars are daisy-chained together and share a single power supply. To verify the static neutralizing process, line operators view real-time system feedback via the Virtual AC control module.

The Tamarack inserter module is designed for both new and retrofit press installations. It was installed on a Mark Andy 2200 narrow web press to demonstrate RFID application technology at a seminar held this past April at Mark Andy's Milford, OH, (Comco) production plant.
SUPPLIER INFO:
Ion Industrial—ion.com
Mark Andy—markandy.com
---
---
AGREEMENTS
Bobst to Distribute Gerber Profile
ROSELAND, NJ—Bobst Group USA has entered into an agreement with Gerber Innovations to distribute the Gerber Profile Die Tool Production System, a flat bed routing system.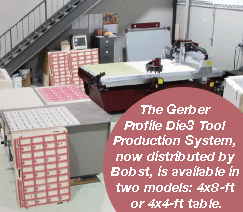 Alex Gigon, director of customer service and support operations at Bobst, says, "The Profile provides versatility and precision at a very economical price. …In addition to being a high-precision router system for generating tooling, it has the capability to operate as a fully functional sample table, so a plant gets the benefits of dual capability while investing in only one footprint."

"The Bobst/Gerber partnership will be very beneficial for all parties involved," says Mark Bibo, global sales manager at Gerber. "Customers will have the convenience of being able to go to one source for a complete system and the latest technology. For Gerber, working closely with a market leader such as Bobst will provide greater visibility in the market. The opportunity to offer the Profile as part of a complete die-cutting solution will allow customers to better realize the benefits of having on-demand tooling as part of their operation."
---
IP Sells Industrial Papers Segment
STAMFORD, CT—International Paper has signed an agreement to sell its Industrial Papers Business, which includes the lightweight packaging papers and p-s papers segments and related converting assets, to Kohlberg and Co. for approximately $180 million, subject to certain adjustments at closing.

Included in the sale agreement are paper mills in DePere and Kaukauna, WI; the Akrosil business with paper converting facilities in Menasha, WI, Lancaster, OH, and Heerlen, Netherlands; and Thilmany Packaging located at the Kaukauna mill.

The agreement also includes a supply contract for IP to produce lightweight specialty papers at its Androscoggin, ME, mill.
---
---
SECURITY PACKAGING
Sherwood Process Honored
WIDNES, CHESHIRE, UK—Color-change specialist Sherwood Technology has been honored for "Outstanding Achievement in Anti-Forgery Technologies" at the 6th Product and Image Security Convention (PISEC) in Vienna, Austria.

Sherwood won for its development of a secure, laser-activated color-change chemistry. The process induces an irreversible chemical change in the material by the application of an external laser source that is accompanied by a change of color in the material. The resulting image or mark cannot be tampered with at any stage in the supply change process, Sherwood reports.
---
DuPont Takes Key Role in Security Packaging
WILMINGTON, DE—DuPont Packaging & Industrial Polymers (P&IP) and its Security & Solutions business reports an effort to position itself as a worldwide leader in providing security-related products and service for packaging products in the global fight against counterfeiting and tampering. To this end, DuPont has purchased an equity stake and made a marketing agreement with identif GmbH, Erlangen, Germany, a supplier of global packaging solutions.
Goals include helping to prevent the introduction of counterfeit products and the diversion of goods; helping customers regain lost revenue from diversion and/or counterfeits; protecting DuPont customers' brand integrity; and more.
Alliance Unveils Secure Box
AUGSBURG, GERMANY—Members of PrintCity, an alliance of more than 40 firms, combined their expertise to unveil the Secure Folding Box during P, the Intl. Trade Fair for Process-Oriented Packaging Production, held in Stuttgart, Germany.

The box demonstrated how modern printing methods can protect against product piracy and highlighted the role of packaging in the protection of brand image and product. Visual features now available for folding boxes include fluorescent inks, overprint varnish, embossing, or special collapsible cartons.

Security elements such as nanotext and hidden images can be incorporated into virtually any packaging, and the range of detection methods for distinguishing the original from copies include filter foils or UV lamps, laser readers, and microscopes. For more information visit printcity.de.
---
RFID Circuit Printing Project
BOXMEER, NETHERLANDS—Stork Prints and silver coating producer Spraylat (Aachen, Germany) have collaborated to demonstrate the effectiveness of rotary screen printing as a means of mass-producing RFID circuits with speed and accuracy.

Stork's 16-in.-wide RSI (Rotary Screen Integration) unit was used to print di-pole antennae of 150 mm x 25 mm at 30 mpm, using a conductive ink designed by Spraylat. This speed is said to be a significant improvement over previous productivity levels. The project was commissioned by RAKO Security Label (Witzhave, Germany). Says Thorsten Wischnewski, head of RAKO's RFID-technology group, "To meet the high-growth demand for RFID labels, label industry players have to pool resources and explore ways of increasing productivity. The collaboration with Stork Prints and Spraylat had this aim in mind and makes us well placed to offer large-volume RFID label orders with relatively short lead times."

The 20,000 batch of antennae was printed by Stork in two hours. Antenna ink thicknesses were 5 µm thick and printed on a 60-µm PET pearlescent substrate.
---
TI Technology Aids Amex Card Security
DALLAS, TX—Texas Instruments (TI) reports American Express has begun issuing "Blue from American Express" consumer and small business credit cards with the ExpressPay contactless chip in all 50 states. ExpressPay uses 13.56 MHz RFID technology from TI. TI's ISO/IEC 14443 tags use 128-bit encryption, said to be the highest level of encryption commercially available today. TI says the ISO/IEC 14443 standard allows for an increased level of security because it supports significantly faster rates of data exchange, enabling more complex security information to be passed between an RFID card and reader without affecting the user's experience. Read ranges for products based on the ISO/IEC 14443 platform are limited to 4 cm (about 1.5 in.), further increasing the security of the transaction.
---
AIM On-Line Store is Open
PITTSBURGH, PA—AIM Global has launched an on-line store and document library for critical Automatic Identification and Mobility international standards, implementation guidelines, presentations, and white papers. The store is expected to increase awareness of the documentation and other resources the association has to offer implementers and vendors of bar codes, RFID, etc. Under a special license agreement with the American National Standards Inst., AIM now offers electronic copies of all relevant automatic ID international standards. For more information visit aimglobal.org/estore.
---
For more on Security Packaging, see this month's
Special Report
from AWA Alexander Watson Assoc.
---
---
EXPANSIONS
New Facility for Transdermal Adhesives
BRIDGEWATER, NJ—National Adhesives, a unit of National Starch and Chemical Co., announces a new manufacturing facility in Salisbury, NC, to boost its supply of transdermal-grade adhesives. The facility will be built alongside the existing Salisbury manufacturing site, with construction scheduled to be completed by the end of 2005 and production beginning in 2006.

The investment will accelerate the company's efforts to supply p-s solution acrylic and solution rubber adhesives used in transdermal drug delivery systems.
---
---
ACQUISITIONS
Kodak Completes Creo Acquisition
ROCHESTER, NY—Eastman Kodak Co. has completed its acquisition of Creo, whose portfolio is now part of the Graphic Solutions & Services operating unit in Kodak's Graphic Communications Group (GCG).
---
Indacomp Now Part of Litzler
CLEVELAND, OH—C.A. Litzler Co. adds to its family of companies by acquiring Indacomp Corp., which specializes in custom automation applications for a variety of industries. Indacomp now will be known as Litzler Automation and will serve existing Litzler customers with high quality control systems and expanded automation solutions.

Indacomp founder Chris Grootenboer joins the new company as director of automation.
---
Barry-Wehmeller to Acquire PCMC
GREEN BAY, WI—Paper Converting Machine Co. (PCMC) has signed a letter of intent to be acquired by Barry-Wehmiller Cos., St. Louis, MO. Barry-Wehmiller, with more than 2,800 employees, has three main areas of expertise: packaging automation, corrugating, and sheeting equipment; IT; and engineering consulting.

PCMC president and CEO Frederick W. (Rick) Baer says, "This move will ensure the long-term viability of the company. By combining forces with Barry-Wehmiller, we will be able to compete more effectively in the global marketplace. …We have identified synergistic opportunities in the sharing of technology, operational practices, and resources to further strengthen PCMC."
---
---
ALLIANCES
Flxon, Keco Form Alliance
CHARLOTTE, NC—Flxon has formed a marketing and service alliance with Keco Engineered Coatings, Indianapolis, IN. Flxon is the exclusive North American distributor for Swedcut printing and coating doctor blades. Keco develops engineered coatings to reduce cleanup, friction, and wear of press parts such as ink pans, rollers, chambers, and more.
---
Omron Briefs Editors on a Good Year
by Nsenga Thompson, Associate Editor
SCHAUMBURG, IL—Omron Corp. hosted its annual Editor's Day event, June 29–30. This event was a platform to introduce trade publication editors to the company's new products as well as promote some significant partnerships Omron has developed over the past few years. Several of these partners, including Domino Amjet and Motomon, were in attendance for a tabletop fair the company hosted on June 29.

Omron reported sales of $5.65 billion worldwide in the fiscal year ending March 31, and net income of $280.1 million. This is a year-to-year increase for the company of 4.1% in sales and 12.6% in net income.

Leading this growth was the corporation's industrial automation division, with worldwide sales of $2.3 billion, an increase of 9% over the previous year. Industrial automation sales by Omron's parent company in the US outperformed that figure, with dramatic double-digit growth over the previous year.

"This has been a record year for us in automation sales," said Craig Bauer, president and chief operating officer. "I credit our spectacular growth, in an uncertain business climate, to our associates' increased attention to customer service, our new strategic focus, and our success in the packaging space."
---
Davis-Standard Opens New Lab
PAWCATUCK, CT—Davis-Standard announces Killion Laboratories, a 4,350-sq-ft facility in Houston, TX, that is a partnership between Davis-Standard and Jorgenson Machinery. The facility augments Davis-Standard's lab capabilities in Pawcatuck and will offer a full range of Killion lab and small systems equipment, including lab-scale sheet, blown film, cast film, and compounding systems.

The company reports the Houston site will serve not only its customer base in Texas but also California, the Midwest, and in between. "This laboratory will also focus primarily on process development, whereas our Pawcatuck lab is placing more emphasis on screw design," says Simon Dominey, manager of Davis-Standard's specialty systems, fiber, and laboratory groups.
---
Two Flint Companies Now One
ANN ARBOR, MI—Progressive Color Media, a wholly owned sub. of Flint Ink, has joined the operations of Jetrion, also a wholly owned sub. of Flint Ink. Says Dr. Kenneth Stack, president of Jetrion, "With integrated operations, [Progressive] gains access to Jetrion's established sales channel, and Jetrion adds color management capabilities to our portfolio of customer services."

Progressive's director of services, Dan Goodenow, now reports directly to Stack. Progressive's president, Diane Watt, will guide the transition and then move to a business development role for Flint Ink.

In other news from Progressive Color Media, the company is partnering with Prepress Training Solution to offer on-line, interactive, 24/7-accessible training on the fundamentals of color management. Visit procolormedia.com.
---
---
AGREEMENTS
Kluge, Cimex to Partner
ST. CROIX FALLS, WI—Brandtjen & Kluge announces a partnership with Cimex Corp., Belchertown, MA, a full-service computer integration company.

The agreement will allow Kluge to package Cimex CimPACK Lite and Diemaker software modules with the Kawahara Automatic Blank Separator. The software assists users in the correct layout of die lines for efficient blanking on the Kawahara separator.
---
---
SHOW NEWS
Vegas to Host the Industry
PARAMUS, NJ—The last week in September is shaping up to be "Industry Week 2005" in Las Vegas, according to H.A. Bruno, organizer of CPP Expo, debuting September 26–28 at the Sands Expo & Convention Center. Also on the agenda that week in Las Vegas will be Tappi's PLACE (September 25–29) and Tappi's Corrugated Packaging Conference (September 26–27), both at Caesars Palace. Registration now is open for both Tappi programs.

Several associations will be holding annual fall meetings, including AIMCAL, Radtech, AICC (Regions I and II), Film and Bag Federation, and the Composite Can and Tube Inst. This is all in addition to Pack Expo Las Vegas, September 26–28, at the Convention Center.

Details for all the events and meetings are available to CPP registrants upon request. For more information contact H.A. Bruno at 201/543-5060 or visit cppexpo.com.
---
---
PARTNERSHIPS
Collaboration to Promote Water-based Acrylics
PHILADELPHIA, PA—Rohm and Haas Co. has entered a collaboration with SpecialChem, an on-line innovation and solutions accelerator focusing on specialty chemicals and plastics. The purpose of the partnership is to increase the adoption of leading-edge water-based acrylic technology in the adhesives and sealants industry by providing formulators with 24/7 on-line access through a web-based expertise platform at specialchem4adhesives.com.

The site will offer information on the benefits of water-based acrylics as well as formulation tips and expert advice on product development efforts.

Says Jonathan Hastings, European general manager for Rohm and Haas Adhesives and Sealants, "…Both companies will work jointly to help formulators and converters in pressure-sensitive adhesives and caulks applications to assess and implement these solutions as high-performance and cost-effective alternatives to solvent-based products."

The two companies collaborated in 2004 for acrylic emulsions for the coating industry.
---