Published: June 30, 2005, By Edited by Deborah Donberg
Covering the Full Spectrum of Industry News, Events & Activities
New Plant, New Press
Latin America's first Rotomec RS 4004 gravure press is up and running in a new production plant belonging to flexible packaging converter Converflex Argentina, headquartered in Buenos Aires.

The new plant, located near Buenos Aires in Lujan, is one of Converflex's three facilities, and the new press is the fourth Rotomec owned by the company. The 47-in.-wide RS 4004, featuring electronic shaft technology for quick changeovers, joins a nine-color 3000-1, a nine-color 3000-3R, and an eight-color 3000-3R ES fitted with electronic shaft.

Converflex, part of the Arcor Group, specializes in flexible packaging for powdered milk, confectionery and bakery products, frozen foods, personal hygiene products, and detergents for major consumer product manufacturers including Nestlé Purina, Unilever, Danone, Dànica, Las Marias, and Molinos.
SUPPLIER INFO:
Bobst Group USA—bobstgroup.com
---
---
Corrugated Printer Hosts Open House
BELLWOOD, IL—Digital POP Solutions (DigiPops), a short-run digital printer of corrugated products and other POP materials, held an open house May 24–25 at its full-service print production facility in Bellwood. The event featured print production and workflow solutions from Scitex Vision and Esko-Graphics.

The event, cosponsored by Scitex, featured the company's latest digital solution for the corrugated industry, the CORjet digital printer, which delivers full sheets to 160 x 320 cm (63 x 126 in.) and to 10 mm (0.39 in.) thick with the capability of nesting and grouping several combinations of graphics and the ability to personalize each of them.

The open house also featured Scitex Vision's XLjet, Turbojet, and VEEjet, as well as Esko-Graphics DCM22 digital die-cutter.
SUPPLIER INFO:
Scitex Vision—scitexvision.com
Esko-Graphics—esko-graphics.com
---
---
UV Curing Adds Gloss to Folding Cartons
A three-lamp UV curing system from Prime UV Systems is at work at Ling Industries, headquartered in Warwick, QC, Canada. The lamps, installed after the in-line coating unit on a new BHS in-line flexo press, are being used to cure UV overprint varnish on folding cartons.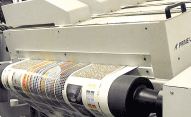 "With Prime UV on our BHS press, we have increased our folding carton capabilities by curing UV overprint varnish in-line at speeds exceeding 900 feet per minute," says Daniel Hern, manager of Ling's flexo department. "UV high gloss makes our customers' products stand out on store shelves, allowing us to stay ahead of the competition in this highly competitive market."

Ling serves Canada, New England, and eastern New York with folding cartons for high-end packaging markets in the personal care, tissue, food, and beverage industries.
SUPPLIER INFO:
Prime UV Systems—primeuv.com
BHS Printing Machinery—bhsworld.com
---
---
ALLIANCES
Mamata, Italwork Join Forces
GUJARAT, INDIA—Mamata Machinery reports a strategic alliance with Italwork Machinery, Milan, Italy. Mamata, with more than 1,700 installations in 65 countries, says the alliance will offer customers the combination of "European know-how and Indian manufacturing expertise."

Italwork now represents Mamata's complete range of bag- and pouchmaking equipment in Austria, Bulgaria, Croatia, Czech Republic, Hungary, Italy, Portugal, Romania, Slovak Republic, Slovenia, and Switzerland.
---
National Adhesives Shows Its Convictions
BRIDGEWATER, NJ—National Adhesives announces a strategic alliance with Corrugated Adhesives Intl. (CAI), a Minority-Owned Business Enterprise (MBE), to provide a complete line of products, services, and in-plant service to corrugating businesses throughout the US.

Jeffrey Kolpa, marketing manager for corrugating adhesives at National Adhesives, says, "The partnership was formed in response to the corrugated market's request for increased diversity with its vendors. …CAI is unique in that they have the experience to meet the service needs of the industry with an MBE certification."

CAI offers adhesive materials and additives, as well as process training, equipment troubleshooting, and best-practice implementation. National Adhesives is a unit of National Starch and Chemical Co.

CAI president Carl R. Tinsley, says, "We have been fortunate to join a family of organizations aligned with National Starch and Chemical. National is an organization that reflects its convictions related to diversity by providing training, insuring product availability, and matching technical resources with MBE support opportunities."
---
---
ASSOCIATION NEWS
PLGA Makes Changes
NEW MADISON, OH—The Packaging and Label Gravure Assn. Global (PLGA) reports its biennial Technical Conference will now become an annual event, beginning with the Oct. 19–21, 2005, conference to be held in Charlotte, NC.

PLGA also announces it has moved up the deadline for the Technical Awards Competition four months so winners will receive their awards and trade recognition during the fall Technical Conference.

For more information, contact PLGA at 937/996-0328 or visit plga.com.
---
---
SUPPLIER NEWS
PCMC Nonwovens Tech Conference a Hit
by Yolanda Simonsis, Associate Publisher/Editor
GREEN BAY, WI—The first annual Nonwovens Converting Technical Conference staged by Paper Converting Machine Co. (PCMC) and held June 8–9 at the company's Green Bay headquarters, was an overwhelming success, according to David Kessenich, PCMC global sales manager. "Our Technical Conference was attended by over 200 nonwovens professionals from all over the world."

The two-day, free event featured expert presentations from a variety of suppliers addressing the latest advancements in nonwovens printing, coating, fluid application, bonding, and embossing.

It is becoming an increasingly popular trend for equipment suppliers to offer such events for their customers because of their effectiveness from both the attendees' perspective as well as from the suppliers', since the audience's time and attention are focused fully on technology of specific interest. While educating attendees, PCMC also featured a plant tour to showcase some of its nonwovens printing/converting equipment.

At the conclusion of the day-and-a-half lecture portion of the event, which was held at Northeast Wisconsin Technical College, people were treated to demonstrations at the PCMC Technology Ctr. of the Evolution in-line, servo-driven, multi-substrate flexo press; Infiniti CI gearless press; and Clipper nonwoven line. Here they viewed advances in nonwovens converting and printing as well as the actual conversion of printed and packaged wet wipes samples on the Clipper short-run, modular lab line.

Kessenich says PCMC will build on this success and "develop a whole new range of interesting topics for next year" while remaining "relevant and up to date to keep people excited about attending our annual event."

The golf outing and outdoor evening event preceding the business portion of the program was a great ice breaker.
---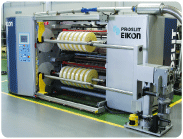 New Company Offering Slitters
GIRONA, SPAIN—Proslit is a new company formed by a joint collaboration of Comexi Group and Kontrelmec, also of Girona. With the backing of its parent company, Proslit will design and manufacture slitting/rewinding machinery in the medium to high range for the converting and flexible packaging markets.

The two ranges of equipment now available are the Eikon (pictured) and the Duo, plus a doctor machine for recovering and reclaiming faulty rolls, and a semi-automatic core cutter.

The Eikon uses a turreting rewind system and a completely automatic operational cycle. Standard features include a motor-driven, shaftless unwinder with automatic hydraulic roll loading; shear and razor slitting options; independent tension control for each rewind shaft; automatic stop for diameter, length, or printed indicators; and more.
---
---
LISCENSING AGREEMENT
Conformer Licenses TanaSeybert
GREAT NECK, NY—Conformer Expansion Products reports TanaSeybert, New York, NY, is its latest licensed manufacturer. Conformer's products include a patented collection of envelopes, packaging, and pocket folders designed to hold variable quantities of materials.

TanaSeybert chairman David Jurist says, "We found the line added value for our clients by fulfilling two specific needs: It creates a flat, flexible folder with a large capacity, and it provides a product that saves on manufacturing, shipping, and storage costs."
---
---
EXPANSIONS
Converter Expands Growing Business
CAROL STREAM, IL—Packaging Personified reports several key investments in its two Midwest converting facilities. The company has purchased two Ro-An Webmaster Model 10016 high-speed bag machines, which are scheduled for installation at the company's Sparta, MI, facility.

The converter also is close to completing the implementation of a new ERP system. This new software will link production and sales offices. The software is said to be customized to meet the company's needs and works within its standard operating procedures.

In addition, Packaging Personified will be adding a rebuilt six-color, CI printing press in Sparta and an ink blending room, which will allow for better inventory management and will become a facility for color management.
---
---
ACQUISTIONS
KPG Acquisition Complete
ROCHESTER, NY—Eastman Kodak Co. has completed its acquisition of Kodak Polychrome Graphics (KPG) through redemption of Sun Chemical Corp. 50% interest in the joint venture. KPG now is part of Kodak's Graphic Communications Group (GCG).

Kodak will implement a new GCG organization, comprising two operating units, a strong regional structure, and integrated sales and service forces.

One operating unit is Graphic Solutions and Services, led by Jeff Jacobson, president, and including workflow and prepress, digital printing, and consumables such as printing plates, film, flexo prints, and digital halftone media. When Kodak's planned acquisition of Creo is completed, Creo will be included in this unit.

The second unit is Transaction and Industrial Solutions, led by Nachum "Homi" Shamir, president, and including CIJ, industrial ink jet, wide-format ink jet, document scanners, and business process services operations.
---
---
JOINT VENTURE
New Venture for Polymer Processing Equipment
MIDDLEBURY, CT—Crompton Corp. reports it has completed the formation of a polymer processing equipment joint venture with Hamilton Robinson, a private equity firm based in Stamford, CT. The new venture is designated Davis-Standard LLC (D-S LLC).

D-S LLC, headquartered in Pawcatuck, CT, combines Crompton's Davis-Standard business and Hamilton Robinson's Black Clawson Converting Machinery Co. It has annual revenues of approximately $220 million, with Crompton as the majority owner.
---
---
AGREEMENTS
Enercon, Ciba in Technology Venture
MENOMONEE FALLS, WI—Enercon Industries Corp. and Ciba Specialty Chemicals, High Point, NC, announce a joint development agreement that synergizes the surface modification Plasma3 technology of Enercon with Ciba's new nano-grafting PrimeIT technology.

The agreement promises development of an advanced surface treatment technology said to allow customers of the two companies to optimize surface effects on all films, foils, papers, metals, and nonwovens through the combined use of these technologies.
---
---
ENVIRONMENTAL NEWS
High Court Rules on Cleanups
CHICAGO, IL—The Supreme Court recently issued a decision limiting the ability of parties that clean up contaminated property to obtain reimbursement from those who caused the contamination, reports Gardner, Carton & Douglas, PFFC's environmental legal consultants.

In Cooper Industries Inc. v. Aviall Services Inc., the Court found that a party who incurred investigation and remediation costs to clean up contaminated property could only bring a CERCLA (Comprehensive Environmental Response, Compensation, and Liability Act) contribution claim if, in the first instance, the party seeking contribution for clean-up costs had itself been subject to a "civil action" requiring the cleanup.

The Court also recognized that contribution was available under CERCLA for those who conduct a cleanup pursuant to an administrative or judicially approved settlement.
---