Published: June 30, 2005, By PFFC staff
Polymers, Substrates, Adhesives…
Brushed, Metallized Paper Offered
Brushfoil, Guilford, CT; 800/493-2321; brushfoil.com
Paper stocks have the appearance of "brushed metal." Product is offered in rolls and sheets in a wide variety of metallic colors and patterns. Company reports designers and printers now have the flexibility to achieve this finish with or without lamination where thinner or non-board applications are required. Said to perform well when printed using UV and other ink systems.
---
BOPP Construction is Conformable
Spinnaker Coating, Troy, OH; 800/543-9452; spinnakercoating.com
A new line of film-on-film p-s constructions, designated Insight, includes TC Clear Conformable BOPP, a 2.0-mil facesheet designed for applications requiring a full-squeeze, no-label look. It is said to be well suited for out-of-round, irregularly shaped packaging applications. Insight line includes four facestocks overall, all offered trimless and paired with company's 20-20 adhesive, an ultra-clear, acrylic emulsion said to have good wet-out characteristics.

---
Flexo Inks Provide Sharp Images
Uvitec Printing Ink, Lodi, NJ; 973/778-0737; uvitec.com
The 97 Series of high-density flexo inks is designed for printing applications using high anilox rollers (800 BCM or higher) and other extremely fine applications. Reported benefits include excellent cell release characteristics; clean, sharp, consistent images; strong adhesion and improved hot stamping quality; and excellent throughcure that allows presses to operate at higher speeds.

---
Inks Suited for Food Packaging
Sun Chemical, Northlake, IL; 708/236-3686; sunchemical.com
FlexoPure general-purpose laminating ink system can be used on a wide variety of flexible packaging films. Features an excellent solvent release and very low gas chromatograph measurements, company reports, making it suitable for food packaging. Can be used for line and screen printing on a wide range of aniloxes. Said to laminate well using 100% solids and solvent- or water-based adhesives.

---
Print Film for In-Mold Decorations
Bayer Films Americas, a div. of Sheffield Plastics, Berlin, CT; 866/659-9023; plastics.bayer.com
With Makrofol DE film, user can print accurate, process-matched colors and precise graphics on a thin sheet, company says. The film then can be die-cut easily and cleanly, flat or formed, inserted into an injection molding tool, and molded with resin to make injection-molded parts for the automotive, consumer and commercial appliance, medical device, and other industries.

---
Transfer Adhesives Offer High Tack
Rayven, St. Paul, MN; 800/878-3776; rayven.com
The 5000 Series features 2- and 4-mil custom transfer adhesives in common widths of 12, 18, 24, and 27 in. Called ideal for application without primers or surface preparation, line features high initial tack and what is said to be unmatched long-term adhesion with optical clarity and exceptional temperature and chemical resistance. Applications include POP displays, nameplates, and more.

---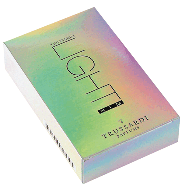 Shim Lines Gone from Foil
Kurz Transfer Products, Charlotte, NC; 704/927-3700; kurzusa.com
Laser Select foil is said to offer outstanding stamping characteristics. Shim lines have been eliminated almost entirely due to a modified manufacturing process. Color play of the rainbow effect is achieved through the refraction of light by ultra-fine micro-structures. Can be used without restrictions as to design to be stamped and appropriate positioning of the foil. Are available with various characteristics tailored to suit particular substrates and applications.

---
Vinyl Films Good for F/F/S
Klöckner Pentaplast of America, Gordonsville, VA; 540/832-3600; kpfilms.com
Pentafood FD-M188/22 vinyl films reportedly provide exceptional cold crack properties for food packaging applications. Freezer-safe, thermoformable film, suited for f/f/s, is said to have superior rigidity that allows for excellent package integrity and increased productivity. Films are heat-sealable to many substrates and also are radio frequency-sealable.

---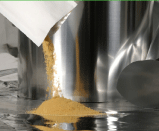 MOPP Film Saves Money
Toray Plastics (America) , North Kingstown, RI; 401/294-4511; torayfilms.com
Torayfan PCFS heat-sealable, coextruded, metallized OPP film is designed to replace the foil and sealant in traditional paper/PE/foil/PE structures. Said to save converters time and money by eliminating the sealant extrusion coating step. Film has a low shear storage modulus that provides increased flowability and improved hermetic seals, company says. Also reported to have exceptional moisture and oxygen barrier durability.

---