Published: June 30, 2005, By PFFC staff
Notebooks
Cocktails to Go
Jenn's Cocktail Co. selected modern women as its target audience for a new line of portable, ready-to-drink premium vodka beverages. To reach them, the company wanted a package that would make a "trendy statement" and one that created a brand icon to endure as a functional collectible past the consumption of the beverage. On the practical side, a durable package was needed to hold and protect four 100-ml bottles.

Fulfilling this wish list was AGI/Klearforld, a MeadWestvaco Resource, New York, NY.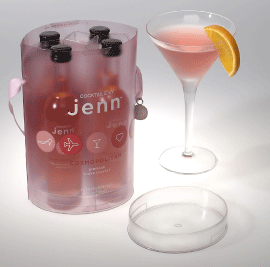 AGI/Klearfold recommended its InSight visual packaging, a patent-pending packaging system that combines printed plastic sleeves with injection-molded end caps. The result is a purse-shaped tote in which the end caps attach to the sleeves using a locking feature. Undercuts in the bottom end cap engage die-cut tabs in the sleeve to lock the two components together, while the undercuts in the top end caps facilitate an easy, quarter-turn, twist-off opening feature that enables the package to be reusable.

Small, round die-cut apertures in the sleeve are used to secure a matching color ribbon that serves as a handle and completes the tote design.

The semi-transparent tote is printed with whimsical designs, including a cocktail glass, an airplane, a diamond ring, an ice cream sundae, and a cell phone. The sleeves are produced using a combination of silk screen and flexo printing.

The embossed PVC carton grade used for the sleeves gives the package durability and rigidity, as well as translucency. AGI/Klearfold created a custom-designed PVC partition to separate the four bottles and protect the contents.
---
---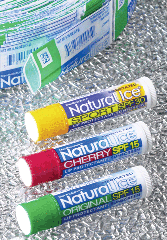 Soothing Security
Seal-It, Farmingdale, NY, is printing decorative shrink labels for the Mentholatum Co.'s Natural Ice line of lip balms, labels that are said to offer tamper-evidence along with glossy graphics. The PVC shrink labels are reverse-printed in four–five vivid colors and are in use for Natural Ice Original, Natural Ice Cherry, and Natural Ice Sport lip balms. The graphics are said to increase brand awareness, add shelf appeal, and provide informative copy. The label secures the cap, adding tamper-evident protection, and a horizontal perforation is included for easy removal. The Mentholatum labels are sold on rolls for automatic applications on high-speed equipment.


---
---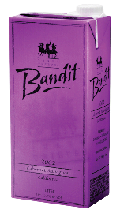 Domestic Wine & Aseptic Package
Tetra Pak, Vernon Hills, IL, has launched what it says is the first entirely domestic wine packaged in the Tetra Brik aseptic package: the Bandit Cabernet premium wine from Three Thieves. Charles Bieler of Three Thieves says, "Utilizing this type of packaging, we are able to cut costs, increase shelf life, and provide a high quality product to consumers at a lower price point." The wine is also the first product in the US to feature the Tetra Pak SlimCap, a technology comprising a plastic screw cap, ring-pull, and standard pull tab. Jeff Kellar, VP of strategic business development at Tetra Pak, says, "This form of packaging is well suited for protecting wine's sensitive flavor profiles."


---