Published: June 30, 2005, By PFFC staff
Machinery, Accessories, Services
Advance in Digital Platemaking Esko-Graphics, Vandalia, OH; 937/454-1721; esko-graphics.com
Inline UV Main Exposure technology will allow digital flexo plates to be exposed at the same time they are imaged, rather than requiring separate exposure on a light frame. Said to provide economic and quality benefits and to eliminate about 15 min of processing/plate. Reduction in handling avoids damage to the photopolymer surface, reducing plate waste.
---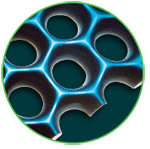 Nickel Sleeve Benefits Reported
Stork Prints, Charlotte, NC; 704/921-5300; storkprints.com
Seamless nickel sleeve program offers solutions for flexo, gravure, offset, embossing, and digital printing. Said to be highly resistant to corrosion and electrically conductive, nickel sleeves act as an interface between the printing cylinder and flexible printing plates. Company reports better handling is possible because they are used in combination with an air cylinder and are much lighter than an entire cylinder that is conventionally used, leading to rapid changeover times.
---

Roll Designed for Zero Deflection Webex, Neenah, WI; 920/729-6666; webexinc.com
The ZDR anti-deflection roll is designed to virtually eliminate roll deflection caused by external forces, without the need for roll crowning. Can be engineered for heat transfer roll applications to provide exact temperature control to ±1 deg F. Roll will place the load of external forces on the shaft, allowing the outer roll to maintain an even profile across the entire roll face.
---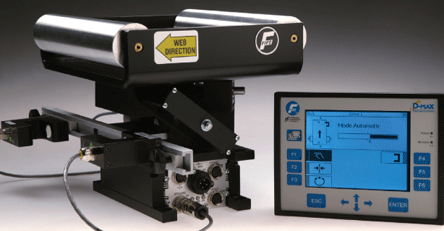 Web Guide System Simple to Install Fife Corp. , a Maxcess Intl. co., Oklahoma City, OK; 405/755-1600; fife.com
D-Max Series web guiding systems are preconfigured and pre-engineered to provide out-of-the-box installation and an intuitive interface, reducing the time needed for installation and the learning curve. Integrated design includes all necessary components, including sensors, guide structure, controller, and operator interface. System comes ready to bolt in, connect, and run.
---
Slit with the Best Configuration
Jennerjahn Machine, Matthews, IN; 765/998-2733;
jennerjahn.com
The JPX Model slitter/rewinder features a shaftless unwind system that eliminates the need for rewind mandrels. Will set up different knife and tail cut configurations to determine what is best for the material. Autoloader transfers cores to the winding station automatically using a simple pick-and-place vacuum device. Rewind chucks then are activated to secure the cores in place during winding sequence.
---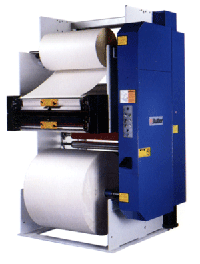 Calculate Color Two Ways
X-Rite, Grandville, MI; 616/257-2450; xrite.com
The DTP45 automated spectrophotometer is designed for precise calibration, profiling, and quality control. Able to calculate color by strip or spot measurement. Spot-checking capability is said to be well suited for applications such as large-format media and uncommon color patterns.
---
Splicer Needs Little Care
Butler Automatic, Middleborough, MA; 800/544-0070;
butlerautomatic.com
The 1000 Series splicer combines zero speed technology with 99.9% reliability, says company. Features include rolling nip splice head, simple vertical nested festoon, and digital variable gain controls for stable web tension. Also reported to require minimum maintenance and almost no downtime. There is no minimum roll diameter for splicing. Different roll widths can be loaded simultaneously and run off-center.
---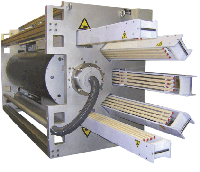 Change Electrodes Quickly, Easily
Vetaphone, Kolding, Denmark; +45 76300333; vetaphone.com
All company's open-design treater stations can be fitted with Corona Quick Change (QC) system. Complete corona electrode is mounted in a pull-out/push-in cartridge. Operator can perform daily maintenance easily, company says. When pattern treatment is used, cartridge can be taken out of the production completely for easy electrode setup.
---
Hybrid Roll Saves Energy
Tokuden, Norcross, GA; 770/449-3625;
tokuden.com
Hybrid Roll contains jacket chambers that are partially filled with a thermal medium in a vacuum. The ability of the chambers to maintain a uniform surface temperature of ±1 deg C assists in reducing the fluid flow rate compared with conventional rolls, company says. Roll, which is said to combine energy efficiency and precision, can be used for both heating and cooling applications.
---
Heating, Chilling Temps Guaranteed
Menges Roller Co. , Wauconda, IL; 847/487-8877;
mengesroller.com
Rollers for chilling and heating offer a guaranteed temperature range, which is ±1 delta T. Company reports this is possible due to the consistency of the wrap of the internal spiral construction.
---
New-Generation Control Systems
Circonix, Ringwood, NJ; 973/962-6160;
circonix.com
ExtrusionPro replaces legacy control systems with the latest in control hardware and software algorithms. Reduces risk of downtime with the latest generation of off-the-shelf temperature controls, human/machine interfaces, PLCs and computer topology, all integrated specifically to equipment configuration. Suited for cast film, sheet-feed, or coating and laminating.
---
ERP Software Via Internet
Collaborative Studio, Chicago, IL; 312/546-4778;
intraflex.net
IntraFlex is a fully integrated, enterprise-wide, software-on-demand ERP solution for the flexible packaging and roll label converting industries. Software is located remotely, in secure locations, and is accessed over high-speed Internet connections. Covers CRM, estimating, production, purchasing, receiving, scheduling, shop floor, manufacturing, inventory, shipping, invoicing, payroll, and financials.
---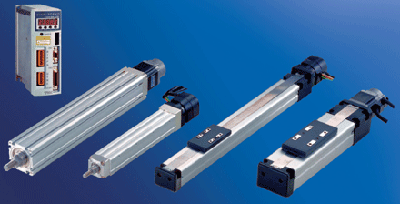 Actuator Offers Cost Benefits
THK America, Schaumburg, IL; 800/763-5459; thk.com
Type VLA actuator is said to provide long-term cost savings through company's compact Type SRS LM guide featuring patented Caged Technology that separates rolling elements with a synthetic resin cage to retain grease and reduce maintenance costs; QZ lubricator to ensure optimal lubrication with the ball screw unit; and electro- mechanical components. Also said to provide maximum operating efficiency.
---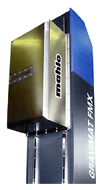 Determine Basis Weight with X-Rays
Mahlo, Saal/Donau, Germany; +49 94-41-601-0; mahlo.com
Basis weight gauging system offers the FMX sensor head, comprising a compact x-ray tube together with its high-voltage supply, high-tech detectors for gamma radiation, and associated electronics for data collection. Said to be insensitive to environmental influences such as heat and humidity. New system has been integrated into company's QMS Series.





---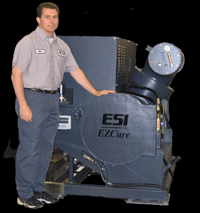 EB System Integrates Easily
Energy Sciences, Wilmington, MA; 978/694-9000; ebeam.com
The EZCure-DF EB system features a shorter web path than previous EB systems and is said to be easier to integrate and install onto existing or new production lines with product widths from 20–54 in. Capable of running on high-speed web production lines. Designed to cure wet-on-wet EB offset inks, wet-on-wet EB CI flexo inks, coatings, and laminating adhesives for the packaging marketplace.



---
Tension Indicator Aids Productivity
Dover Flexo Electronics, Rochester, NH; 603/332-6150;
dfe.com
The T115 tension indicator includes a three-position left-right-total rotary switch to select tension values to be read out from either edge of the web. With input from tension transducers installed in the web path, unit works by amplifying transducer signal and displaying actual tension on a meter display. Said to encourage adjustments to be made that improve productivity and ensure run-to-run consistency.
---
New Roll Technology Unveiled
Harper Corp. of America, Charlotte, NC; 800/438-3111;
harperimage.com
The XLT (Xtreme Laser Technology) anilox and coating roll system is reported to offer clean, high line-screen counts, with cell cavities smoother than company's Platinum laser anilox. Parabolic cell configuration provides steeper wall angles and offers a higher ink-capacity-to-wear ratio than that of conical cell profiles, company adds.
---
Gauge Coating Weight Accurately
NDC Infrared Engineering, Irwindale, CA; 626/960-3300;
ndcinfrared.com
Spot-On x-ray coating weight gauging solution reportedly provides accurate differential coat weight measurement, regardless of the substrate. Energy output of the transmitter can be regulated precisely via a digitally controlled power supply. Company says signal does not deteriorate over time, and substrate and total gauge outputs can be matched exactly to ensure no errors occur from this source.
---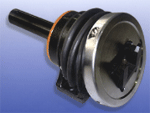 Chuck Designed for Safety
Nexen Group, Vadnais Hts., MN; 651/286-1054; nexengroup.com
Chuck holds and locks the core shaft in place securely. Provides core shaft support and torque transmission for processing a variety of rolled material on converting equipment. Features include heavy-duty construction, chrome-plated locking ring, ball bearings to support the shaft for smooth operation and long life, and foot or flange mounting styles.

---
Gravure Press Promises Efficiency
Acom, Feeding Hills, MA; 413/789-3800; comexi.com
The RG Platinum gravure press for flexible packaging offers quick-changeover trolleys integrated into the unit with automatic or manual insertion. Automatic engraved cylinder positioning on bearings, together with the preset of the machine, is said to guarantee efficiency. Also features high-efficiency drying chambers. Web length is from 850–1,650 mm.

---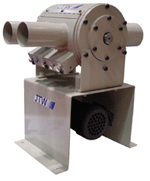 Perfect Alignment With Cutter
JTW Intl., Lawrenceville, GA; 678/442-0633; jtwinternational.com
Model IC-708 in-line cutter is manufactured from thick-walled tubing and accurately machined side plates. Construction is said to result in perfect alignment and easy assembly/disassembly. Design also permits a straight-through air/material flow, reducing pressure drop and ducting issues. Unit can be direct or belt-driven.




---