Published: June 30, 2005, By By Edward Boyle, Contributing Editor
Narrow Web Converting Industry News
Liner Recycling Program Offered
NAPERVILLE, IL—The Environmental, Health and Safety Committee of the Tag & Label Mfrs. Inst. (TLMI) announces what it says is a solution to the problem of liner recycling. The program is designed to help both converters and their customers collect and recycle used release liners. Instead of ending up as landfill waste, used release liners can be repulped to make useful paper products.

Recycling Solutions, based in Wausau, WI, currently has ongoing programs in place in which hundreds of tons of spent liner are being diverted from landfills. In some cases, Recycling Solutions is paying $30 a ton for liner shipped to its plant. In other cases, the company can facilitate a program with an expert in logistics and packaging in your area. Some generators are shipping their spent liner directly to paper mills. According to TLMI, it's a "win-win" situation: Material that once created an expense now generates revenue.

Following are the steps to participate in the program:
All arrangements can be established with Recycling Solutions. To begin, contact Dave Robinson at 888/842-0389.
Your situation will determine whether used liners can be shipped to Recycling Solutions or directly to a paper mill. Shipping costs are paid by the generator.
Release liners should be collected and packed for shipment using these guidelines:

Only bleached white liners (supercalendered, machine finished, etc.) will be accepted.
Contaminated material will not be accepted. Liners should be contaminant-free with no adhesives or undispensed labels left on liners.
Ideally, liner should be baled. If this is not practical, Gaylord boxes may be used.
Rolls are accepted in skid loads only (no loose rolls will be accepted). Skids of material should arrive securely packaged.
No shipping containers will be returned.
For more information, contact Cal Frost, chair of the TLMI Environmental Committee, at
630/357-9222.
---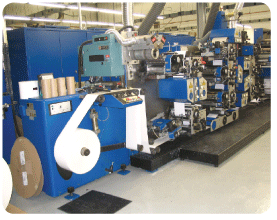 Logotech Installs Ten-Color Press
FAIRFIELD, NJ—Logotech, a full-service converter of p-s labels, has installed its third Gallus letterpress—a ten-color R200 that features four silk screen units, in-line hot stamping, and a UV coating and laminating stand.

Says Logotech VP Leslie Gurland, "With more colors available and the four silk screen units, we will be able to create even more vibrant labels. …The expanded capabilities will also allow us to provide clients in nutraceutical, food and beverage, and industrial markets with added impact." Pressmen can place silk screen units anywhere on the line, she adds, so rich silk screen inks and thick laydown can be used to optimum effect.
SUPPLIER INFO:
Gallus—gallus.org
---
Adhesive Film Aids Mounting
WINDSOR, CT—Scapa North America offers Dublfilm S313-76, a double-coated p-s adhesive film with dimensional stability and strength for high-end mounting applications. The film will not distort color photographs and other sensitive printed materials, the company says.

It consists of a polyester film double-coated with acrylic PSA and is supplied on a 76# liner. The release liner ensures the adhesive will not wrinkle, while it provides stay-flat and moisture resistance properties to the film. Company says film laminates well to a variety of substrates.
---
ANI Announces New Business Unit
PLYMOUTH, MN—ANI Printing Inks has introduced ANI Supplies, an outlet for pressroom supplies, consumables, and testing equipment.

The initial focus of this business unit will be in North America and will be headed by Mike Buystedt, director of market development. This is the first step in the global launch of this business unit. A series of supply packages will be launched monthly throughout 2005; separate from the packages, ANI will have a specific product feature monthly.
---
TLMI, FTA to Address Progress
NAPERVILLE, IL—The TLMI and the Flexographic Technical Assn. (FTA), Ronkonkoma, NY, announce a joint conference to be held September 7–9 at the Hyatt Regency in downtown Chicago.

"Progress without Limits" will be co-chaired by Art Yerecic, president of Yerecic Label; Rick Olszewski, VP/GM of Fasson Roll North America; and Rick Mix, technical director of the FTA.

Topics include the printing process; curing and drying; 100% inspection and automated flagging; low-cost decoration and security opportunities; RFID; gearless presses; and more. Registration is $425 for TLMI and FTA members and $550 for nonmembers prior to August 1; after August 1 fees are $525 for members and $650 for nonmembers. For more information call 800/533-8864 or visit tlmi.com.
---
RFID Tag Facility on the Way
FLETCHER, NC—UPM Rafsec will build what it says will be a state-of-the-art RFID tag production facility in Fletcher.

The factory, located in the vicinity of Raflatac's US p-s label stock production facility, will specialize in the manufacture of high quality UHF (ultra-high-frequency) tags. The investment is part of a $24 million program which, when fully implemented, will enable an annual capacity of 1 billion RFID tags.

The new factory will begin operations in the final quarter of 2005.
---
SAMSys Installed at RFID Center
TORONTO, ON, CANADA—SAMSys Technologies reports its RFID readers have been selected and installed as part of the hardware infrastructure of the new Star Alliance Ctr., a 3,200-sq-ft RFID demonstration center designed to assist companies in complying with RFID tagging mandates from Wal-Mart, the Dept. of Defense, and other major retailers and organizations.

SAMSys equipment was chosen because its built-in support for multiple tag protocols and frequencies will allow tags from any supplier to be tested without installing multiple readers, the company says.

The center, located in Sussex, WI, offers live demonstrations of RFID technology, including end-to-end product processing from packaging to RFID tagging, label printing, and material handling via an automated conveyor/palletization system at run rates to 600 fpm. The facility also will function as a test lab enabling companies to evaluate different RFID tags and experiment with their placement on specific products in order to maximize the read rate.
SUPPLIER INFO:
SAMsys Technologies—samsys.com
---
Group Addresses RFID Education
WARRENDALE, PA—The RFID Experts Group (REG) of AIM Global has initiated a project to develop a comprehensive outline of the types of knowledge required by professionals involved at all levels of RFID technologies and applications. The project will look at all types of RFID, from low frequency to microwave, and includes both active and passive transponders.

REG will identify the different professional categories to be included and will develop a list of core competencies required for each job description. The group then will share this information with the AIM Global Education Committee for development of educational material.
---
Heat-Shrink Labels for Security
FARMINGDALE, NY—A line of holographic shrink bands and labels from Seal-It is designed to provide manufacturers of consumer products with a visible security device that cannot be copied or simulated. The bands and labels with a holographic strip can be applied to packages that need to be tamper-evident. The holographic strip is a 3-D image and can be custom-designed with a logo or pattern. It is highly visible, and the complexity of the pattern makes it almost impossible to be reproduced.
---