Published: May 31, 2005, By PFFC staff
Narrow Web Machinery, Accessories, Services
RFID Printer is Speedy
Avery Dennison Retail Information Services, Westlake Village, CA; 818/735-5000; averydennison.com
The 64-05 RFID label printer, capable of speeds ranging from 12–16 in./sec, reportedly prints labels embedded with RFID chips at the same rate at which most conventional printers produce standard bar code labels. System is UHF/EPC- compliant, meaning as RFID requirements evolve, the system's labeling capabilities can be upgraded to keep pace. System programs a label's RFID chip and employs direct thermal or thermal transfer technology to print variable data and symbology at 305 dpi.

---
Quality Labels Without Treatment
Toray Plastics (America) , North Kingstown, RI; 401/294-4511; torayfilms.com
PET Lumirror PS10 film is said to allow converters to eliminate corona treatment or chemical priming processes and produce a high quality label that prevents migration of silicone to other surfaces and has excellent peel strength and release speed. Made with a coextruded sheet comprising a thin layer of amorphous material over a thicker layer of crystalline polyester, film's physical properties allow it to be laminated, printed, or vacuum metallized easily, company says.

---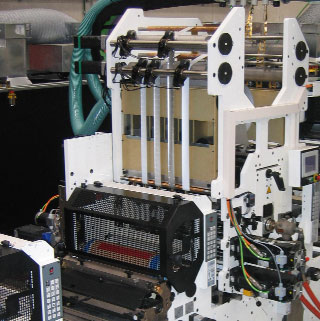 In-Line Hologram Application
Omet, Lecco, Italy; +39 0341 367513; omet.it
Hologram-insetting unit can deposit holograms up to six ways, having an independent pitch among one another, in-line on the Varyflex press (420, 520, or 670 mm). Can produce labels, plastic film, and flexible cartons in-line, all of them hologrammed in the drawings and the most varied forms, starting from a standard roll of material, from paper to self-adhesive paper, folding carton, or plastic film and coupling hologrammed material. Also suitable for the foil-saver function, i.e., depositing metallic film for hot-foil units, without wasting material.

---
Wax Ink Jet Printer Offered
Diagraph, St. Louis, MO; 800/722-1125; diagraph.com
The IJ/3000 wax jet system can operate up to four wax jet printheads on up to two production lines. It utilizes a printhead that takes solid wax pellets, melts them into liquid form, and delivers this ink through the heat transfer tube to the printhead. After the printhead ejects the droplets, the liquid re-solidifies on the substrate immediately. Company says system is designed for clean, fast, high-resolution small-character performance on non-porous substrates such as plastic, chipboard, and films.

---
Vinyl Roll-On, Shrink-On Film
Klöckner Pentaplast of America, Gordonsville, VA; 540/832-3600; kpfilms.com
Pentaprint L282/41 vinyl roll-on, shrink-on (ROSO) label film for wraparound label applications has 53% shrink properties, as compared to 45% when the film was introduced in fall 2004. Allows user to take advantage of the benefits of shrink-label films by modifying existing wraparound label machinery. Suited for use with quick-setting solvent adhesives and gravure or flexo.

---
Label Stock in Sheet Form
3M, St. Paul, MN; 800/422-8116; 3m.com
Available in sheet form, label materials give screen printers flexibility in meeting customer needs for quality products at a competitive price, company says. Materials feature UV-approved topcoats, durable polyester and vinyl facestocks, and advanced adhesive technology. Custom configurations are available.

---