Published: May 31, 2005, By Edited by Deborah Donberg
Covering the Full Spectrum of News, Events & Activities
Making Military Rations Palatable
Pliant Corp., Schaumburg, IL, has named ScentSational Technologies the sole provider of Olfaction Packaging technologies to assist in developing food packages for the US military that will enhance the aroma and taste of field rations.

Pliant has been awarded several R&D contracts from the US government to conduct research on food packaging, including film packaging solutions that preserve food taste.

ScentSational will bring its flagship technology, Compel-Aroma, to the Pliant research programs. This technology encapsulates FDA-approved food-grade flavors within the structure of plastic packaging at the time of manufacture, resulting in packaging that releases desirable aromas and flavors.

The encapsulated flavors are released into the packaged product slowly and uniformly during its shelf life, reportedly improving the aroma and taste of the package contents. CompelAromas also may be released when a package is opened, during food preparation, and during consumption.

Pliant is a leading producer of value-added films and flexible packaging products for food, beverage, personal care, medical, material handling, and bulk shipping.
SUPPLIER INFO:
ScentSational Technologies—scentsationaltechnologies.com
---
---
PET Pouches are Honored
Ceramis clear barrier PET film was the substrate of choice for the Simplot Leggo's Pasta Meals stand-up pouches, named best new product in the ready-to-eat category of the Paris-based SIAL d'Or competition. The product also was named best new Australian product.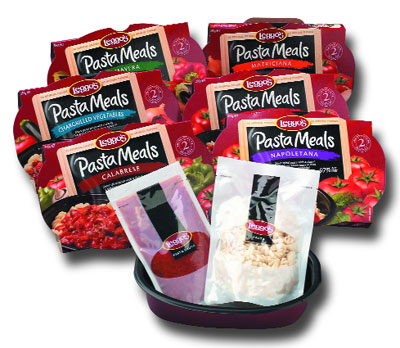 Ceramis silicon oxide-coated films, said to combine transparency with excellent barrier properties, are distributed in North America by Celplast Metallized Products Ltd.
SUPPLIER INFO:
Celplast Metallized Products Ltd.—celplast.com
---
---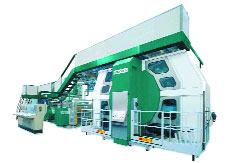 An Emerald in the Desert
Poly Print, Tucson, AZ, has installed a Uteco Emerald ten-color CI gearless in its new 77,000-sq-ft plant and headquarters. The new press features a maximum printing width of 52 in., an automatic wash-up system, and an Enercon corona treater. Poly Print, a family-owned business incorporated in Arizona since 1992, offers process and line printing and adhesive lamination.
SUPPLIER INFO:
Uteco North America—uteco.com
Enercon Industries—enerconind.com
---
---
Godiva Packaging—How Sweet It Is!
Godiva Chocolatier's G Collection, a Christmas specialty, needed "a package that would resonate with chocolate aficionados," says Godiva's senior art director Masoud Mansouri. To that end, the company partnered with FiberMark to create something that would convey the craftsmanship of this one-of-a-kind collection of chocolates.
The unique trapezoid-shaped box is an inversion of the typical Godiva box. The covering material, FiberMark's Corvon, is a rich shade of brown. The material has an iridescence with a polish that gives the material a subtle texture. The brown is complemented by an apple green trim and a coordinating green and brown ribbon.

On choosing a material, Mansouri says, "You try to play with all the best elements…settling on something that inspires a feeling, supports the concept, and will work well in production."

Converter McLean Packaging, Philadelphia, PA, silk screens the FiberMark lid paper on a Sakurai press. Gold-stamping, embossing, and die-cutting are done on a Bobst press, and the bases are overprinted on a colored paper supplied by Hazen Paper Co.

The result: A sweet package, inside and out.
SUPPLIER INFO:
FiberMark—fibermark.com
Sakurai USA—sakurai.com
Bobst Group USA—bobstgroup.com
Hazen Paper Co.—hazen.com
---
---
Trash Bags Have a New Look
New packaging from Tyco Plastics, Minneapolis, MN, for its Ruffies trash bags features a single color to grab the attention of shoppers.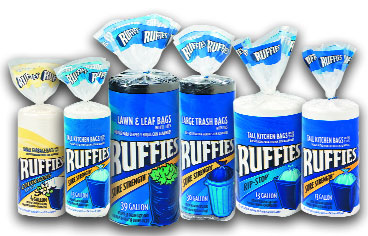 Says Mike Jackelen, VP of marketing at Tyco, "Ruffies are sold in plastic sleeves, making it imperative to develop a unique billboard with significant consumer appeal. Our goal was to create increased shelf awareness by incorporating a bold standardized look into our user-friendly packaging."

The product also features, for the first time, in-pack promotions and coupons in both English and Spanish.
---
---
New Line is Up and Running At CPFilms
The CPFilms business of Solutia has completed installation and successful startup of a state-of-the-art metallizing production line at its Martinsville, VA, manufacturing facility.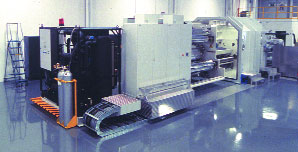 The company worked closely with vacuum equipment manufacturer Applied Films Corp., and the line was installed March 1, six weeks ahead of schedule. Full production began two weeks later.

"We could not have been more pleased with the technical and engineering support from Applied Films," says Keith Dalton, VP of coating, laminating, and vacuum coating for CPFilms. "This new line, added to our existing metallizing lines, will give us more flexibility to schedule quick turnaround on both long- and short-run projects."

The line features digital optical monitoring capabilities to control the consistency of metal deposition on the film. It also offers plasma treatment capability to meet the increasing market requirements for enhanced adhesion of metal depositions to film substrates.

Applications supported by the new line include solar control window films for commercial, automotive, and consumer markets, as well as static-dissipative packaging, graphic arts, automotive badging, and specialty labels.
SUPPLIER INFO:
Applied Films Corp.—appliedfilms.com
---
---
INDUSTRY STUDIES
Specialty Films in Demand
CLEVELAND, OH—Demand for specialty films is expected to advance more than 5%/yr to $7.4 billion in 2009, reports a new study from Freedonia Group.
US Specialty Films Demand
(millions dollars)
% Annual Growth
Item
1999
2004
2009
4/99
9/04
Specialty Films Demand
4,748
5,766
7,410
4.0
5.1
Barrier Films
2,140
2,835
3,660
5.8
5.2
Decorative Films
1,080
1,110
3,660
0.5
2.9
Breathable Films
393
495
595
4.7
3.7
Conductive Films
505
481
720
-1.0
8.4
Water Soluble Films
34
120
220
28.7
12.9
Safety/Security, Light Control, & Other
596
725
935
4.0
5.2
Source: ©2005 by The Freedonia Group
These advances will be driven mainly by expanding demand for conductive and other films used in the electronics industry and by rapid growth in demand for certain water-soluble films, specifically fast-dissolving oral strips that contain breath-freshening, nutritional, or medical compounds.

Light control, safety and security, and barrier packaging films also will see record gains at or above the average through 2009, says the study, while slower increases in decorative and breathable films will exert a moderating effect on overall growth.

Barrier films, used primarily in packaging applications, represent the largest group of specialty films, nearly half of total demand in 2004. Growth areas include modified atmosphere packaging, controlled atmosphere packaging, and case-ready meat packaging, as well as a wide variety of pouches, bags, and liners with improved barrier qualities. For more information on Specialty Films, contact Freedonia at 440/684-9600 or visit freedoniagroup.com.
---
---
SHOW NEWS
CMM Successes Reported
NEW YORK, NY—The four-day CMM Intl. 2005 show attracted more than 15,000 registered industry professionals and more than 500 exhibitors. According to show organizers, dozens of companies made major sales and/or received hundreds of quality leads.

Giancarlo Caimmi, commercial director at Nordmeccanica Group, is quoted as saying, "We sold two large laminating machines and have several good leads." Mark Breen, marketing manager of Dover Flexo Electronics, said after three days of the show, "We already have three times the number of leads we had at CMM 2003. We're very happy with the quality of the attendees and are very pleased with the turnout."

Organizers also say the associations that sponsored pavilions were pleased with the quality and quantity of attendees, adding the Packaging and Label Gravure Assn. and the Assn. of Industrial Metallizers, Coaters and Laminators are doubling the size of their pavilions for the 2007 show.

CMM Intl. 2007 is scheduled for June 4–7 at the Donald E. Stephens Convention Ctr. in Rosemont, IL. For more information contact Erich Herbert at 212/268-4160 or e-mail This email address is being protected from spambots. You need JavaScript enabled to view it..
---
CPP Adds AIMCAL as Partner
PARAMUS, NJ—CPP Expo 2005, scheduled for September 26–28 at the Sands Expo & Convention Ctr. in Las Vegas, has a new association partner. Show organizer H.A. Bruno announces the Assn. of Industrial Metallizers, Coaters and Laminators (AIMCAL) will feature a pavilion to provide AIMCAL supplier members with a cost-effective presence on the exhibit floor.
Craig Sheppard, executive director of AIMCAL, says, "Between the exhibit space and the cooperative marketing and advertising opportunities included with the package, our members will enjoy considerable savings."
CPP also reports the Assn. of Independent Corrugated Converters (AICC), Regions I and II, will hold its annual meeting in Las Vegas the same dates as the show.
For more information contact Leo Nadolske at
201/543-5060, ext. 560.
---
---
SUPPLIER NEWS
Comexi, ACOM to Associate
CHICAGO, IL—CMM Intl. 2005 was the setting for Comexi, Girona, Spain, and Advanced Converting Machinery (ACOM), Piacenza, Italy, to announce a strategic alliance (called an "intelligent association"). Comexi says the alliance will allow it to close the loop in its product line, which is more than 80% flexo, by distributing ACOM's RG Platinum gravure presses.
---
Black Clawson Gives the 'Skinny' on Lean
by Yolanda Simonsis, Associate Publisher/Editor
SYRACUSE, NY—To remain globally competitive, the adoption of lean manufacturing techniques and practices is becoming a way of life for converters and suppliers alike. Credit should be given to Black Clawson (now part of a joint venture involving Crompton Corp.'s Davis-Standard LLC and Hamilton Robinson's Black Clawson) and a host of other ancillary equipment vendors for addressing the subject at BC's most recent symposium, held May 16–18 at the Wyndham Hotel in Syracuse, NY. BC staged an excellent program engaging approximately 75 of its customers for two days that focused on insights into new equipment design and deployments as they relate to the themes of globalizing markets and lean manufacturing.
Presenters from Black Clawson, EDI, Enercon, Cloeren, and Megtec examined lean methods that drive shorter run times, frequent product changes, and running to specific orders vs. running to stock with a focus on lower inventories, less cash investment, better floor space utilization, and overall improved cash flow. The message was clear: Converters must get better at short runs or accept lower operating margins. The key is in determining why a shop is unable to achieve the yields to which it's entitled using available equipment and systems. Among the first day's line-up of topics were Converting Equipment Designs for Emerging Global Markets; New vs. Upgrade; New Die Developments & Tools for Increased Productivity in Extrusion & Coating Operations; and China–Challenge & Opportunity Land for All Manufacturers.
The second day included presentations on Innovating New Technologies & Maximizing Surface Treatment Efficiencies; Applying Lean Initiative to Your Unwinding & Winding Operation; What's New in the World of Machinery Installations & Commissioning; Maximizing Feedblock & Die Performance Without Compromising Flexibility; and Global Experiences in the Supply of Dryers & Oxidizers. A final set of presentations addressed Lean Extrusion—A Practical Approach for Maximizing Process Versatility and Making Your Coating Process Lean.
The reintroduction of BC Symposiums after a 5-yr lapse is a welcome addition to the converting industry, particularly at a time when converters are forced to do more with less. Anticipated publication of one session on Emerging Global Markets is planned for a future issue of
PFFC
.
---
Margot to Rep Universal
SUFFOLK, UK—Universal Converting Equipment, a manufacturer of slitter/rewinders, hot melt adhesive coating and laminating machines, and ancillary equipment, has named used equipment dealer Margot Machinery, New York, NY, its exclusive representative in North America. Margot sells a complete line of used converting equipment in the US and Canada directly and has a sales representative in Mexico.
Says Alan Jones, director of Universal, "We regard North America as a key market and believe Margot Machinery, with its sales network and industry knowledge, is ideally placed to exploit the benefits of our [equipment]."
---
---
ASSOCIATION NEWS
PPA Has Its Own Web Site
WASHINGTON, DC—The Paperboard Packaging Alliance (PPA), a joint initiative of the Paperboard Packaging Council and the American Forest and Paper Assn., has launched paperboardpackaging.org to provide information to packaging decision makers. The site will include case studies, university program and competition information, paperboard grade definitions, industry research results and reports, and a newsroom.

The PPA also reports it is offering a paperboard packaging syllabus for use by the nation's top packaging design and engineering university programs.
---
SVC Offers Exchange of Info
by Claudia Hine, Managing Editor
DENVER, CO—Alternately sunny, cloudy, rainy, and snowy, Denver weather offered attendees of the Society of Vacuum Coater's 48th annual meeting almost as much variety as the program did. SVC met April 23–28 at the Adam's Mark Hotel where 1,360 participants enjoyed a comprehensive technical program (four days of concurrent sessions), education program (34 courses), and two-day exhibitor showcase (160 booths).
The conference also featured roundtable breakfast discussions, a poster session, "meet the experts" corner, and demonstrations by "Vacuum Wizard" Don McClure (3M Co.) that were designed to illustrate vacuum and vacuum coating principles. McClure succeeded in both educating and entertaining attendees.
SVC president Clark Bright (3M) hosted the opening ceremonies and plenary session, which included a short business meeting. Treasurer Michael Andreasen (Vacuum Coating Technologies) presented the good news that the society, which had operated at a loss in 2002, has had two straight years of profitability with a net profit of $70,066 forecast for 2005.
Past president John Felts (Nano Scale Surface Systems) introduced new directors: David J. Christie (Advanced Energy Industries), Wolfgang Decker (Vast LLC), Vasgen Shamamian (Dow Corning Corp.), and Edward Wegener (AFG Industries).
Secretary David Glockner (Isoflux) announced the 2005 Mentor Award recipients: Rainer Ludwig (Applied Films), Ludvik Martinu (École Polytechnique), and Carlo Misiano (Romana Film Sottili). Mentor awards recognize outstanding contributions to SVC or the development of vacuum coating.
H. Angus Macleod (Thin Film Center) presented the Nathaniel Sugerman Award for distinguished achievement to J. A. (George) Dobrowolski. Retired from the National Research Council of Canada, he holds a number of patents in the field.
Salil Pradham, chief technical officer, RFID programs, HP Labs, gave the plenary address, "From RFID to Sensor Networks: Computing in the Physical World." Pradham outlined current issues, i.e., cost and ROI; the need for users to test the technology; privacy and security concerns; and environmental impact. He said RFID will be used for the supply chain, while sensor networks will be used for industrial, environmental, and home monitoring.
In the keynote presentation, Zhenan Bao, associate professor in the Dept. of Chemical Engineering at Stanford Univ., provided an overview of the current status of organic material-based flexible electronic devices. She said the flexibility of organic semiconducting materials makes it possible to fine-tune them to meet the requirements of technologically significant applications. Processing advantages include low-cost deposition techniques such as screen, laser, and ink jet printing to fabricate electronic devices.
In the Vacuum Web Coating Session, Reiner Kukla, Applied Films, presented first results of a new multiprocess roll-to-roll web coater (shown above) designed to meet the requirements of products such as flexible printed circuit boards with increased line density; flexible integrated circuits for smart cards, RFID tags, and flexible displays; and flexible solar cells. The Smartweb coater features an unwind module, one or two process modules, and rewind module, each installed in a separate vacuum chamber. Each process module operates with a maximum of three deposition sources in separately pumped process compartments. At less than 2.5 m tall with a small footprint, the machine is designed to fit into standard clean rooms. Test results showed outstanding high deposition rates for copper and indium tin oxide (ITO) together with promising layer quality, Kukla reported.
For more information contact SVC at
505/856-7188
;
This email address is being protected from spambots. You need JavaScript enabled to view it.

.
---
SGIA, DPI Web Sites Now One
FAIRFAX, VA—The Specialty Graphic Imaging Assn. (SGIA) reports the web site of the Digital Printing & Imaging Assn., also of Fairfax, now is part of sgia.org. "Sgia.org now presents the best of both worlds, the products and services from both associations," says Dan Marx, DPI director of communications and service development. The DPI community will continue to function under the SGIA umbrella as a source for high-end information about digital imaging technologies and applications.
SGIA also reports 795 imaging companies joined in 2004, more than at any other time in its 56-year history.
---
---
OPEN HOUSE
Bobst Open House a Hands-On Affair
by Edward Boyle, Contributing Editor

ROSELAND, NJ—The Bobst Group held open houses April 27–29 at facilities in Roseland and Lusanne, Switzerland, highlighting its newest die-cutter, the SPanthera 106-LER mid-range model with full blanking capability.

The Roseland Open House gave 55 industry professionals an opportunity to gain up-close and hands-on knowledge of the newest Autoplaten die-cutter. Visitors also had the opportunity to attend and participate in live demonstrations of the Angle Lock Blanking System; InTouch, the direct customer connection for Bobst parts ordering and tracking; and other die-cutters and folder/gluers that were on display and operating.

Sales, technical, and support staffs were on hand conducting comprehensive presentations and answering questions. Bobst reports the SPanthera 106-LER is designed to provide optimum value and efficiency to die-cutting operations. It combines die-cutting, stripping, and blanking into one machine and one in-line operation. The Angle Lock Blanking System is a complete system, from dedicated tool design software to high-precision, reusable hardware.

InTouch, Bobst's direct customer connection, provides 24/7 access to ordering and tracking Bobst parts through the Internet. Customer Service representatives were on hand to demonstrate the system and help visitors establish InTouch accounts.
---