Published: May 31, 2004, By PFFC staff
---
Part 1 |
Part 2
---
Machinery, Accessories, Services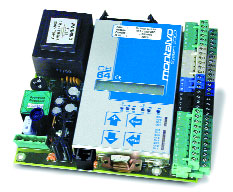 Controller Board Offers Accuracy
The Montalvo Corp., Gorham, ME; 800/226-8710; montalvo.com
The CB-64 controller board is the new engine inside company's most advanced controller series. The technology is available with an X-3400ce web tension controller, a D-3400ce dancer controller, or a DTI-3400ce dancer controller with tension indicator. Features an optimized combination of analog and digital features said to provide accurate, repeatable tension control of all web processing machinery.

---
Use DC Sensors in AC Location
Hyde Park Electronics, Dayton, OH; 937/252-2121; hpsensors.com
Python Power is a power and output conversion accessory that allows DC sensors to be installed in locations where only AC power is available. Comprises a universal in-line AC/DC power supply and TRIAC output switch. Output switch, controlled by sensor's low-voltage output, detects a sinking or sourcing output automatically and switches on or off accordingly.

---


Reposition Shaft Handle Easily
Stafford Mfg. Corp. , North Reading, MA; 800/695-5551; staffordmfg.com
The Grip & Go quick-release handle takes the place of a socket cap screw and wrench in any shaft collar to allow repositioning without tools. Called ideal for applications requiring frequent adjustments, handle holds the collar on the shaft but can be loosened and retightened easily.




---
System Increases Productivity
Operon Systems, a div. of Dunsirn Partners, Appleton, WI; 715/218-2291;
dunsirn.com
The Redhawk Manufacturing Productivity Solution is designed to increase productivity, show Performance to Plan in real time, and gather accurate data for Continuous Improvement methods including Lean and Six Sigma. Company provides turnkey solution, including hardware, software, training, installation, professional services, and customer support.
---
Side-Lay Safety Chucks Offered
Goldenrod Corp. , Beacon Falls, CT; 800/465-3763;
goldrod.com
Side-lay safety chucks offer precise manual side-lay positioning of winding or unwinding material rolls. Hand-wheel adjustment positions material roll laterally for accurate entry into manufacturing process. Standard models allow for side-lay travel of ±1 in. Special models are available.
---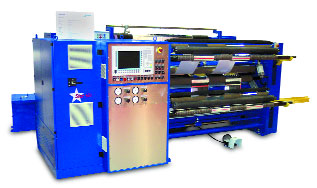 Slitter is Economical and Accessible
Kampf Machinery Corp. , Windsor, CT; 860/640/0040; star-slit.com
The Star-Slit duplex slitter/rewinder targets small and medium size converters. Said to offer attractive pricing and short lead times, it handles a wide range of packaging materials. The slitting section is easily accessible and allows good visibility of the scissor or razor blade knife section, company says, and ball friction shafts allow an even tension setting across the full working width.

---
Tension Control is a Space-Saver
Magpowr, Oklahoma City, OK; 405/755-1600; magpowr.com
The Spyder-LC is a closed loop tension control for brakes, clutches, or drives in unwind, rewind, or point-to-point applications. Said to be cost-effective and ideal for operations in which tension control is required and not changed often. Saves space in a control cabinet and is easy to mount. Ethernet communications allow setup and control via an existing HMI or remote access to parameters via an Internet connection.

---
Vision Sensor is Very Precise
Omron Electronics, Schaumburg, IL; 866/88-omron;
packaging.omron.com
The F500 vision sensor, featuring a 1 million-pixel digital camera, is described as the most precise of company's sensors. Stores up to 200 images in compact flash that can be transmitted in batches to permanent storage. Two separate processors, one for judgment and one for communication, allow system to transmit images and be accessed from remote sites without slowing operating inspection rates.
---
Synchronous Servo Motors
Bosch Rexroth Corp. , Hoffman Estates, IL; 847/645-3774; boschrexroth-us.com
The IndraDyn S Series of synchronous servo motors is completely scalable in power, performance, and precision. Each motor pole is wound individually prior to stator assembly to eliminate end turns and maximize copper content. This is said to provide the greatest power output in the shortest possible motor design. Available in a wide range of frame sizes and lengths to achieve torque ratings from 0.1–240 Nm.

---
New Software Aids Tension Control
Dover Flexo Electronics, Rochester, NH; 603/332-6150; def.com
The WebHandler 3 digital web tension controller features new software enhancements. Can be set up, calibrated, and accessed remotely via a simple-to-use interface, or included serial interface with Windows-based software, or via the new optional Profibus interface. Control parameters that can be selected and changed via these alternate interfaces include job parameter storage and recall, push-button rezero, soft start, automatic speed change compensation, taper tension, and high and low tension limit switch settings.

---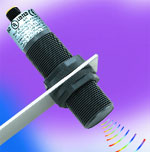 Sensor for Hazard Locations
Migatron Corp. , Woodstock, IL; 815/338-5800; migatron.com
The "Intrinsically Safe" RPS-409A-IS ultrasonic sensor can detect presence, proximity, level control, volume, and distance measuring in explosive and hazardous locations. UL-listed sensor can cover ranges from 4 in.–18 ft, depending on model. Needs no set-up adjustments or calibration and has a linear output of volts per inch.

---
Spool Holds 10x More Material
Rayven, St. Paul, MN; 800/878-3776;
rayven.com
Company now offers all narrow slit products in traverse-winded spools. "Perfect Spool" is said to increase productivity and reduce production costs by carrying as much as 10x more material than traditional pancake rolls. Spools handle 3- or 6-in. cores and product width in the range of 0.075–2 in. material. Finished spool can be up to 9 in. wide and have an O.D. of 24 in.
---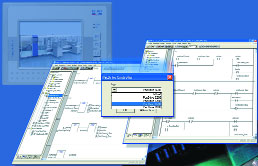 Software Toolkit Upgraded
Elau, Schaumburg, IL; 847/490-4720; elau.com
Latest version of company's EPAS-4 is version 16, the PacDrive Automation Software toolkit. Features a fully documented software template and is said to make it easier to assemble programs like building blocks, using the best aspects of all the IEC languages, including ladder logic.

---
Lock Endboard to a Pallet
Badger Plug Co. , Greenville, WI; 800/959-0832; badgerplug.net
U-Clip packaging component locks an endboard to a pallet, preventing movement and shifting during shipping. Used in the large-roll H-Pack suspension system, it is fixed on the lower edge of a suspension endboard to restrict the board from "kicking out" from the vertical positions. Reportedly, kickboards and nails no longer are necessary with this reusable product.



---
Cut Nonwovens at High Speeds
Maxson Automatic Machinery Co. , Westerly, RI; 401/596-0162;
maxsonautomatic.com
Nonwovens cutter is designed to operate at speeds to 300 cuts/min. The use of air at the cutter and the vacuum transfer roll is said to allow unit to handle lightweight and flimsy stock at higher operating speeds. Unit is equipped with a stationary bed knife/rotary cutter and is capable of sheeting material from 0.001–0.125 in. thick. Sheet length can be varied infinitely from 9–36 in. with sheet-to-sheet accuracy of ±0.015 in. Compact unit can stand alone or be a component in an existing line.
---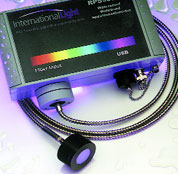 Get Radiometric Readings
International Light, Newburyport, MA; 978/465-5923; intl-light.com
The RPS900 wideband spectroradiometer features optional NEMA 4 rated enclosure with waterproof connectors. Designed for accurate radiometric readings in a wide variety of applications, including research, industrial, and field environments. Choose from three models.



---
Blanket Suited for UV Offset
Phoenix North America, Fords, NJ; 732/346-5353; e-mail:
This email address is being protected from spambots. You need JavaScript enabled to view it.
The Ruby Carat blanket for UV offset printing offers a compressible intermediate layer that, together with the highly resistant surface layer, guarantees a long service life and outstanding printing results. Additives used in the EPDM surface layer are said to make blanket swell-resistant to UV inks and UV washing solutions and to assist ink transfer and prevent piling.
---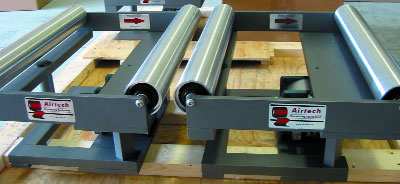 Align Webs with Air Only
Airtech Converting Equipment, Sarasota, FL; 941/379-1961; airtech.us
Company offers 100% air-powered web alignment systems that need no electricity, electronics, or hydraulics. They are said to help converters improve product quality, reduce downtime, minimize waste, and save money. Custom web aligners are available for all types of web-fed converting machines, including blown film extruders, bag machines, printing presses, slitter/rewinders, coaters, laminators, and envelope machines.

---
Rolls Redesigned for Speed
Converter Accessory Corp. , Wind Gap, PA; 800/433-2413; handleyourweb.com
New additions to the line of patented WrinkleStop spreader rolls are engineered to be compatible with web production speeds to 3,000 fpm, doubling the speed capabilities of previous versions. New rolls are available in widths to 200 in. Improvements include a reinforced rubber sleeve.



---
Proof Color Remotely
Progressive Color Media, a Flint Ink co. , Ann Arbor, MI; 734/622-6406;
procolormedia.com
Remote Director is a remote color proofing device offered through a partnership with Integrated Color Solutions. Software application allows multiple reviewers working in different locations to review, collaborate, and comment on projects on-line.
---
Touchscreen Adds Control
G&L Motion Control, Fond du Lac, WI; 920/921-7100;
glcontrols.com
The Cimrex 41 HMI touchscreen now is available for use and integration with company's MMC motion controllers and servo drives. New Cimrex 41 operator interface from Beijers Electronics has 320 x 240 pixels with 0%–100% backlight dimming for optimal viewing in a wide variety of applications. Includes features of other Cimrex terminals.
---
Digital Imager is Upgraded
Creo, Burnaby, BC, Canada; 604/451-2770;
creo.com
The ThermoFlex Mid II digital imager delivers increased productivity and ease of use, company says, reducing the time required to image plate by as much as 28% on the V speed model. Plate loading and unloading have been improved, and a new TIFF front end provides a simplified user interface. Reduced footprint takes 24% less space than original design.
---
---
Part 1 | Part 2
---