Published: April 30, 2005, By Deborah Donberg & Nsenga Thompson, Editorial Staff
FTA Awards
Yes, Mickey, Goofy, etc., were there—at least during the hotel's Sunday brunch. The rest of the time, the 2005 Annual Forum of the Foundation of Flexographic Technical Assn. (FFTA), held March 20–23 at Orlando's Walt Disney World Swan and Dolphin Hotel, pretty much got down to business.
Titled "The Wonderful World of Flexo," the event welcomed about 1,400 attendees to the (mostly) sunny setting. FTA/FFTA president Mark Cisternino welcomed the packed hall at the opening session, imploring the industry to think outside the box and move beyond some of the old perceptions about flexo. Forum chair Rick Rosenberger, Solo Cup Co., also challenged the industry to overcome some of the inconsistencies remaining in flexography and to move beyond four-color process to an extended gamut. William Pope of Rochester Inst. of Technology explained a test study that showed it is possible to run CMYK in place of spots and stay below 1.0 delta-E.
The wide range of technical sessions covered prepress, fundamentals; inks and coatings; business and procurement; corrugated/preprint; flexible packaging; paperboard; tags and labels; and more.
Inducted into the Hall of Fame for 2005 was Dennis (Denny) McGee, who retired earlier this year after a long career in sales for many of the industry's giants. Perhaps best known for his work at Mark Andy/Comco, McGee has for many years advanced the cause of flexography.
The FTA handed out three President's awards at the Awards Banquet. Honored were David Lanska of Stork Materials Technology, Cellramic Div., for his dedicated volunteer work with FTA and energetic recruitment of new members; Leo Suokus of George Brown College, Toronto, ON, Canada, who spearheaded the incorporation of flexo into the graphics curriculum at the school in 1982; and Ian Hole of Esko-Graphics, for his "untiring support of flexo education and industry advancement through a variety of means."
Info-Flex was Booming
Running concurrently with the forum was Info-Flex, which has grown from a tabletop exhibition to something more closely resembling an actual trade show. More than 120 companies participated, and because the exhibit—which ran Sunday and Monday—did not conflict with sessions, the aisles were full.
Many of the attendees also found time for fun at this year's special event, an evening visit to Universal Studios.
---
---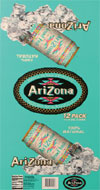 Excellence in Flexography Awards
With 652 entries from which to choose, judges honored 155 converters with 45 Gold, 41 Silver, 46 Bronze, 22 non-denominational honors, the technology innovation award, and six Best of Show winners, the organization's highest honor. Following is a list of the top winners.
Wide Web
Robbie Mfg., Lenexa, KS, takes Gold and Best of Show awards for its Arizona Tea with Lemon Flavor entry in the process, film, category. Using digital photopolymer plates, video mounting, and a CI press, this entry receives raves from the judges. Judge Arleen Neustein, Excelsior Packaging Group, comments, "We were impressed with the fact that it wasn't standard CMYK. The printer modified its tones and ink colors to achieve something that was a dead-on match to customer-supplied samples of products printed using other methods."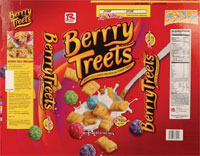 Mid Web
Ralcorp Holding, St. Louis, MO, receives Gold and Best of Show awards for the Ralston Foods Berrry Treats Cereal Bag. Judge Milton Ramos, Huhtamaki Consumer Packaging, raves, "This package jumped out at everyone. Even before looking at it in close detail, we knew that it was a winner. The bright colors and sharpness caught our attention. This job is flexo at its greatest."
Narrow Web
Belmark Inc., DePere, WI, whet judges' appetites nabbing Gold and Best of Show awards for its Strauss Veal Italian Style Veal Meatballs paperboard package. The entry was printed with 175-line digital plates on 20-pt. SBS paperboard. Printing and flatbed die-cutting were done in-line. The design required printing in tight register between six colors, with text reversed out of four process colors. The process image encompassed full tonal range, from minimum highlights in the dish to deep shadows in the background. Judge Brad Keys, Corporate Express, comments, "The folding carton was printed very well—clean, crisp dots, perfect registration in small reverse text that was not outlined. It was an excellent color match to the proof and to the offset-printed sample."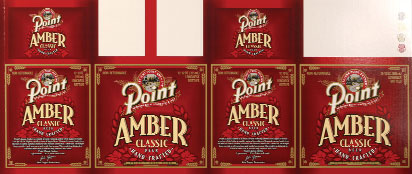 Corrugated/Preprint
In the Combined Corrugated category, Smurfit Stone Container Co., Castle Rock, WI, receives Gold and Best of Show honors. The Point Amber Classic Beer entry features high-intensity water-based inks; the four-color job is run on a Bobst 200 with sheet cleaner and dryers. A water-based ultraviolet coating is put on for protection and gloss and the package is die-cut in-line on a 1575 Bobst.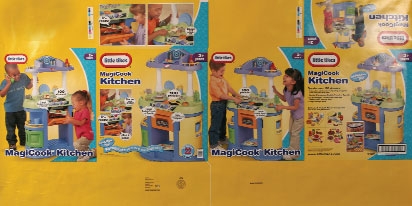 In the Preprinted Linerboard category, Weyerhaeuser Co., Federal Way, WA, takes Gold and Best of Show for its Little Tykes MagiCook Kitchen package, which features a very difficult seven-color plus varnish print on a 96-in. web with a 93-in. repeat. The package is printed at speeds to 740 fpm on a Fisher & Krecke CI press.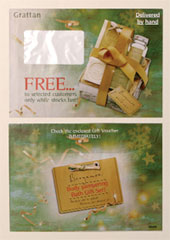 "Overall print quality made these two best-of-show winners stick out from the rest," says Mark Coffman, American Color Graphics. "They both rated very high in level of execution and degree of difficulty."
Envelope Category
Washington Envelopes Ltd. [city, state] grabs the judges' attention and takes Gold and Best of Show awards for the Grattan Bath Get Set Offer envelope. The job uses analog photopolymer plates, video mounting, an in-line flexo press, and water-based inks. "Registration was almost perfect, even of the flaps," raves Judge Jean Jackson, Allison Systems.
---
---
The Technical Innovation Awards
FTA and co-sponsor Flexo Market News honor Windmoeller & Hoelscher Corp., Lincoln, RI, with the 2005 Technical Innovation Award for its Easy-Set automatic impression-setting system. The Easy-Set is said to significantly reduce print setup time, material waste, and operator error at job startup. It promises a more efficient and effective production operation with an estimated return on investment seven months after installation, the company reports.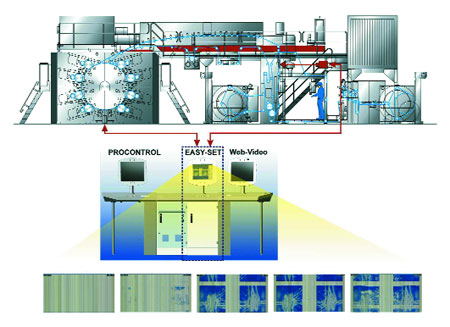 Easy-Set scans images across the entire width of the print area to determine the correct impression setting, sets the impression, and then automatically shuts off. The entire process reportedly is complete in about four minutes. W&H estimates that with Easy-Set, impression-setting times are reduced by more than 60%.
---
---
For more information, contact FTA at 631/737-6020 or visit flexography.org.
---