Published: March 31, 2005, By PFFC staff
---
Part 1 |
Part 2
---
What's New in Materials, Products & Narrow Web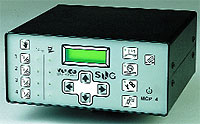 Control Adhesive Patterns
Valco Cincinnati, Cincinnati, OH; 513/874-6550; valcocincinnatiinc.com
The MCP-4 adhesive system pattern control offers four-channel outputs, each capable of multiple glue patterns; four product sensor inputs; and optional integral flow control. Program changes and adjustments can be made on-the-fly with results immediately on the products. Includes plug-and-play connectors and compact design for fast, easy installation. Can be used with an extensive selection of company's cold glue or hot melt adhesive dispensing valves. Visit booth 3081.
---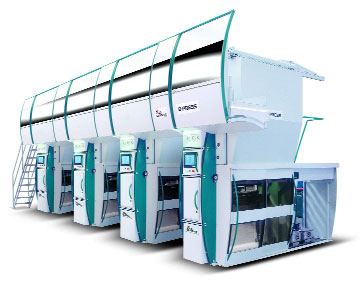 Print Short Gravure Runs
Uteco Converting, Verona, Italy; +39 (0) 45 617 4555; uteco.com
The Q-Press is suited for short runs in gravure. Features include on-press quick change of engraved sleeves and pressure sleeves with no tools; automatic wash-up system of entire inking group; fully automatic positioning of doctor blade; and fully enclosed printing unit. Visit booth 1034.
---

PVC Cores are Durable
Available Plastics, Huntsville, AL; 800/633-7212; duracore.net
DuraCore cores are produced as a solid and continuous wall of high-strength PVC. This reportedly leads to a more durable core that outperforms traditional fiber cores. Submersing cores in water will not damage them, and problems of core ends dog-earring, fanning, and fraying are gone, says company, as is the associated dust contamination. (Not exhibiting)
---
Detect Defects Automatically
Advanced Vision Technology, Atlanta, GA; 770/541-9781;
avt-inc.com
The PrintVision/Jupiter is said to introduce a new generation of process control platform for automatic print defect detection. Features advanced automatic inspection module and new ergonomic design. Process control reduces printing waste by detecting printing defects before they are seen by the human eye and before they become costly waste. Offers high sensitivity. When a defect is detected, the relevant image of the printed area is displayed on the screen, and the red alert switches on. All defects are marked and classified.
Visit booth 2876.
---
High Pile Option Aids Stamping
Diversified Graphic Machinery, Red Bank, NJ; 732/933-4865;
dgmna.com
The Saroglia 720 FUB with the new high pile option is capable of hot stamping and embossing; dry embossing; hologram printing; and more. Also capable of traditional and hot die-cutting of PVC, PP, and other similar materials. Maximum stamping power reaches 110,000 kg. Company reports it takes only 15 min to change from one hot stamping plate to the next.
(Not exhibiting)
---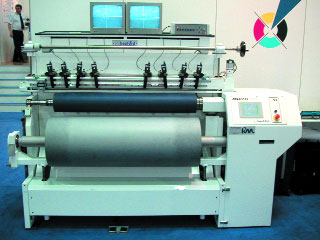 Change Over Sleeves Quickly
J.M. Heaford, Altrincham, UK; +44 (0) 161 928 5679; jmheaford.co.uk
Late-generation sleeve dedicated mounter/proofer has a cantilever mandrel arrangement for fast and efficient changeover of sleeves, company notes. Features the latest servo drive system with a touchscreen PLC interface between machine and operator. Uses company's multiple-camera microdot mounting system. Visit booth 1506.
---
Splice at Full Line Speeds
Martin Automatic, Rockford, IL; 815/654-4800;
martinautomatic.com
Model ECPF automatic splicer unwinds webs at low and controlled tension and makes roll transfers at full line speeds. This zero-speed splicer is for film and nonwoven webs.
Visit booth 1855.
---

Measure and Control Moisture
Moisture Register Products, a div. of Aqua Measure Instrument Co., La Verne, CA; 909/392-5833; moistureregisterproducts.com
Electronic instruments measure and control moisture in production processes. Continuous on-line systems and hand-held portable units are designed for optimum performance, convenience, and reliability for applications involving paper, corrugated materials, tissue, and more. Visit booth 3776.
---
Analyze Many Factors
Beta Industries, Carlstadt, NJ; 800/272-7336;
betascreen.com
The Betaflex 334 is the third generation of company's Flexo QC image analyzer. This desktop instrument features Windows software for analysis of dot area, screen ruling, dot size, dot diameter, edge factor, ink void factor, and mottle. Used to analyze films, plates, and finished products.
Visit booth 4746.
---
Mix with Efficiency
Liquid Control Corp. , North Canton, OH; 330/494-1313;
liquidcontrol.com
Silicone SC continuous dosing and mixing equipment is for use with multiple-component silicone release coating systems. Said to provide greater mixing efficiency; flexibility in mixing materials from multiple suppliers; continuous monitoring of all component streams; and reduced material waste.
Visit booth 4035.
---
Release, Adhesion Tester Offered
Testing Machines, Ronkonkoma, NY; 631/439-5400;
testingmachines.com
The Lab Master release and adhesion tester, offered with an integral PC and touchscreen flat panel display, can be a node on a network or a lab management system. Allows for user-defined test methods, reports, and analysis. Standard load range is 0–15.4 lb. Test speeds are infinitely variable from 2–1,500 in./min. Accommodates samples to 2 in. wide with a maximum peeling length of 12 in. Adjustable test angles of 90, 135, and 180 deg can be set.
Visit booth 3659.
---
Idlers Grip the Web
Componex, Edgerton, WI; 608/884-2201; componex.net
The WINertia AV gripper dead shaft idler eliminates trapped air between the idler and the web. Actually grips the web, minimizing scratching, slipping, or bunching, says company, even on thin films. Features lightweight aluminum idler technology and now is offered in a 4x3 size. Visit booth 4541.
---
Offset Blanket is Lasting
Phoenix North America, Fords, NJ; 732/346-5353;
phoenixna.com
The Tourmaline Carat printing blanket for sheet-fed offset has a new compressible intermediate layer said to guarantee outstanding printing results and a long service life. Special chemical additives ensure superior ink transfer, company says, and blanket is highly resistant to smashes and chemicals.
(Not exhibiting)
---
Web Guiding is Simple
North American Mfg. Co. , Cleveland, OH; 216/271-6000;
namfg.com
The SimPlex web guiding system is designed for straightforward, simple operation and plug-and-play installation. Said to offer many solutions for converters' specific needs.
Visit booth 2507.
---
Foil Coater Offered
Applied Films, Longmont, CO; 303/774-3210;
appliedfilms.com
The Smartweb coating machine is designed for the production of foils for flexible printed circuit boards, flexible displays (including LCD, OLED, and TFT), integrated circuits, touchscreens, and solar cells.
Visit booth 1673.
---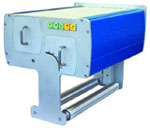 Clean, Treat, Fight Static
Matik North America, W. Hartford, CT; 860/232-2323; matik.com
The CC-Plus corona/web cleaner, manufactured in a joint venture with Kelva and Vetaphone, combines a contact cleaning unit, corona treater, and anti-static unit in one compact housing. Benefits are said to include reduced space requirements, simplified installation and machine integration, easy web threading, and reduced maintenance costs. Visit booth 1309.
---
Software Aids Package Design
Cape Systems, Allen, TX; 800/229-3434;
capesystems.com
With 2.0 palletizing and design software, user can create efficient pallet loads; design custom packages and pallet loads with the touch of a button; evaluate alternative product dimensions; review optional pack arrangements; and test package integrity using compression strength feature.
(Not exhibiting)
---
Varnish for Hot Stamping
Rad-Cure Corp. , Fairfield, NJ; 973/808-1002;
radcure.com
Rad-Kote 708HSLV hot-stampable varnish is a UV-curable, high-gloss overprint varnish for flexo, roll coater, and blanket coater application. Said to exhibit good flexibility, good water resistance, and low shrinkage. Suited for decorative applications including wine bottle labels, decals, folding cartons, greeting cards, and more.
(Not exhibiting)
---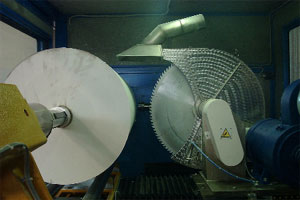 Slit Logs Automatically
CMC Cevenini, Eldridge, MD; 410/796-7944; cmccevenini.com
The TNF7/ED log slitter has a working width of 1,600 mm and is able to cut logs with an outside maximum dia of 600 mm on 3- and 6-in. mandrels with a full air locking system, operated automatically. Designed to cut very tight rewound materials such as PE films, coated and noncoated plastic films, protective tapes, silicone and thermal paper, and more. Visit booth 4268.
---
Score Plastics without Heat
Zimmer Industries, Hawthorne, NJ; 800/225-0108;
zimmerindustriesinc.com
Company has redesigned its 100 TPI microperf steel rule for in-line cold creasing or scoring of plastics. When used in a controlled depth of penetration manner, rule can score or crease a wide variety of plastics without heat or radio frequency, company says. Resultant crease can be adjusted to provide the desired strength and/or level of folding ease required.
(Not exhibiting)
---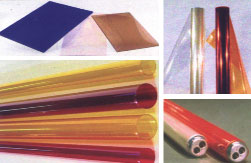 Protect with UV Filter Sheets
UV Process Supply, Chicago, IL; 773/248-0099; uvprocess.com
Clear and orange UV filter sheets offer 99.8% protection against UV radiation from windows, skylights, and other light fixtures. Available in cut sheets customized by length or uncut 100-ft rolls, with or without adhesive backing. Adhesive-backed filters also are available in 2x4-in. (clear) or 2x5-in. (amber) stock sheets. Visit booth 4040.
---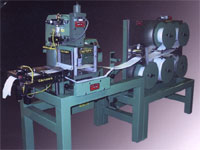 Run Delicate Materials Safely
Joraco, Toggle-Aire Div., Smithfield, RI; 888/889-4287; joraco.com
Press feed and payout system can feed several rolls of delicate materials, die-cut multiple plies, and pull them through safely. System features a 3-ton Toggle-Aire press and integrated air feed, with a gear-driven payout system for handling up to five plies of material from five separate reels. (Not exhibiting)
---
Inspect Cut Sheets Quickly
Futec Europe Ltd. , Herts, UK; +44 (0) 1442 241700;
futec.co.uk
The Easymax-NEO printed cut-sheet inspection system uses company's color line scan camera technology and special diffuse reflection lighting unit to inspect 100% of the printed sheet automatically, and at high speeds, for defects such as blemishes, misregister, missing ink, streaks, splashes, and more.
(Not exhibiting)
---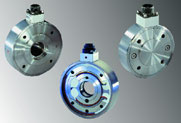 Tension Sensors Have Double Range
FMS USA, Arlington Hts. , IL; 847/392-7872; fms-technology.com
The LMGZ.D Series double-range tension sensors, now made of corrosion-resistant stainless steel, are capable of measuring tension ranges of 200:1. Load cells have two built-in independent measuring ranges where the high range can be 10x the maximum low range. High and low ranges each have 20:1 measuring ratios providing the entire 200:1 range. Both measuring ranges have mechanical stops. Visit booth 3931.
---
On-Line Training Upgraded
Prepress Training Solution, div. of StaffingTools.com, Bloomington, IN; 800/355-6429; 812/355-3030;
prepresstrainingsolution.com
Revamped Learning Management System is said to offer enhanced administrative utility and a stepped-up virtual classroom experience. Upgraded intuitive capabilities enable users to access and utilize the system's functionality more easily.
(Not exhibiting)
---
Transfer Tape for High Tack
Lamart Corp. , Clifton, NJ; 973/772-6262;
lamartcorp.com
A 2.5-mil acrylic adhesive transfer tape, 1103-75, is designed for applications in which high tack and peel values are required. Provides a loop tack value of 120 oz/in. and peel values of 100 oz/in. from stainless steel. Uses a 75# polycoated liner.
Visit booth 917.
---
Ionizing Rods Use Full field
StopStatic, Alpha Innovation, Marble-head, MA; 781/639-9796;
stopstatic.com
Company says ion360 ionizing rods are lightweight, easy to install, and require no power to operate. Provide a full 360-deg field of static elimination and are said to outlast brushes by 4:1.
Visit booth 2705.
---
Eliminate Static at Extended Range
TAKK Industries, Cincinnati, OH; 800/792-8255;
takk.com
Ionstorm XR static elimination system provides an extended range of ionization at distances of 36 in. from target surfaces. Shockless, pulsed DC unit comprises a Model 3700 power controller and XR ionizer. XR bar is equipped with tungsten emitters for long life and dependable service, company says.
Visit booth 3276.
---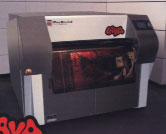 Process Plates in Two Ways
MacDermid, Atlanta, GA; 800/348-7201; macdermid.com
The Lava 360 (round) and Lava 4260 plate processing systems incorporate the benefits of thermal processing and use a specially developed photopolymer plate material that can be processed in company's thermal or conventional solvent-type processing systems. Less equipment space is needed, company adds, and press-ready plates are produced in less than 1 hr. Visit booth 3804.
---
Doctor Blade is Tough
Flexo Concepts, Plymouth, MA; 508/830-9506;
flexoconcepts.com
The Graphix composite doctor blade is called ideal for applications in which steel doctor blades wear quickly. Multilayer, composite blade with specialty fillers for abrasion resistance reportedly provides high stiffness and a very thin wiping tip to deliver high quality metering on anilox rolls with very high line counts.
(Not exhibiting)
---
---
Part 1 | Part 2
---