Published: March 31, 2005, By Edited by Deborah Donberg
Covering the Full Spectrum of Industry News, Events & Activities
---
Part 1 |
Part 2
---
Completing a Triple Play in Packaging AGI/Klearfold, New York, NY, took home three AmeriStar Packaging Awards in the annual competition of the Inst. of Packaging Professionals (IoPP).

The patent-pending InSight Slider package for Motorola Original Cell Phone Accessories, a winner in the electronics category, is described as an upscale alternative to the plastic clamshell or blister card. It combines a printed and scored rigid plastic sleeve with a fold-over vacuum-formed tray.

The FootJoy StaSof golf glove sleeve, honored in the "other retail" category, comprises a plastic envelope with a tactile quality to reflect the softness of the leather glove. It is manufactured using the Accents Dimensional Coating process, said to enhance the printed graphics and create a visibly textured impression. The process uses a clear, UV-cured texture over printing. Both the printing and textured coating application take place during a single pass on the press.
Created as a holiday promotion for Allied Domecq, the Stoli Ice Shot Glass Maker Package combines a 75-ml bottle of Stolichnaya vodka with a built-in mold to make festive ice cube shot glasses. AGI/Klearford designed the book-style package by radio frequency, sealing a printed PVC cover to two locking vacuum-formed trays. The trays cradle the bottle, and the printed cover provides the appearance of a bottle frozen in a block of ice. A third vacuum-formed insert finishes the shot glass mold. The entire unit was designed to be put directly into the freezer.
---
---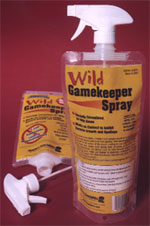 Pouch Helps Hunters Keep Game Fresh
What is called the first commercial US product in a package that marries a trigger sprayer to a pouch is on the market.
Wild Gamekeeper Spray from Hunter's Specialties is formulated to help prevent bacterial growth on just-harvested game. When water was added to activate the granular ingredients, the product would be effective for only 24 hrs. A package had to be created that could transport and display the dry granular product yet be filled with water in the field and provide a method to spray the mixture onto the game.

Contract manufacturer/packager Fortress Systems Intl. (FSI) invited Kapak Corp., St Louis Pk., MN, to meet the challenge. By the way, Hunter's Specialties also wanted the pouch design to facilitate display on peg hooks at POP and to be ready in 60 days, from concept to delivered package! Kapak produced the primary package and cylinders that would be used in the rotogravure printing process and FSI sourced the trigger sprayer. "We discovered that our desired stem length of 9 3/4 inches was not a stock product, so ...we found a company [Spray Bottles Inc.] that would custom-manufacture it for us, says FSI product manager Scott McGill.

The final result was a polyester/LLDPE pouch with an extended bottom gusset to accommodate the punch hold for hanging. Kapak reports one key to its fast turnaround time was its eight-color Toshiba Sectional Drive GSN 120 press, which it says reduces costs and bring rotogravure quality to an affordable level. The package includes bright yellow, red, and black front and back panel graphics. The front panel is printed upside down so copy is readable when the product is hung inverted on the peg hooks.

Kapak manufactures the pouch stock and hermetically seals the neck fitment to the top of the pouch before shipping the empty pouches to FSI for filling. The trigger sprayer assembly is screwed manually onto each neck finish to complete the package.

SUPPLIER INFO:
Toshiba—+81 (0) 3-5250-3550
---
---
Novoflex Press Finds First US Home
The Robinette Co., Bristol, TN, is the first US company to purchase a Windmoeller & Hoelscher Novoflex CL sleeved, direct-drive, CI flexo press.
Robinette is a full-service flexible packaging and specialty converting supplier that prints mostly with water-based inks. Trials on a smaller W&H press in Germany convinced the converter this was the way to go.

The ten-color, 53-in.-wide Novoflex press at Robinette is equipped with the Port-A-Sleeve sleeve handling system, Easy-Set automatic impression setting system, and Procontrol TS Windows-based touch screen operator panel. It has a maximum repeat length of 49 in.

SUPPLIER INFO:
Windmoeller & Hoelscher—whcorp.com
---
---
Lidstock Seals Through Contamination
Flexi 6744 from Flexicon, Cary, IL, is a peelable lidstock for thermoformed cups that seals through oil and chemical contamination.
The lamination is made from polyester and foil plus a proprietary, three-layer, coextruded sealant. It is recommended for applications in food, cosmetic, and pharmaceutical markets, with target products including meats, gravies with grease, sauces, medical ointments/lotions, and more.

It is engineered to mate with thermoformed cups and trays containing a Surlyn ionomer sealant layer. Said to offer high moisture vapor and oxygen permeability and to be engineered for superior sealing and machinability.

High-end graphics can be added by way of a new 50-in., gearless Infiniti II ten-color flexo press from Paper Converting Machine Co. Company reports press provides customers high print quality and fast speeds.

SUPPLIER INFO:
Paper Converting Machine Co. —pcmc.com
---
---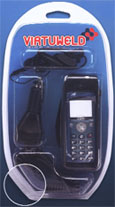 Is It Welded, or Isn't It?
First Choice Packaging Solutions, Independence, OH, offers Virtuweld, a system that provides the security of a sealed clamshell that is not really sealed. The result is a package described as visually appealing, economical, and versatile. Offered with all types of PVC, PET, RPVC, and RPET. The Edges "snap" together to form an undetectable seal. It is not welded, but customers think it is, the company reports.
---
---
Foil Laminates are Peelable, Formable
Rollprint Packaging Products, Addison, IL, offers FormFoil cold-formed laminates for pharmaceutical and medical applications.
Peelable, formable foil structures are said to address demanding formable foil applications without cracking or delamination. They are available with peelable sealants incorporated into the forming web and are described as ideal for dual-formed packages (both top and bottom webs formed).

Company adds structures perform well in formable foil packages requiring a deeper draw for medical, pharmaceutical, and nutraceutical products such as sutures, diagnostics, implantables, tablets, caplets, liquid unit dose, etc.
---
---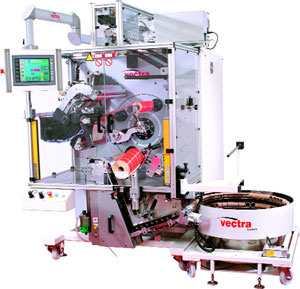 Turret Rewinder Aids Label Operation
Heartland Label Printers, Little Chute, WI, now has its fourth Vectra turret rewinder from AB Graphic Intl. Heartland supplies scale labels for the grocery trade through a network of distributors, together with thermal print systems and industrial blank labels for case ID selling to paper companies.
Plant manager Don Van Roy says, "The Vectra is used in a number of production sites, primarily based on run length, line speed, and productivity requirements.…We especially like the fact that the system does not require any connection betwen the turret and the press or slitter."

The Vectra system comprises four air rewind mandrels available to utilize cores with inside diameters from 1–3 in. and running speeds to 500 fpm. It includes closed loop tension control, a counter, web dividers, an auto roll eject system, and an adjustable core stop.

SUPPLIER INFO:
AB Graphic Intl. —ab-graphic.com
---
---
SUPPLIER NEWS
FDA OKs BASF Pigment
FLORHAM PK., NJ—BASF Corp. has been granted approval from the US FDA for its phthalocyanine pigment Heliogen Green K 9360 under the Food Contact Notification program. According to BASF, it is the only supplier of a pigment with this Color Index number (Pigment Green 36) to have been granted approval.

The pigment is approved for use as a food-contact substance in all types of polymers. The colored polymers may be used according to the conditions of use C-G, table 2 of 21 CFR 176.170(c) and not to exceed temperatures of 70 deg C. Users are subject to the provisions of 21 CFR 178.3297.
---
Ink Goes Global with New Div.
ANN ARBOR, MI—Flint Ink has created a new Global Sheetfed Div. to deliver ArrowStar products for sheet-fed package and commercial printing applications worldwide. Doug Aldred, who oversaw the development of the ArrowStar ink system, will serve as VP of the new division.
The product line is manufactured in Vienna, Austria, and the StarBase blending systems in Helmond, The Netherlands. The range of inks includes both standard and specialty sets.
---
Corrugated Digital Partnership
ATLANTA, GA—Scitex Vision and Esko-Graphics, Vandalia, OH, are collaborating to provide packaging and display corrugated printers with what they call the first end-to-end solution for producing wide-format digital short-run packaging and displays.
Scitex CORjet Premium customers now have the ability to choose an end-to-end solution driven by Esko-Graphics' Scope workflow environment and have printed output digitally converted by Esko-Graphics' Kongsberg converting tables.
---
Totani Opens American Sub.
GREEN BAY, WI—Totani Corp., Kyoto, Japan, has established Totani America in Green Bay for the sales and service of Totani machinery and replacement parts. Totani America was incorporated in Wisconsin as a wholly owned subsidiary of Totani Corp.
Michael Greely will direct the company, which supplies pouch- and bagmaking machines for the flexible packaging industry.
Cham Wallpaper Transfer
FABRIKSTRASSE, SWITZERLAND—Cham Paper Group will transfer its wallpaper business from Norwegian subsidiary Hunsfos Fabrikker to Stora Enso Wolfsheck, Germany. The Cham Paper Group has five paper mills in three countries with a total annual capacity of 260,000 tonnes of specialty paper for a wide variety of industries.
---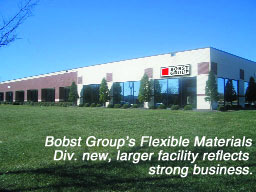 Bobst Moves to Larger Facilities
CHARLOTTE, NC—The Flexible Materials Div. of Bobst Group of Switzerland reports sales have been strong since acquiring the converting operations of Metso Corp. (Valmet Converting). The division has relocated to larger premises in Charlotte, from which sales and service now are coordinated for Schiavi, Rotomec, Atlas, Titan, General, and Midi.

Spare parts inventory for the division has been relocated to Bobst Group USA, Roseland, NJ. Alain-Roger Jendly has overall responsibility for all Bobst Group's Flexible Materials operations in North America.
---
Glenro, TRCM Consolidate
PATTERSON, NJ—Glenro and TRCM, Maysville, KY, announced they consolidated operations effective January 1. The name of the consolidated entity is glenro Inc. and the manufcturing operations in Maysville will be the TRCM Div of Glenro. TRCM has abeen a contract manufacturing company since 1988, manufacturing hot air dryers and thermal oxidizers that Glenro has sold, designed, and engineered. More recntly, Glenro has manufactured Glenro flatbed laminating machines. Glenro has manufctured IR heaters and ovens in New Jersey since 1958 and in Paterson since 1979.
---
F&K Technology is Patented
FAIRFIELD, NJ—Fischer & Krecke has earned a patent for the Flexpress Extension, a new operation mode made possible by servo technology. The system is said to offer the ability to almost double the repeat length of an existing press. It uses two print units to print one color: the first unit prints one half and the second unit prints the second half of the repeat.
---
Kroenert to Service, Sell for Kelva,Vetaphone
KENOSHA, WI—Kroenert Corp. ha reached agreement to provide sales and service for AB Kelva of Lund, Sweden, and Vetaphone A/S of Kolding, Denmark. Kroenert will focus on the contact web cleaning aspects of the Kelva product line. Vetaphone supplies corona treating equipment.
---
---
ALLIANCES
Omron Gets RFID Partners
SCHAUMBURG, IL—Omron Electronics has formed a strategic alliance with Domino Amjet, Gurnee, IL, to offer enhanced EPC-compliant RFID coding and track and trace capability to companies as they code materials, products, packages, and pallets. The goal is to ensure quality control, enhanced recall capability, and continuous supply chain management.
Omron also reports an alliance with label and label applicator manufacturer Weber Marking Systems, Arlington Hts., IL, to provide customers with EPC-compliant RFID smart labels and UHF agile readers available in the industry that conform to the EPC code standard.
---
---
INDUSTRY STUDIES
Security Studies Offered
LEATHERHEAD, SURREY, UK—Two new studies from Pira Intl. address the hot topic of security technology. "Personal ID Technologies" and "Intelligent and Security Inks" analyze breakthroughs, research, commercializations, applications, trials, and rollouts in these two areas.

For more information visit piranet.com.
---
Get Data on Biocides in Plastics
DUBLIN, IRELAND—The global consumption of biocides in plastics was $122 million at active manufacture level in 2003, a 40% growth over 1993. This reflects end-use growth as well as regulatory and technological changes and the growing use of biocides as hygiene aids. The markets are expected to grow due to the use of biocides in an increased number of polymers and the replacement of traditional biocides by more expensive, environmentally friendly biocides.
These conclusions are from a report by Research and Markets on biocides in plastics. The report offers information on the markets, includes detailed market analyses and discussions of industry trends, and assesses the impact of current and emerging regulations on the biocides used. It includes forecasts for biocides through 2009 and covers major geographical regions separately.

For a complete index and other information, visit researchandmarkets.com.
---
Plastics Medical Uses Grow
CLEVELAND, OH—Medical plastic demand in the US is projected to increase 3.1% annually to 4.3 billion lb in 2008, valued at $5.6 billion. This projection is from a new study by The Freedonia Group.
US Medical Plastic Demand
million pounds
% Annual Growth
Item
1998
2003
2008
03/98
08/03
Medical Plastic Demand
3,255
3,700
4,300
2.6
3.1
Resin
Commodity Plastics
2,755
3,100
3,560
2.4
2.8
Engineered Plastics
500
600
740
3.7
4.3
Market
Medical Packaging
1,673
1,907
2,145
2.6
2.4
Medical Product Components
1,582
1,793
2,155
2.5
3.7
Source: ©2003 by The Freedonia Group
Advances will reflect increasing medical product and packaging requirements brought about by an aging population and an increasing number of medical conditions.

The increased use of disposable devices and supplies also is leading to more intensive use of plastics over competitive materials, the study adds. Commodity plastic demand in the manufacture of medical product components and packaging is expected to account for 83% of all medical plastics. Leading commodity resins include PVC, PP, PE, and PS.

For more information on Medical Plastics, contact Freedonia at 440/684-9600 or visit freedonidagroup.com.
---
Plastics in Healthcare Packaging
NORWALK, CT—An updated report from Business Communications Co. estimates the North American plastic healthcare packaging market at about 2.5 billion lb for 2004. It is expected to increase to slightly over 3.2 billion lb by 2009, corresponding to a 4.9% average annual growth rate (AAGR) through the five-year forecast period.
Leading the market are PP, PVC, and HDPE. PP represents nearly 28% of the market and will rise at an AAGR of 5% to 913 million lb in 2009.

PVC is expected to continue to hold the second highest share, despite efforts by environmental groups to reduce its use in healthcare packaging. According to the study, it is still regarded as cost-effective and safe by the healthcare packaging industry.

For more information contact Business Communications Co. at 203/853-4266 or visit bccresearch.com.
---
---
Part 1 | Part 2
---