Published: March 31, 2005, By Nsenga Byrd Thompson Associate Editor
Security Printing
In response to the anti-counterfeiting and brand protection movement that has taken shape, especially after 9/11, security has become a growing niche within the converting industry. As converters begin to research and implement the variety of overt and covert security options available, they also are discovering the security industry is complex, expensive, and utilizes technologies that can be compromised easily.
From experience with Industrial Light & Motion Inc., Hamilton Tool Co., and Ashton-Potter (USA) Ltd., engineer Joseph Schutte, a 25-year veteran of the security printing industry, recognized that what this growing niche needed was a new level of flexibility, precision, and effectiveness.
"Everything available to the industry today does a poor job of producing very high security labels. The equipment in use entails running across multiple presses or multiple platforms to get a finished product. That is very problematic. It causes dramatically high waste, produces poor quality, it isn't cost effective…and there are a lot of other negatives," describes Schutte.
His solution: Build a state-of-the-art security facility and printing system that he contends can take security printing—specifically the multi- layering of various technologies on a single press—to an unprecedented level of proficiency and cost-effectiveness. In late 2001 Schutte created the business plan for Sekuworks LLC, and three and a half years later, he stands proud as chairman and CEO of a company he and his experienced team of experts believe will carry security printing to new heights. And this provider does it all—including problem identification, secure label development and tracking analysis, label production, fulfillment/distribution, and project tracking and enforcement—in an environment unlike the typical converting facility.
Safe and Secure
Sekuworks doesn't have the 16,500 cu ft of granite and 750 tons of reinforced steel of the Fort Knox Depository, but it recognizes that to be a true security solutions provider, it must operate in a secure environment. The newly constructed, 41,000-sq-ft facility in Harrison, OH, near Cincinnati, features 24-hr monitoring, 24 cameras, 78 sensors, complete computer tracking of materials from order inception through delivery, and an 18,000-cu-ft vault for storage.
"We are a high security facility," explains Robert Sherwood, VP of marketing. "We have access controls for every department, all movements are recorded, and we have a complete electronic tracking system. So when a person goes through a door in this facility, [the system] not only records who it is and what door it is, but also what direction they are traveling from that door. So it records everybody that goes in and out."
The facility is segregated so employee ID cards allow only workers to be in their authorized area of employment. "The company also is equipped with an interlock door system in which no two doors can be opened at the same time," Sherwood explains.
"As an example, after the inside door in the shipping department is closed, only then can the outside door be opened so the product can be loaded into the truck. Everything can be accounted for, and nobody can get into the facility from the outside."
These may seem like extreme measures, but as Sherwood explains, it's an important facet of security printing many converters underestimate.
"The reality of the world is that compared to the number of printers out there, there are very few true security printers. Printers are finding out that they can't offer most true security technologies, even though they want to," says Sherwood. "They can't purchase these technologies without meeting the suppliers' chain-of-custody requirements. Most printing operations would require a complete overhaul of the facility, procedures, and mindset in order to meet true security standards. The security technologies they can purchase also are available to the counterfeiters.
"So, traditional printers aren't secure just because they offer some type of secure technology. We are housed in a first-class security facility. So there is accountability, chain of custody, and no compromise or potential leakage."
Redefining Security Printing
When Schutte put the wheels in motion to create Sekuworks, at the heart of his vision was a printing solution that could take the various overt and covert security technologies available, which typically are done on multiple pieces of equipment, and integrate everything into one system. His answer to this dilemma is the patent-pending Intaweb Secure Document Print System.
"Product counterfeiting is a worldwide problem that demands a world-class solution," Schutte observes. "The Intaweb is that solution. It simply has no equal when it comes to integrating multiple security printing functions in one press pass." Sherwood adds, "We know combinations of technologies are necessary to beat the counterfeiters, and we're offering that ability in a single unit."
Featuring a modular, continuous, in-line configuration, the Intaweb system is said to be the only printing system that can combine in a single press as many as ten colors of flexographic printing, two colors of intaglio printing, rotary screen printing, holographic applications, numbering, placement of variable data, die-cutting, and more.
The company's first Intaweb features a seven-station flexographic unit from Comco, two-color intaglio, modular stations that can support more flexo, two rotary screen units, a holographic station, and more. "We can multilayer these documents in various ways," reports Sherwood. "We have die-cutting and lamination, numbering, rewinding, sheeting, stamp holing, and slitting."
The company's second Intaweb system, which went on-line in late January, is a 16-in. re-engineered Arsoma press, featuring a ten-station flexo with UV unit, three die-cutting stations, and auto unwind. "We have two rotary screen units that can replace two of the flexo units," says Sherwood. "An intaglio unit will be added in the near future."
Intaweb utilizes components of manufactured presses, but the integration of all the components together and most of the customization is completed in-house.
"We have state-of the-art technology that we are introducing to the world. We do in-house engineering, so we can be flexible and incorporate all the new features coming out as they're being introduced and evolve."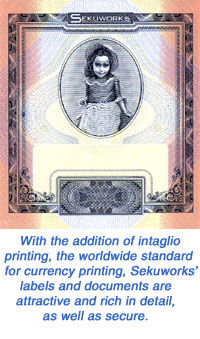 Key among the Intaweb's unique features is its ability to combine intaglio printing—long recognized as one of the premiere defenses against counterfeiting—with other security features on the web substrate. Existing web intaglio systems, which are very few in number, can apply intaglio printing only through additional production steps that are too costly for most brand protection and product authentication applications, according to Sherwood.
Another innovative feature is Intaweb's copyrighted software, which ensures precise registration and positioning of each applied image and security feature. Sherwood maintains this level of accuracy and quality can't be achieved by multi-pass applications.
"When it comes to speed or output rate, the Intaweb is unmatched in the security printing industry," he says. "To customers, this means shorter delivery cycles than previously available. And because it delivers products in rolls as well as sheets, the Intaweb system also enables customers to quickly and seamlessly integrate anti-counterfeiting components into their high-speed manufacturing processes."
Secured for Success
Although the Intaweb, with its multifunctionality, cost-effectiveness, and precision, is at the core of its business, Sekuworks doesn't categorize itself as just another security printer in the industry.
"As for our services, we're offering counterfeit product identification and assessment. We're providing security solutions through product feature composition (basically graphic design for security). We consult and interface with client companies that require in-depth market research data, justifying their brand protection programs," says Sherwood. He continues, "The Intaweb is at the heart of what we do, but it is surrounded by this new idea and a first-class environment. We have a new attitude, a new solution, and a new way of introducing security to the marketplace."
Sekuworks believes it can go into the security identification/document label arena and incorporate almost any technology available to meet its customer's needs, although, as Sherwood explains, many prospective clients aren't sure what they need or how much they should invest in a security solution. It's Sekuwork's goal to provide its growing customer base with viable solutions and a realistic return on investment.
"What we will be counseling our clients on is the fact that just adding a security element to a document or a label may sound like a quick solution, but we're really going to look at your problem and give you a solution that will last longer and have a better return because it will be less likely to be counterfeited or simulated," Sherwood says.
Although the company was launched with 12 employees, Sherwood predicts in three years, Sekuworks will be up to as many as 80 employees, many within their customer service area, ready to counsel clients and offer security solutions. As for growing its sales force, Sherwood contends the company isn't in a hurry to build in that area because, as he explains, Sekuworks isn't just selling a security document or label, it's providing a viable service to its clients.
"Brands are looking for a company like ours to be an integrator. So you need people on your team to assess—someone who can provide you with a complete solution package, not just a technology," says Sherwood.
"We put a lot of support in communication, and communication is done through customer service specialists that know what's going on in any particular area at any particular time. The customer can ask [questions], or suggestions can be made, or anything can be taken care of that may come up," he continues.
With the capability of offering solutions featuring paper and inks, taggants, holograms, variable data, laminating, and RFID, Sherwood believes Sekuworks can offer security solutions not available elsewhere and is committed to improve the authentication of brand protection through printed materials. "We're working with our customers' partners…. We're looking to provide superior service, and the solutions we're providing will protect customers assets. And by implementing those, the return on investment for our customers all in all is very good."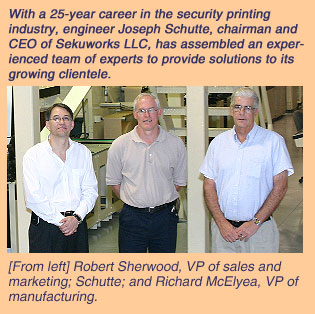 Sekuworks is ready to lead the way for a new age of brand protection and security printing, which Schutte calls "the final frontier of the printing industry." With cutting edge technology at its fingertips, Sekuworks just may be the company to blaze that trail.
---
CONVERTER INFO:
Sekuworks LLC
9487 Dry Fork Rd.
Harrison, OH 45030
513/202-1210; sekuworks.com
SUPPLIER INFO:
Comco—comcointl.com
Arsoma, a member of the Gallus Group—gallus.com
---