Published: March 31, 2005, By Yolanda Simonsis, Associate Publisher/Editor
AIMCAL Awards
Function and flash—that odd couple marriage—come together each year with the recognition of technical and marketing superiority in the annual metallized and coated products competition of the Assn. of Industrial Metallizers, Coaters and Laminators, held in Bonita Springs, FL, on March 17. This year's overall winner, converted by Unifoil, Fairfield, NJ, and deserving of the Peter Rigney Product of the Year Award (named after PFFC's late publisher), is a mouse that roars BUY ME! Make no mistake, this mouse screams for consumers' attention.
The sophisticated MX 1000 Laser Cordless Mouse from Logitech Inc., Fremont, CA, comes packaged in a Unifoil-laminated and coated carton with a shimless registered rainbow pattern. Comprising two sheets of 12-pt solid bleached sulfate (SBS) laminated to the rainbow polyethylene terephthalate (PET) film from metallizer Spectratek Technologies, Los Angeles, CA, the carton also is top-coated with an acrylic print primer. One laminated sheet is mounted to micro-flute corrugated board to provide strength; another laminated sheet is inserted into the box to serve as a curved backdrop to showcase the mouse. Reflectivity of the material sets off the outer box's embossing and dimensional appearance. The product's premium quality is evidenced through the elegant package design, which is also pilfer-resistant, from designer and contract packager Everett Graphics.
Out of the Box, Into the Bag
McDowell's Whisky Pack for UB Group Spirits, Bangalore, India, comes in a metallized pouch designed for one-time use to protect against counterfeiting while facilitating convenience with an integrated die-cut carry handle in the seal area. All this and a 20% cost savings by switching from a surface-printed carton to a bag garners a marketing award in the Food category for Flex Industries Ltd., Film Div., Noida, India. The structure comprises 12-micron PET that's reverse rotogravure-printed in eight colors and dry-laminated to12-micron metallized PET/75-micron low-density polyethylene (LDPE). Flex Industries designed, metallized, and converted the package while also providing the substrate.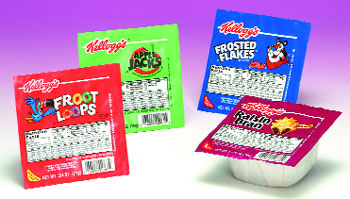 Metallization vs. Foil Face-Off
Single-serving cereal "bowls" from Kellogg Co., Battle Creek, MI, yields recognition for Vacumet Corp., Wayne, NJ, with a technical award in the Food category for a multilayered metallized PET lidstock claimed equivalent to foil in a standoff for barrier properties. In addition, when it comes to price, the metallized construction overpowered its predecessor as a replacement for a more complex and expensive paper/PE/foil/adhesive/PET/heat-seal coating construction without compromising machine performance or peelability. The new lidstock is surface-printed on 35# C1S paper/PE/48-ga metallized PET/hot melt adhesive. Vacumet provides the metallized PET and American Packaging Corp., ELC Div., Rochester, NY, performs the converting. In the foil face-off, the metallized PET also improves resistance to flex cracking, tears, and chemicals.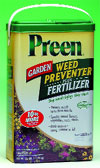 Toughing the Elements
Paper-based packaging combined with metallized film for Preen Garden Weed Preventer from Lebanon Seaboard Corp., Lebanon, PA, is tough enough to withstand the elements of cold, hot, moist, and dry environments. Graphic Packaging Intl., Performance Packaging Div., Marietta, GA, captures the technical award in the Nonfood category for a multilayered, oval-shaped container comprising PET film/reverse-printed graphics/metallization/extruded PE/multi-ply paperboard/PE film. The board, imported from Kappa Attica Packaging, Eindhoven, The Netherlands, is described by Graphic Packaging as varying between 18 and 55 pt (depending on the structural needs of the product) and having an "unusual two-to-one tensile ratio, an old corrugated container inner sandwich, laminated outer sheets, and a 900-gsm sheet at 48-pt caliper." A plastic cover and attached handle allow repeated opening and closing as well as portability. With 360 deg of billboard space for graphics, this package is cost-competitive during periods of inflationary resin pricing and has contributed to a 600% increase in consumer sales.
Holiday Star
Eight-point stars spark up holiday gift packaging for the Tommy Hilfiger brand of Tommy Boy and Tommy Girl fragrances from Estee Lauder, New York, NY. The most complex use of the traditional Hilfiger star graphics yet, this rendition requires registration to within 0.015 in. in either direction, earning Unifoil a marketing award in the Healthcare, Cosmetics, and Toiletries category. Unifoil converts custom-registered Holographic UniLustre paper (an 80# metallized litho stock) that's register-printed with ultraviolet (UV) transparent ink (blue for men, red for women) followed with a top coat. Toray Plastics (America), North Kingstown, RI, provides the base film substrate to Crown Roll Leaf, Paterson, NJ, for embossing and metallizing.
Dazzling Pearly Whites
Communicating the whitening capabilities of Oral-B/Rembrandt Whitening Pen from Gillette, South Boston, MA, meant package graphics, particularly the white-colored images, must dazzle. Unifoil once again succeeded in the Healthcare, Cosmetics, and Toiletries category by capturing a technical award for its conversion of an acrylic-coated metallized polyester film that's laminated to UV-printed 18-pt SBS. Celplast Metallized Ltd., Scarborough, ON, Canada, metallized the polyester substrate provided by Toray Plastic (America). The UV inks allow the metallized surface of the film to shine through while an embossed surface adds texture. House of Packaging, City of Industry, CA, contract-packages the pen product.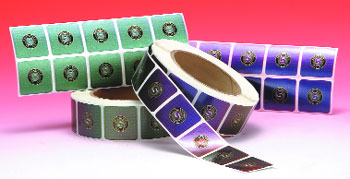 Color-Shifting Security
Foiling counterfeiters' efforts is the focus of Flex Products, a JDS Uniphase co., Santa Rosa, CA, with its SecureShift MetaSwitch label, securing it a technical award in the Label-Retail category. The label's construction involves pressure-sensitive adhesive (PSA), polyester film, multiple-station printing, and a combination of matching color-shifting and non-color-shifting inks to create a difficult-to-duplicate graphic design visible only at certain viewing angles. The incorporation of SecureShift microflakes with optically variable pigments is elemental for the desired anticounterfeiting capability.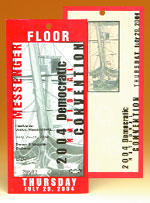 Deceivingly Simple & Secure
Passes for the Democratic National Convention were anything but simple with several layers of security and anticounterfeiting technology at work in the effort by PROMA Technologies, Franklin, MA, yielding it a technical award in the Other category. Collaborating with Globe Ticket and Label, Warminster, PA, PROMA created a custom two/three-dimensional holographic logo and produced custom HoloSECURE security paper for the passes. Foil Laminating, Plymouth, IN, first laminated the substrates, then Globe Ticket and Label printed them in four colors on one side and two colors on the reverse, employing a six-color, 16-in. Mark Andy, St. Louis, MO, press. Off line, serialized numbers were added. Among the ticket's other security features were specialized inks; color-coding to identify specific attendee groups and access; proprietary coatings with forensic markers; a proprietary cover security taggant supplied by Stardust Technologies, Bellevue WA; and backside printing with a hot-stamped hologram.
Appearance, Cost, & Production Advantages
An eye-appealing new multilayer window film in the production of spandrel glass from Prelco, Montreal, PQ, Canada, earns Film Technologies Intl., St. Petersburg, FL, a marketing award in the Industrial category. Applied to glass for installation on buildings in non-vision areas (such as the spaces between floors or other inaccessible areas), the film represents a cost reduction of about 40% compared to oven-cured glass, and it can be produced in one-third the time. Film Technologies converts two versions of solvent-based adhesive-coated window film, which Prelco subsequently dry laminates to glass for installation, on a 72-in.-wide coater/laminator from Faustel, Germantown, WI. The basic film is 12.7-microns silicone-coated polyester release liner/PSA/12.7 microns polyester/proprietary adhesive containing metal flakes/25.4 microns polyester/proprietary adhesive containing metal flakes plus a final layer of either 76.2 microns black polyester or 50.8-microns white polyester. Substrates come from Mitsubishi Polyester Film, Greer, SC; Toray; and DuPont Teijin Films, Wilmington, DE. Dictating the appearance of the glass is its color, whether the final layer of the film is white or black, and the enhancement provided by the metal flake layer construction.
New Wrinkle for Metallization
A metallized, coated nonwoven outerwear lining fabric provides a new market wrinkle for the application of metallization. Winning a technical award in the Industrial category is Celplast for metallizing the patent-pending fabric of corona-treated LDPE/nonwoven PP from Innovative Insulations, Arlington, TX. PGI Fabrene, North Bay, ON, Canada, is the converter of the drapable, flexible, and machinable material, comprising metallized, microperforated PP (to maximize breathability) that runs on conventional fabric equipment. Low puncture resistance and high tear resistance facilitate sewing during production, while the nonwoven PP eliminates any rustling and crinkling noise while it is worn.
---
---
Novelty Gets Nod
Film with Potential
Totally opaque coextruded white/gray polyester films from DuPont Teijin Films, Hopewell, VA, have a lot more potential than their initially intended uses, the competition judges believe. Developed for imaging applications such as banner stands, point-of-purchase displays, signage, and backlit displays, patented Melinex White-Light Block film comes in standard grade 6364 and grade 6368 with preteatment on both sides for solvent adhesion. An in-film process- applied coating permits direct printing and eliminates the need for costly off-line process steps, while the gray layer ensures opacity and eliminates the impact of rear lighting and shadows on front-side image quality. The coextrusion replaces sometimes five or more different laminated layers, representing substantial savings in time and money. The film is claimed dimensionally stable and doesn't stretch, deform, or delaminate in use. It reportedly hangs flat and resists curling while also being tearproof, crack resistant, waterproof, chemical resistant, and heat tolerant.
New Wave in Microwave
Patent-pending Quilt Wave flexible packaging with built-in microwave susceptor maximizes browning and crisping while resembling a "quilt" once it's exposed to microwave energy. Graphic Packaging Intl., Marietta, GA, is recognized as the food finalist in the Coated, Laminated, or Metallized Product category for the product's development, used for the first time by Sepp's Gourmet Foods, Surrey, BC, Canada, for a microwavable grilled cheese sandwich. Once the quilt expands, inflated cells conform to the surface of the food and insulate it from the environment to increase the sensible heat flux to the food surface, reportedly resulting in maximum browning and crisping. Simultaneously, channels between the inflated cells allow moisture to evaporate quickly from the food's surface and migrate out of the package, enhancing yet further crisping. Once the food is cooked, the package cools, but the cells remain inflated to protect the consumer's hand from the hot food inside.
The "Real Thing"
Visual verification of a branded product is made simple with SecureShift from Flex Products, a JDS Uniphase co., Santa Rosa, CA. As the second finalist for security in the Coated, Laminated, or Metallized Product category, this patented pressure-sensitive security label is used by a major pharmaceutical company to protect prescription drugs in Europe. The polyester label depends on multiple station printing and a combination of matching color-shifting and non-color-shifting inks to create a difficult-to-duplicate graphic design visible only at certain viewing angles. SecureShift microflakes, based on optically variable pigments, are elemental to the anticounterfeiting capability of the ink.




---
---
Technology of the Year
Novelty gets the nod for recognition at AIMCAL's Technology of the Year Award ceremonies with honors going to Applied Films, Longmont, CO, for its LMS4X-OD optical density monitor. Judges unanimously selected the device for being "extraordinarily useful for metallizers and roll coaters to be able to measure optical properties…." The closed-loop system works across a wide range of transparencies, allowing metallizers to run an entire spectrum of films without changing monitoring systems. This allows a meaningful reduction in downtime, but the system also permits metallizers to guarantee the quality of the material in both the cross-web and machine directions and improves consistency roll to roll. The LMS4X-OD system operates within an accuracy of 0.1% and allows a calibration of base films with an optical density as high as 2.0; it measures the deposited aluminum layer with an optical density to 4.0 for a total measuring range of 6.0. Monitoring metallized paper in weights to 70 gsm also is possible. The system is a standard option on TopMet metallizers from Applied Films, but it also may be retrofitted on older units.
---
---
Judging for the 2005 AIMCAL competition, hosted annually in Chicago by PFFC, included Panos Kinigakis, CPP, senior technology principal R&D, Kraft Foods; Paula Record, CPP, senior development engineering manager, Packaging, Unilever Home and Personal Care North America; Dean Lindsay, principal, dean LINDSAYdesign; Melissa Larson, managing editor, Converting magazine; Arnie Orloski, VP/executive editor, Packaging World magazine, and Yolanda Simonsis, associate publisher/editor of PFFC (Paper, Film & Foil Converter). Steve Sedlak, sales manager, ESK, a Ceradyne co. (formerly Wacker Ceramics), Saline, MI, chairs the AIMCAL Awards Committee and moderates the judging session.
Judges for Technology of the Year included Ed Cohen of Edward D. Cohen Consulting, Fountain Hills, AZ; Eldridge Mount of Emmount Technologies, Fairport, NY; John Fenn of Fennagain, West Hills, CA; and Charles Bishop of Charles Bishop Consulting, Middlesbrough, England; plus competition chair Steve Sedlak.
More information is available from AIMCAL; aimcal.org.
---