Published: December 31, 2004, By PFFC staff
Part 1 | Part 2
New Products
Machinery, Accessories, and Services
Measure with High Accuracy
NDC Infrared Engineering, Irwindale, CA; 626/226-8319; ndcinfrared.com
The FG710 IR gauge performs what is said to be highly accurate on-line basis weight and thickness measurement of single- or multilayer films. High-resolution IR filters are incorporated into a robust measurement head, allowing sensor to measure up to four product constituents continuously at the same time. Company adds this makes it ideal for coextruded films. Capable of measuring from 12–5,000 microns.
---

Press for Corrugated, Screen
Scitex Vision, Marietta, GA; 770/690-9355; scitexvision.com
The CORjet Premium press for corrugated and screen printing features transparent cover panels to give press operators improved print control. Company says inking system improves print quality and system reliability; a new way of jetting the ink provides major quality improvements in solid colors; and new software ensures a more user-friendly and effective operating system.
---
Jogger Aerator Downsized
Woodward Joggers Aerators, East Rutherford, NJ; 201/933-6800; joggeraerator.com
A compact version of jogger aerator will handle loads to 28 x 40 in. It is floor loading and operates without a pit. Company says no quality has been sacrificed, and new size will save in material and labor.
---
Reduce Roll Changeover Times
Converter Accessory Corp., Wind Gap, PA; 800/433-2413; handleyourweb.com
Inflation toggle valve Cor-Lok airshaft option TVCLAS is said to help reduce roll changeover times. Employs standard rotary union for pneumatic hook-up and is engineered for use in cantilevered application. Available in diameters of 2–18 in. Compatible with company's sleeve-based core-adapting option, which allows converters to run varying core sizes on the same shaft or air shaft.
---
Integrated System Inspects Web
Fife Corp., Oklahoma City, OK; 800/639-3433; fife.com
InPrint video web inspection integrates the camera, control panel, and microprocessor into a single, compact, industrial-grade housing. A 24x zoom and advanced features allow for prompt detection of the smallest variations in print or register settings, company says. A high-performance imager maintains an optimized resolution of 800 x 600 pixels at a refresh rate of 72 Hz, delivering what is said to be a sharp, reliable image.
---
Share Files Easily
Exanet, New York, NY; 917-210-8290; exanet.com
Kodak Polychrome Graphics is distributing company's ExaStore, a highly automated, scalable storage cluster system tuned for pre-media applications used by the graphic arts industry and digital media markets. System provides easy file sharing across a wide range of system platforms.
---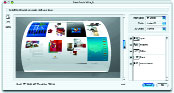 See Proof in Various Lights
Integrated Color Solutions, New York, NY; 212/683-0585; icscolor.com
Remote Director Flash Proof software plug-in enables users to manipulate a proof to view the interaction among substrate, coatings, and lighting onscreen, in a virtual light booth. Allows users to tilt images back and forth on-screen and to see accurately how light reacts or reflects off specialty varnishes, inks, and metallic surfaces.
---
Workflow Solution is Upgraded
Creo, Burnaby, NC, Canada; 604/451-2770; creo.com
Prinergy 3.0 offers upgrades for prepress. With Rules-Based Automation, customers can create sets of rule that Prinergy will execute automatically. Unified Versioning is said to produce multiple versions of a print job easily, eliminate errors, and automate the entire versioning process.
---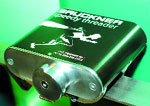 Threader System Cuts Waste
Brückner, Siegsdorf, Germany; +49 8662 63 278; brueckner.de
Sequential stretching lines include the fully automatic Speedy Threader system for initial film transportation from TDO onto automatic winder. Said to require no manual contact or touching of film and to offer maximum safety and minimum waste.
---

Inspect Webs with Bright Light
Electromatic Equipment Co., Cedarhurst, NY; 516/295-4300; 800/645-4330; checkline.com
Checkline LS Series linear stroboscopes are said to be ideal for inspecting web-type products such as labels, printed materials, nonwovens, and more. A super-bright Xenon light source and highly polished reflector generate high light intensity and uniformity. Strobes come in 10- and 15-in. models to accommodate webs to 36 in. wide. Two or more units can be combined for continuous inspection of wider webs.
---
Convert Tissue Faster
Paper Converting Machine Co., Green Bay, WI; 920/494-5601; pcmc.com
NET (New Embossing Technology) for tissue converters is a system of removable plates, covering an embossing roll with virtually undetectable seams. Reportedly allows one person to change the pattern on an 85-in. roller in less than 15 min, making it economically feasible to change patterns once or twice per shift. No lifting equipment is needed, as plates weigh less than 25 lbs.
---
Spunbond Technology Aids Nonwovens Line
Reifenhauser, Ipswich, MA; 978/412-9700; reifenhauser.com
REIcowipe nonwoven wipes are based on company's Reicofil 4 spunbond technology, which features a line of single- or double-beam design. Said to offer higher throughputs of fine-fiber diameters with an improved product uniformity. Production of fine-fiber nonwovens of 10 g/m2 from PP is possible at speeds to 500 mpm.
---
Corrugated Without Damage
Anver Corp., Hudson, MA; 800/654-3500; anver.com
OC Series oval vacuum suction cups and suspensions are said to retain their position for handling corrugated sheet and loads with minimal gripping surfaces. They eliminate mechanical grabs that can scratch and damage loads and can be supplied with a wide range of non-rotating, level-compensating suspensions and brackets.
---
Move Napkins to Wrapper
Omet, Lecco, Italy; +39 (0) 341367513; omet.it
Patented automatic transfer unit allows the delivery of 110 packs of napkins/min from the folding machine to the wrapping one. System is said to be easily adjustable from the console board placed on the machine. Comes with turnover devices that deliver all packets, oriented in the same direction, onto the chain of the wrapping machine.
---
Splicing Tape Splits Cleanly
Adhesives Research, Glen Rock, PA; 717/235-7979; adhesivesresearch.com
Arclad 0077 high-performance, repulpable splicing tape is a white, 7.0-mil, aggressive, double-faced tape that utilizes a carrier said to split cleanly, allowing for the release of the tail from the roll while still covering the repulpable adhesive. Suited for flying splice applications as well as core starting, temporary roll finishing, and coater, slitter, and rewind operations.
---
Line Targets Hygiene Market
Davis-Standard, Pawcatuck, CT; 860/599-1010; davis-standard.com
Line of nonwoven machinery for the hygienic film market includes high-speed coating systems as well as simplified, lower-speed machines. Process capabilities include both wet and dry embossing and laminating to nonwovens. Several mono- and coextrusion configurations are available, and systems feature a web width range of 40–120 in. and speeds from 300–1,640 fpm.
---
Ink Jet Printers Reliable
Videojet Technologies, Wood Dale, IL; 630/860-7300; videojet.com
BX6000 Series binary array ink jet printers are designed for printing a variety of jobs quickly and reliably. Printers feature a resolution of 128 x 256 dpi and are said to provide solid print quality. Dual-head configuration operates off a single print engine, providing the ability to print four continuous inches, and separating the heads allows printing on different areas of the target piece.
---
Find Defects in Specified Area
Nyquist Systems, Mississauga, ON, Canada; 905/670-8533; nyquist-systems.com
The Web Inspector2 uses high-speed line scan cameras that allow for inspection of the web in a stabilized condition as it runs over an idler. Said to find any defect, including missing print, streaks, filled-in characters, ink density variations, misregistration, etc., at tolerance levels that can be specified per area of interest. Defect images are continuously stored in a data base, allowing navigation through the entire roll while inspection is running.
---
Ultrasonic Bonding Technology
Herrmann Ultrasonics, Schaumburg, IL; 847/985-7344; herrmannultrasonics.com
Noncontact, non-wear ultrasonic bonding systems allow users to bond, emboss, perforate, and slit films and nonwovens at high speeds. Depending on application, speeds to 1,500 fpm can be achieved. Micro Gap control system automatically maintains a small constant gap between the ultrasonic weld and an engraved anvil drum to ensure high quality and virtually eliminate wear between weld horn and anvil, company says. Bonding patterns can be changed easily by using different engraved anvil drums.
---
View Webs with Small System
Erhardt+Leimer, Augsburg, Germany; +49 821 2435-0
The ELSCANmicro digital web viewing system offers autoscan in web-running direction; master view comparison; high-speed exposure times; motorized iris; fully digital RGB camera with 12x motor zoom; and more. Described as the smallest and most flexible of company's product line.
---
---
Part 1 | Part 2
---