Published: December 31, 2004, By Edited by Deborah Donberg
Part 1 | Part 2
Covering the Full Spectrum of Industry News, Events & Activities
Spring Will Bring Blown Film Line
A new seven-layer Varex blown film extrusion line from Windmoeller & Hoelscher with Optifil P-2 auto gauge control is scheduled to go into production March 1 at Danafilms, Westborough, MA, and Franklin, KY.
Danafilms produces PE films for applications including food packaging and specialty sealants for laminations.
The line will be capable of producing sheeting to 87-in. layflat widths. It features multiple-component gravimetric control, Module ISP for integrated quality control, a Multinip oscillating haul-off, and a Filmatic S dual winder.
Says general manager Alan Simoncini, "[Danafilms] tries to consistently exceed our customers' expectations and provide the highest quality products possible, at a fair price. We believe this new W&H line will support our goals."
SUPPLIER INFO:
Windmoeller & Hoelscher—whcorp.com
---
---
Towel, Tissue Proofing a Reality
The challenge for Midwest Imaging and Roller Services, Menasha, WI: Find a proofing system that could produce accurate, full-color proofs directly on porous toweling and tissue substrates. The solution: a Prediction 1420 digital halftone proofing system from Latran Technologies.
John Shreve, a principal of Midwest, reports when customers saw the accuracy of the new proofs, "they immediately saw the potential savings. … They were excited by the prospect of eliminating the expense of prototyping new towel or napkin designs and avoiding the need for trial runs on press." Scott Laurin, application specialist for Midwest, who discovered the Prediction on Latran's Web site, says, "…with [this] system we now can easily output multiple variations of the art images on the real towel substrate [our customers] are going to print on. We can vary the image to show it a little lighter or darker and can compensate for dot gain, so customers can see the actual finished product on a proof before they trigger the expense of engraving the plate."
"The industry just hasn't seen a proofing system before that could do anything like this," adds Shreve.
SUPPLIER INFO:
Latran Technologies—latran.com
---
---
Film Star Images
When Madonna came to the Centrum Centre in Worcester, MA, last summer, her fans were greeted with 21 window graphics. Working with Castle Graphics, FLEXcon, Spencer, MA, used its seeTHRU-sign materials to create the 13.5-ft-high images in various widths.
The project marked the beginning of an ongoing relationship between FLEXcon and Castle Graphics in which the two companies will produce graphics for future events.
---
---
Supplier News
Bobst Shows Off its Stuff
ROSELAND, NJ—The Bobst Group held an open house in mid-November 2004 at its North American headquarters in Roseland, highlighting a new series of die-cutters, foil stampers, and folder/gluers.
The display included 12 Bobst products that debuted in Europe at the Drupa trade show, with nine in operation at the open house. The approximately 325 attendees received guided tours of the Roseland facility and demonstrations of a variety of equipment.
Five new die-cutters and foil stampers were shown, including the SPrintera 106-PER, SPanthera 106-LE, SPeria 106-E, SP 102-BMA Foilmaster, and the Steuer FBR 104. New folding gluers on display included the Amazon 105 A-1, Fuego 80 A-2 CS, Mistral 110 A-2 CS, and an Alpina 110 II A-3 Matic. The Mistrial was demonstrated with an in-line HandyPack II semi-automatic collecting table. Other equipment in operation included the Cartonpack II automatic packer and the Easyfeeder II with a loader/batch inverter.
Bobst's Flexible Materials division demonstrated a Schiavi Compact Laminator-CL450, a Titan SR8 slitter/rewinder, and the Schiavi Universal Deck from the Model EF4040/5050, a CI flexo printer.
Participating vendors also took part in Direction '04, which took place November 12, 13, and 15, and PFFC was in attendance.
Direction '04 consisted of presentation, operation, and Q&A sessions. Chris Raney, Bobst's VP of Folding Cartons, noted that the open house gave attendees the opportunity to see more equipment than would typically be displayed at an industry trade show. And, he added, "Our guests took advantage of the opportunity to engage Bobst's engineering, technical, and support staff in comprehensive discussions about the products and their applications."
---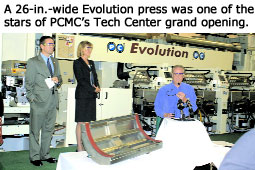 PCMC Celebrates Tech Center
GREEN BAY, WI—Paper Converting Machine Co. held a grand opening Nov. 3–4, 2004, for its new 35,000-sq-ft Technology Center, located in Green Bay. The center is designed to showcase nonwovens and flexographic machinery for customer inspection and use.
Gearless PCMC presses include a 50-in.-wide Infiniti CI model and a 26-in.-wide Evolution in-line model. Nonwovens machinery includes a new Clipper RX-200C wipes system and a new lab line that demonstrates PCMC's capabilities to unwind, emboss, wet, print, fold, rewind, cut, and coat a wide range of nonwoven substrates.
PCMC reports the Tech Center has been booked solid by customers and suppliers since its opening.
---
---
Conferences
Film Trends Focus of Gathering
BRUNSWICK, GA—InnoPlast Solutions and Gehrke, Kaas, & Assoc. announce the second annual conference on "Global Trends in Plastic Packaging Films," scheduled for February 28–March 3 at the Hilton Hotel-Airport, New Orleans, LA. The conference will be preceded by an optional course on the "Fundamentals of Flexible Packaging."
The first two days will focus on advancements in barrier and packaging materials, film testing and inspection, easy-open packaging, printing, and food processing. Day three will be dedicated to pharmaceutical packaging applications.
The target audience is R&D, sales, marketing, and business development leaders throughout the entire supply chain of the packaging film industry.
Organizers report the conference will be structured to produce ample opportunity for networking to encourage the sharing of new ideas and concepts.
For more information, contact InnoPlast Solutions at 973/446-9531; innoplastsolutions.com; or Gehrke, Kaas, & Assoc. at 920/915-6311; gehrkekaas.com.
---
---
Part 1 | Part 2
---