Published: October 31, 2004, By by Edward Boyle Contributing Editor
A Test Run
In 1992 Polytype Converting became the world's first company to design and operate a high-speed pilot line, named Techma I, with maximum production speeds of 3,280 fpm using thermal, ultraviolet, electron beam, and infrared drying. A second line, Techma II that uses radiation curing, was added in 1999 and operates at up to 5,000 fpm. The lines currently are housed in the company's nearly 11,000-sq-ft pilot facility in Fribourg, Switzerland, and are running at about 60% capacity on the thermal line and 40% on the radiation curing line.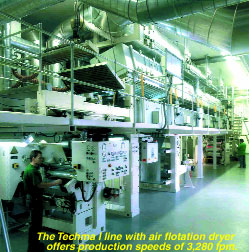 In 1999 both pilot lines were equipped with multilayer coating systems, i.e. curtaining, cascade, and slot die. Equipment for hot melt converting has been added in 2003, namely melter, drum melter, and slot die, all from Nordson.
Says pilot lab manager Ferdinand Krebs, "We're not looking to fill the machines just to have them filled."
Techma I is designed for coating, lacquering and laminating various substrates. The air flotation dryer includes four sections of 3 m each with a maximum temperature of 662 deg F. A UV curing unit from Fusion is located after the thermal dryer and can be used when additional drying is needed. Prior to the thermal dryer, there is also an IR system with two wavelengths. Remoisturizing is provided by a Thermoweb unit capable of two-sided treatment; the Techma I line currently has more than 50 coating methods available.
The Techma II line is dedicated solely to radiation curing technologies and incorporates both an automatic unwind and rewind, both with flying splice and a wet lamination installation. It is fitted with the latest Fusion F600 microwave-powered system with variable power supply (25%-100%), together with a new generation of wide web arc lamp from Aetek, and advanced nitrogen inerting.
The unit can be equipped with the next generation of high-pressure microwave UV source (Versatile Irradiance Platform). The EB system has an enhanced performance range and chill roll. The pilot line includes a corona treater especially designed by Ahlbrand for high-speed applications. The drive and control system includes AC drives and motors and the Poly View Supervisory System for process monitoring and reporting.
Krebs believes the machines have been valuable tools for use by Polytype's strategic partners in developing new materials or processes.
"The main use is for customers," explains Krebs. "The second use is for us to make developments and improve designs before we take a product to market." The company also rents the 33-in. lines to raw material suppliers, such as silicone manufacturers, that want to run tests of their own or demonstrate potential capabilities to their own customers.
Krebs says the pilot lines occasionally but rarely have been used for actual production runs of salable materials. "We try to avoid it if we can," Krebs says with a laugh, "but it happens. Mostly, it's used by customers that have our machine, maybe a few, and they want to buy equipment that operates at a much higher speed, and they want to prove that the coating still works at those speeds," says Krebs. "Or they want to evaluate another coating."
The machines can handle virtually any standard substrate, from 8-gsm paper to 500-gsm board, as well as films and foils.
"It's been a great supporting tool," Krebs says of the pilot lab, "for both our company and our customers. It's well worth the investment."
---
---
FACILITY INFO
Polytype
26 route de la Glâne, CH-1701 Fribourg, Switzerland; +41-26-426-1111; polytype.com
---
---
SUPPLIER INFO
Nordson Corp. —nordson.com
Fusion UV Systems —fusionuv.com
Thermoweb —thermoweb.com
Aetek UV Systems —aetekuv.com
Ahlbrand —ahlbrandt.de
---