Published: June 30, 2004, By Teresa Koltzenburg, Senior Editor
Value-stream mapping is among the many lean-oriented actions your operation can take. But how do you navigate the swelling "lean" lexicon that's appearing on the converting industry horizon?
There has to be a business reason for doing this. "This" being lean manufacturing, standardizing work, training employees in Six Sigma, utilizing kanban organizational cards, or implementing "5s," workplace organization/housekeeping elements. If you're doing just one of these things, or all of these things, there should be a reason behind your lean implementation.
"[Manufacturers] have to understand that," explains Charlie Colosky, a consultant at the Kaizen Inst. (kaizen-us.com), the global consulting firm that helps organizations achieve their strategic goals and improve business performance by eliminating waste and building a culture of continuous process improvement. "Because the person down the street is doing [it], or because 'I read it in a magazine,' isn't a good reason to implement this," Colosky adds.
Colosky, who also teaches at Purdue, is dedicating his professional life to educating students and manufacturing communities about the benefits of continuous improvement.
You've probably heard of others — like James Womack, the individual credited for coining the term "lean," founder and president of LEI (the Lean Enterprise Inst., lean.org), and author of various "lean" information publications.
If you aren't "doing it," and you're asking, "Womack who?" then at least you've probably heard a lot of general things about "getting lean" — a.k.a. reducing waste, cutting inventory, and becoming more efficient — to get more competitive or to maintain your edge. Those that have just cracked open the virtual lexicon of "lean" information on-line have found themselves immersed in such terms and phrases as kanban, value-stream mapping, kaizen breakthroughs, variation reduction, and total productive maintenance (TPM).
Even more overwhelming for those that have just begun their "lean" research is the fact there's a vast array of individuals and firms touting various methodologies individually or urging manufacturers to integrate aspects of each — Six Sigma vs. Lean, or Kaizen, or even "LeanSigma." Reason, schmeason — who has the time to map the value stream or engage in Six Sigma training, let alone figure out how to implement Six Sigma training?
The Lean Necessities
But Colosky's mandate, "There has to be a business reason," is becoming more pertinent for the converting industry. In a sluggish economy and an increasingly competitive global market, "lean" practices — and the benefits derived from applying "lean" — have been generating more noticeable blips on the converting industry's radar in recent years.
Susan Kelly, managing partner at Raine Consulting (raineconsulting.com), reports significant lean manufacturing inroads on the narrow web side. "The Tag and Label Manufacturers Inst. (TLMI) has asked us to work with their association to survey all their members as to where they are on lean manufacturing processes. We're putting together a full report, which will be available at TLMI's conference later this year."
According to Kelly, the report is meant to be a benchmark for the narrow web part of the industry. "It will be based not only on lean manufacturing but also on computer-integrated manufacturing, direct-machine interface, and supply-chain processes in the tag and label environment," she explains.
Good news is the converting industry already seems to be well aware of the reason for "doing" lean, so finding specific resources may not be as difficult as it initially may seem. "Converters and packagers actually are ahead of the curve in understanding what this is all about," says Kelly. "We [think] the programs for packaging will need to be more sophisticated because a lot of their customers have been using lean for years."
That's echoed by converters that serve the rigorous packaging demands of the quick-service restaurant industry to converters of today's highly innovative, film-based produce packaging. "We do lean manufacturing out of necessity and out of history," states Rob Mann of Burrows Paper (burrowspaper.com), Little Falls, NY, a quality assurance manager for the company's packaging group, which makes packaging for fast food vendors. "We produce a lot of materials with not a great number of people. … We've implemented shop-floor reporting in production so that data entry is instantaneous with our raw material consumption, labor costs, managing inventories, tracking our waste, product traceability for potential recall, anything like that," explains Mann.
"We spend a lot of time looking at our metrics," adds Kevin Kelly, who runs his family's Union City, CA-based plastic produce packaging business, Emerald Packaging. "We're getting daily reports on production. We generate weekly reports, too, [that measure] production and waste, and we track that over time, so we know where we are, and we know what we have to attack. We haven't tackled Six Sigma or anything like that, but we have done other things that, I think, are comparable."
Suppliers, too, have to be mindful of their "leanness," especially with today's steadily increasing cost of raw materials, costs that eventually may be passed on to converters. "[We have] a constant focus on waste reduction as well as cost reduction," says Joe Gagne, VP of technology at NEX Films (nex-films.com), Turner Falls, MA. "It's really getting everyone involved in the company to be aware of the impact they have on costs and on waste. Then it's doing things like looking for opportunities to consolidate items to allow us efficiencies of building larger run sizes. But also it allows our customers the opportunity to receive a product that is more consistent, that is produced more frequently on our equipment, so our turnaround times are better."
The Asset of Wisdom
An obvious part of process improvement is the investment in new technology. But investment, again points out Colosky, must be preceded by a reason. "This is where the Kaizen thinking comes in. A colleague of ours from Japan said years ago, 'We want them to use their wisdom, not their wallets.' In other words, we want them to try the low-cost, no-cost stuff first. So what we really find it makes it unnecessary, in some cases, to spend more money," he explains.
Though OEMs may find their feathers ruffled a bit by Colosky's statement, successful suppliers realize capital investment must be part of an overall process-improvement philosophy. Mark Blitshteyn, GM of Ion Industrial (ion.com/industrial), Windsor Locks, CT, believes technology investment is key to keeping a competitive edge, but agrees it's important to spread focus to other areas of the operation, too. "Being a supplier to the industry, we get to see a broad scope of philosophies. If one company makes a decision to invest in productivity-enhancement tools and equipment, trains its operators, and maintains its focus, while another does not, you don't need to guess which company will gain a competitive advantage," he states. "There are some qualifications to this statement: Companies must not lose focus on continuous improvement after initial success has been achieved."
Locating Lean
So what is the business reason for "doing" lean, or deciding to train your employees in Six Sigma, or calling up Kaizen for help? Like the copious amounts of lean-oriented philosophies and the myriad techniques manufacturers have employed to drive out waste and create efficiencies, the business reasons, too, are varied. But, realistically, just being in business today is probably reason enough.
So if you're not already "doing" it, then a place to start is Womack's LEI (lean.org). Raine Consulting and/or the Kaizen Inst. also can provide a starting point for your operation's lean examination. If you want to go the more independent route, there's always the Internet. In cyberspace, I found the on-line magazine IndustryWeek.com (particularly articles by David Drickhamer) to have loads of lean, Kaizen, Six Sigma, etc., types of information.
---
Taking Special Inks Out of Special Colors
As any package printer knows, a major part of print production involves ink. They also know ink and color issues can escalate — causing more downtime (less profit) and more waste — when a customer wants a special, or "spot," color.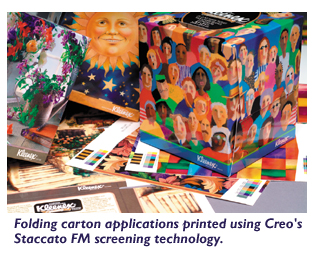 At Drupa in May, Creo, Burnaby, BC, Canada, showcased a "leaner" solution for package printers (especially offset printing converters) plagued by problems special inks can cause. Built upon its Staccato FM screening technology, Creo's Spotless 4 and Spotless X products enable Spotless printing, which the company says delivers the visual performance of spot colors without spot inks — essentially, "special colors, with the ease, efficiency, and economy of process colors."
According to Mark Nissen, product manager for the Spotless solution, the most fundamental definition of this offering is "using Staccato screen process builds to replace spot colors. It has applications both in four-color and in six-color work," he states.
"A lot of what we've learned from our customers over, say, the past five years has led us down the road toward Spotless. That you get more stable color, that was kind of a big surprise," Nissen explains. "Not only does it stabilize the color, it eliminates all the halftone artifacts, such as rosette, moiré, those kinds of issues. It also increases the resolution, so that we can resolve fine type reverses and so on."
---
Dispensing with Downtime
Another ink "lean-oriented" solution highlighted at Drupa was automatic ink-dispensing systems manufactured by Stork Prints Dispensing Systems, Brummen, The Netherlands.
Stork's ink-dispensing systems, controlled via the vendor's own IMS Logistic software, enables printers to place orders for new bases directly with ink manufacturers electronically. When used in conjunction with ink manufacturers — who can control stock and deliveries remotely and automatically — printing converters can take the downtime out of ink ordering and delivery as well as solve their own ink inventory issues, says Stork.
According to the manufacturer, among its dispensing solutions is Colorsat Slim 20, an "economical" dispensing system that incorporates "plug & dispense" equipment that can be executed with up to 20 different components. Equipped with the manufacturer's IMS SLIM (Stork Logistic Ink Management) software, the system performs fully automated and computerized dispensing of water- or solvent-based inks, says Stork. In addition to the stock and inventory benefits, Stork Prints' ink-dispensing solutions are said to provide:
easy self-installation, with simple, user-friendly "Ikea-like" assembly instructions (saves money on installation cost);
flexible arrangement of storage — the system can be configured in either a wall layout (with all ink vats aligned along a wall, adjacent to control system), or can be configured in a line layout (ink vats aligned behind control system); and
simple operation.
---