Published: April 30, 2004, By Edward Boyle, Contributing Editor
Fortune 500 companies took notice when LaFiesta Label added new capabilities with a multi-substrate press from Comco.
The first settlers arrived in southwestern Arizona nearly 150 years ago, but for one converter, the region's pioneering spirit is alive and well as LaFiesta Label's installation of a Comco ProGlide MSP press two years ago changes the Phoenix-area landscape.
"I think we're the leaders out here in the Southwest, kind of like the pioneers," says Tuesdi Valadez, VP of sales for the 20-year-old, family-run company. "With the new capabilities of the ProGlide press, I don't think there are many people out here doing what we're doing."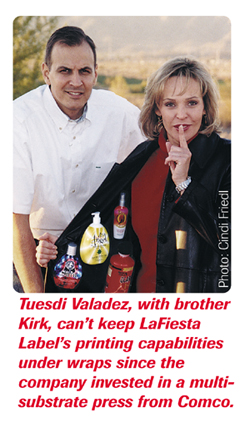 Established in Chandler, AZ, in 1985 by company president Leo Valadez, LaFiesta Label has built its reputation as a high quality converter of pressure-sensitive labels for end-users in the Phoenix Metro area and beyond.
The company was launched with a 6.5-in., five-color Webtron 650, followed by a 7-in., three-color Comco Cadet. LaFiesta later added two Mark Andy 2200 presses: a 7-in., six-color and a 10-in., eight-color version. But the installation in mid-2002 of a 16-in., eight-color Comco ProGlide MSP (Multi-Substrate Press) at its 15,000-sq-ft facility greatly expanded LaFiesta's capabilities and opened up new markets.
"About two years ago, we started doing research on what kind of press we wanted to invest in," explains Tuesdi Valadez. "We had gotten very, very good at doing labels, but we needed to reinvent ourselves to grow with the market, to offer more to our existing customers and give us an advantage in attracting new types of business."
Company officials concluded a multi-substrate press, one capable of converting diverse materials from p-s label stock to thin films and even paperboard, would offer it the best opportunity for expansion. In the midst of its planning, however, the September 11 attack on America made an already difficult economic environment even more uncertain.
Ultimately, however, "We decided we would go forward with the project," says Valadez, "and we're glad we did. We really feel it's given us an advantage over our competitors. It was a risk, but it was well worth it, because we saw the market, and we wanted to separate ourselves from the competition in this part of the country."
LaFiesta purchased a floor model of the ProGlide MSP from Comco, a div. of Mark Andy, right off the company's showroom, and it took six months for "a press of that magnitude" and the accompanying folder/gluer to begin producing commercial product. But the wait was worth it. Valadez says LaFiesta and its customers are most intrigued by the ProGlide's ability to convert film shrink bands, which have become increasingly popular as a method of high quality decoration and product protection in a variety of markets.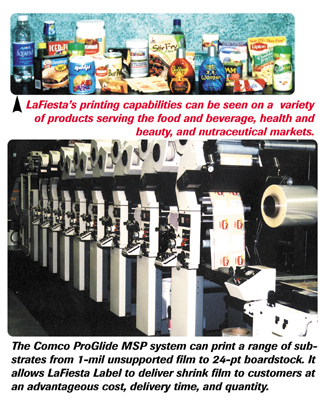 Valadez notes a majority of the high-shrink bands used in the US currently are produced in Asia using gravure technology, resulting in increased costs, longer lead times, and higher minimum orders. The growing number of end-users that have come to benefit from the advanced capabilities of Comco ProGlide MSP include both established and new LaFiesta customers who previously ordered shrink wraps from foreign converters or are using the technology for the first time.
"We're really carving our niche with people who can't afford the long lead times [of ordering overseas product] but who want that type of packaging," says Valadez. "We can start with lower minimum orders, which is great for smaller companies; they're really going for it.
"They look to us as packaging innovators," she says of the company's customers. "We're able to bring a number of new ideas to them involving cartons, high-shrink or label film, whereas before we were just labels. So, we're actually able to lead them into other areas of packaging. Some of the people I've talked to have more of an interest in "high-shrink" because of the advantages of working with a US-based supplier, "but they also have products that are already packaged in a carton, so we're taking customers away from offset right now."
Valadez says the ultraviolet flexo capabilities of the ProGlide allow it to deliver shrink film that may not quite match gravure quality but offers advantages in cost, delivery times, and smaller quantities that serve to minimize any quality variations in the eyes of customers.
"With cartons, there really is no difference as far as the quality that comes off the ProGlide," says Valadez. "People can notice a slight difference in high-shrink bands between gravure-printed and flexo, but when you talk about lead times, cost, and minimum orders, it's more appealing once they weigh all the advantages."
The ProGlide MSP system purchased by LaFiesta can print on a wide range of substrates from 1-mil unsupported film to 24-pt board-stock. It is available in web widths to 26 in. and can be custom configured with as many as a dozen water-based, UV, and rotary screen printing stations. Valadez says that while not currently installed on LaFiesta's unit, options like in-line screen printing and foil stamping can be added as required.
"It was a big jump for us," explains Kirk Valadez, VP of operations. "For the first 18 years, we were strictly pressure-sensitive, and we were quite comfortable with that; we were very good at it. But we realized we had to keep up with changes in the marketplace. We saw the trends, and that the market was getting beyond pressure-sensitive, so we needed to get on that bandwagon."
Qualified for New Business
Since installing the ProGlide, LaFiesta has acquired carton and high-shrink film business from Fortune 500 accounts like Procter & Gamble and Pepsico. Tuesdi Valadez says it took 18 months to qualify as a supplier of shrink bands for P&G, although LaFiesta had been supplying bottle cap labels to the company since 1996. The deal ultimately was sealed when Procter & Gamble executives visited Comco's Cincinnati, OH, manufacturing facility to see the ProGlide in action running Metamucil cartons, the film, and pouches. "They were amazed," says Valadez. It also helped that P&G had consolidated all of its Metamucil production at its Phoenix plant.
"We're really proud of that accomplishment," Valadez says of the P&G contract, "because it was really tough. So many other people fall out along the way because the demands on our time and the people involved is just unbelievable. But obviously it was worth it."
In addition to the size, speed, and tight registration offered by the ProGlide, Kirk Valadez says he was impressed by the reversible print heads that occupy the first two stations of the press. The stations allow LaFiesta to print on both sides of the web in a single pass without the need for a turnbar. This, for example, allows the press to print process color on the front panel of a carton and a multicolor coupon on the inside.
The ProGlide is also LaFiesta's first press with UV capabilities, a virtual necessity when competing against offset and gravure in the carton and shrink film markets. "We've really become fans of it," Kirk Valadez says of UV technology. "It was kind of a hard sell, because the prices on UV inks can be up to three times more than water-based, but you get a lot more mileage out of UV and a lot more savings. It's really maintenance-free, so it's worthwhile. And the quality of UV speaks for itself."
With its Comco ProGlide MSP continuing to gain market share, the company believes it is well-positioned to meet the packaging needs of end-users across the country, particularly as a "one-stop shop" for labels, cartons, and flexible packaging.
"We almost reinvented ourselves," adds Kirk Valadez. "We started a new business, and in many ways we're still learning. When you do cartons and high-shrink films, that's a whole different ball game." And one the family-run company seems well on its way to winning. If it has been "one of the best-kept secrets in the Southwest," it appears the word is out and spreading across the nation.
CONVERTER INFO
LaFiesta Labeling Systems
6162 W. Detroit St.
Chandler, AZ, USA 85226;
480/785-3900; lafiestalabel.com
---
SUPPLIER INFO
Mark Andy/Comco/Webtron markandy.com
---