Published: January 31, 2004, By Edited by Deborah Donberg, Associate Managing Editor
Covering the Full Spectrum of Industry News, Events & Activities
Show News
ICE 2003: Quality over Quantity
OBERAUDORF, GERMANY—Organizers of the ICE 2003 exhibition report that, while the numbers were not large, visitors and exhibitors left with "happy, smiling faces."
The show, held November 18-20 at the M,O,C Exhibition Centre in Munich, Germany, welcomed 1,800 visitors, including 210 conference attendees.
Says Roger Astell of Valmet Converting, "We have been impressed with the international nature of the visitors to our stand, from as far afield as North, Central, and South America, as well as the Middle East and Asia. We have already booked a larger stand for 2005."
"Small is good," notes Galileo's Fabiano Rimediotti. "We like ICE and its focus, and the quality of visitors has been excellent."
Smaller suppliers also were pleased, according to organizer Nimble Shows & Media, saying bookings for ICE 2005 have been strong. For information contact Nimble at +49 8033 91231; e-mail: This email address is being protected from spambots. You need JavaScript enabled to view it..
---
---
Association News
UV/EB Expo to Feature Industry Giants
CHEVY CHASE, MD, USA—RadTech, sponsor of the e|5 2004 UV and EB (Ultraviolet and Electron Beam) technology exposition and conference, reports leading industrial and consumer product companies and converters will share their experiences and offer insight on why and how their companies moved to UV/EB. Among those on the schedule are M&M/Mars, E&K Gallo Winery, Microsoft, the Scott's Co., Bacardi, Coors Brewing Co., Alcan Packaging, and more.
The Technical Conference will offer more than 100 papers with sessions on chemistry, equipment, adhesives, measurement/analysis, graphic arts, photoinitiators, cationic chemistry, formulation, nanotechnology, raw materials, industrial applications, water-borne formulations, and an international market overview.
As part of the "TechCell" to demonstrate current uses and provide further educational materials on UV and EB, a consumer products "SuperStore" display will be the centerpiece of the event's exhibit floor. The SuperStore will feature many consumer products already printed and packaged using UV and EB technology, as well as demonstrations of both technologies.
The event will take place May 2-5 at the Charlotte Convention Center in Charlotte, NC. For more information contact RadTech at 240/497-1243 or visit radtech.org.
---
CCTI Launches Programs
ALEXANDRIA, VA, USA—The Composite Can and Tube Institute (CCTI) reports the launch of five programs for members:
The Independent Mfrs. Council will allow independent manufacturers to meet collectively in a legal manner to share knowledge, expertise, and experience.
CCTI-Sponsored Insurance Programs will help members provide employees with health, dental, life, and worker's comp benefits.
The Vendor Technical Subcommittee offers members a resource for resolving in-plant production problems.
Web-Based Safety Training Programs will bring members a comprehensive, discounted, on-line safety training program.
Human Resources Univ. and HR On-Line offer handbooks, resources, and an on-line catalog of paperwork for HR needs.
For more information contact CCTI at 703/823/7234 or visit cctiwdc.org.
---
---
Supplier News
Davis-Standard Goes to School in Montreal
Davis-Standard reports École Polytechnique de Montrßal, an independent engineering institution affiliated with the Universitß de Montrßal, QC, Canada, has purchased a Davis-Standard multipurpose coextrusion system for its Center for Applied Research on Polymers (CRASP). The flat-die, cast film system will be used for high-level development of micro-porous and nanocomposite films as well as general development of sheets, cast films, oriented films, and extrusion coating and laminating processes.
The is Polytechnique's first full-size production line, and it will be used by students and by private organizations for contract research.
"Not only does Davis-Standard have an excellent reputation for covering all extrusion areas," says Polytechnique's project manager and lab director Luc Parent, "but they were extremely helpful throughout the planning and implementation process."
Davis-Standard is supplying the complete system, which incorporates three Davis-Standard single-screw extruders; two Coperion co-rotating twin screw extruders; a five-layer Cloeren feedblock; a Cloeren 48-in., single-manifold coextrusion die and a 36-in., three-layer, multi-manifold die; a multi-purpose web forming unit; an in-line machine-direction orienter; and winders for heavy sheet and very thin, extensible films. An EGS Gauging system will provide on-line web measurement and control.
Supplier Information
Davis-Standard, davis-standard.com
Coperion, coperion.com
Cloeren, cloeren.com
EGS Gauging, eurothermgauging.com
---
ExxonMobil Films Put to Very Good Use
The Films Business of ExxonMobil Chemical honored six flexible packaging and label applications with Golden Mummy and Pyramid Awards at a ceremony held during PackExpo 2003 at the Luxor Hotel & Casino in Las Vegas, NV. The awards recognize packages and labels that make innovative and effective use of ExxonMobil films.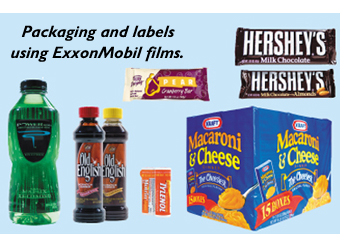 Taking home Golden Mummy awards for packaging were the following:
Kraft Macaroni and Cheese (Kraft Foods and Cello-Foil); Bicor AB-X film
Hershey Milk Chocolate Bar/Milk Chocolate with Almonds Bar (Hershey Foods Corp. and Bemis Co.); Bicor 75 CSR-2 and Metallyte 50 TSPM
Gorge Delights Pear Bar (Gorge Delights and Pak-Sel); Bicor 70 MLT and Oppalyte MU842.
Pyramid winners are as follows:
McNeil Vial Products (McNeil Consumer & Specialty Pharmaceuticals and National Label Co.); Label-Lyte 302
POWERade Matrix/NHRA National Promotion (The Coca-Cola Co. and Salem Label); Label-Lyte Roll On Shrink On (ROSO) film
Old English Furniture Polish (Reckitt Benckiser and Hammer Lithograph); Label-Lyte LS-447.
---
Online Proofing Added to Product Launch System
SAN BRUNO, CA, USA—RealTimeImage reports Design2Launch (D2L), Stamford, CT, has implemented RealTimeProof successfully as part of its D2L System, which is engineered to help consumer packaged goods companies streamline product launches.
The software enables early-stage product design concepts to be viewed as final "virtual products," D2L says. It provides designers and non-technical users with an intuitive, Windows-based environment that simplifies 3-D design review, markup, and collaboration and reportedly eliminates extensive learning curves and the need for specialty software. The system utilizes RealTimeImage's image-streaming technology, which enables gigabytes of high-resolution files to be viewed in seconds.
---
Inspection System Is a Confidence Booster
BROOKLYN, NY, USA—Ultra Flex Packaging Corp. has a higher level of confidence in what it sends its customers since installing a PrintVision/Apollo inspection system on three Titan 64-in. slitter/rewinders. The system provides 100-percent inspection, 100-percent of the time.
"You feel more secure, and your level of confidence in the quality of the product goes much higher when all the material is inspected on the slitter/rewinder with the PrintVision/Apollo. No defects get past us," says Ultra Flex printing manager Zalman Zohar.
Production has speeded up, he adds, because slitter operators don't have to slow down to make sure they catch problems.
When the Apollo system detects a problem during the rewinding/slitting process, it zeroes in on the roll containing the problem. "If we're running five across, we don't have to stop and cut all five," reports Zohar. "We just take the problem roll, put it aside, and we know exactly in which part of the roll the problem occured."
He continues, "All of the AVT inspection units we have...are so basic, simple, and easy to program, they're efficient to use even for runs as short as 3,000 feet. It's extremely reliable equipment and practically maintenance-free."
Advanced Vision Technology, Atlanta, GA, USA; 770/541-9781; avt-inc.com
Titan (Valmet Atlas), Cumming, GA; 770/781-5291; valmetconverting.com.
---
---
Industry Studies
Servo Drive Markets Growing
DEDHAM, MA, USA—The worldwide market for servo drives is expected to grow at a compounded annual growth rate of 7.2% over the next five years, reports a new study from the ARC Advisory Group.
According to the study, servo drives help fulfill today's demands for improved performance, reduced time-to-market, and lowered total cost of ownership. However, the report cautions, the servo drive market is characterized by a large field of suppliers. Another challenge for servo drive suppliers is that they serve a number of markets in relative stages of growth.
For more information on "Servo Drive Market Outlook" contact ARC at 781/471-1000 or visit arcweb.com.
---
Report Looks at Specialty Printing Consumables
CLEVELAND, OH, USA—US demand for specialty printing consumables is forecast to rise 7.4%/yr to $18 billion by 2007, according to a new study from The Freedonia Group. Specialty printing consumables include inks, toner, coated digital paper, synthetic paper, cleaning chemicals, and other specialty chemicals.
Combined, this product group accounted for 40% of total printing consumables demand in 2002, a share projected to grow to 45% in 2007. Much of this growth can be attributed to the increasing use of digital technology in the office and consumer as well as industrial markets.
US Specialty Printing Consumables Demand
Million dollars
% Annual Growth
1997
2002
2007
02/97
07/02
Specialty Printing Consumables
7,300
12,550
17,950
11.4
7.4
Ink & Toner
5,938
9.810
13,300
10.6
6.3
Specialty Substrates
1,130
2,505
4,400
17.3
11.9
Chemicals
232
235
250
0.3
1.2
Source: ©2003 by The Freedonia Group Inc.
For more information on "Specialty Printing Consumables" contact The Freedonia Group at 440/684-9600 or visit freedoniagroup.com.
---
---
Agreements
Presto, Pliant Agree
APPLETON, WI, USA—Presto Products Co., a business of Alcoa Consumer Products, and Pliant Corp., Schaumburg, IL, have reached an agreement granting Presto the right to use Pliant's patented Slider reclosable technology.
The agreement gives Presto the right to extend its rights to its distributors, dealers, and end-users and allows Presto to expand its work with customers to increase the market penetration of the Slider technology.
---
---
Purchases
Woodward Manufacturing Has New Name, Owner
EAST RUTHERFORD, NJ, USA—Joseph N. Giorgio has purchased the assets of Woodward Manufacturing and formed a new company, Woodward Jogger Aerators Inc., which will operate from the same facilities, keep the same personnel, and retain the same phone, fax, and Web site as Woodward Manufacturing.
---
---
Awards
DuPont Declares Sealed Air a Winner
SADDLE BROOK, NJ, USA—Sealed Air Corp. was awarded three national honors at the 16th DuPont Awards for Innovation in Packaging. The technology of the Cryovac Simple Steps heat-and-serve package received a Gold Award in the food category, and the Inflatable Bubble Wrap packaging system won a Silver Award in the non-food category. Another winner was the Foster Farms' Fresh and Easy Individually Vacuum Sealed Fresh Chicken package, developed in partnership with Sealed Air using Cryovac T-Series rollstock material.
---
---
Environmental News
Ontario Law to Charge Industry for Recycling
COLLEGE PK., MD, USA—The new Minister of the Environment for Ontario, Canada, has approved a plan that will require packaged goods makers to pay 50% of the local government bill for curbside recycling. According to "State Recycling Laws Update," a newsletter covering North American recycling policy, the plan will trigger weight-based packaging fees by spring of 2004.
Local governments are expected to take in $3 million/mo (CDN) from industry payments, and Quebec is set to copy Ontario as soon as the regulation is settled, the newsletter reports.
The Packaging Association of Canada has formed a coalition to fight the law, charging there is no cap on what local governments will consider their "costs," which have doubled twice so far. The association says some packaging suppliers will have their profits wiped out, due to the way the law has been interpreted. For more information visit raymond.com.
---
---
Acquisitions
Arcar Graphics Joins EIC
MORGANTON, NC, USA—Environmental Inks and Coatings Corp. (EIC) has signed an agreement to acquire Arcar Graphics, a subsidiary of Flint Ink North America Corp. Headquartered in West Chicago, IL, Arcar manufactures water-based and UV-curable flexo and screen inks. There will be no change in customer products for the foreseeable future. EIC says Arcar customers will benefit from the existing EIC branch distribution network with eight locations.
---