Published: March 31, 2004
Machinery, Accessories, and Services
Slitter Boasts New Features
Ashe Converting Equipment, Ipswich, Suffolk, UK; +44 1473 710912; ashe.co.uk
The Sapphire S2 slitter has a maximum operating speed of 700 mpm and incorporates a number of new design features, including shaftless female knife positioning that allows repositioning of spacers and knives for shear slitting, without the need to remove any shafts. Closed loop tension control uses custom tension-sensing load cells as standard. Machine is equipped with integral core alignment for fast core positioning and slit width changes. Visit Hall 12, Stand A21 at Drupa.
Ink Jet Press for Wide Formats
Scitex Vision, Netanya, Israel; +972-9-8924766; scitexvision.com
The TURBOjet digital ink jet press has been designed to meet the exacting requirements of the display and large-format sector. Said to offer superb image quality, wide color range, high print speeds, and low printing costs. Can produce to 400 sq m/hr (4,304 sq ft/hr).Visit Hall 9, Stand A04 at Drupa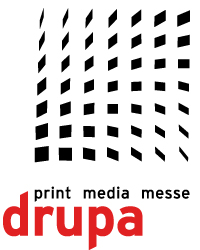 Digital Drives Raise Efficiency
Schober, Eberdingen, Germany; +49 (0) 7042/790-171; schober-gmbh.de
The Vector Cut roll-to-roll converting machine offers single-drive technology. Digital servo drives are said to offer high precision and flexibility, increasing efficiency of the production process and reducing start-up costs. Visit Hall 11, Stand A44 at Drupa. Ensure Color Quality
X-Rite, Grandville, MI; 616/534-7663; 800/248-9748; xrite.com
The DTP32 Series II automatic strip reading densitometer is designed to calibrate and ensure quality color output for Post Script color printers and color proofing systems. Company says product enables printers to maintain consistent, accurate color regardless of the environment and is four times faster than previous models. Visit Hall 4 and Hall A61 at Drupa.
Folding Carton Line Is Gearless
Omet, Lecco, Italy; +39 (0) 341 367513; omet.it
The Varyflex is a modular, integrated line for folding cartons that allows the use of interchangeable printing methods and the printing of infinitely variable formats from 12-33 in. with precision, company says. Features gearless and shaftless system technology and uses sleeve technology. Printing plates are mounted directly on light and transportable sleeves for what is said to be very rapid job and format changes. Visit Hall 10, Stand A44 at Drupa.
Inspect Entire Web in Real Time
Futec Europe, Hertfordshire, UK; +44 (0) 1442 241700; futec.co.uk
The EasyMax inspects the entire printed web in real time. Allows operator to set specific tolerances, so independent flaw detection algorithms can be set to look for flaws of a particular size and contrast. Company has developed an in-line color check system for the EasyMax, called KaleidoEye, which compares color on a new print run with a previous or master job. This new feature enables the printer to see color variations in either the delta-E or lab mode. Visit Hall 15, Stand B04 at Drupa.
Modular Folder/Gluer Is Faster, Safer
Bobst Group USA, Roseland, NJ; 973/226-8000; bobstgroup.com
The Alpina II folder/gluer for folding carton and micro-flute corrugated board offers modular design that can be configured into more than 30 possible versions, allowing customers to have line configured to their needs and also to adapt it to different needs in the future. Speeds to 1,640 fpm are possible in the basic version; options allow speeds to 2,050 fpm. Other features are said to offer simplified operator controls, higher efficiency, and enhanced safety. Visit Hall 6, Stand PF4, and Hall 10, Stand A04 at Drupa.
New Features Enhance Press
Heidelberg USA, Kennesaw, GA; 770/419-6500; us.heidelberg.com
The Speedmaster SM 102 offset press offers new features, including a redesigned Preset Plus feeder said to reduce make-ready times and enhance productivity. Feeder uses a central suction tape without guide rollers, making feed process more stable. Sheet-alignment system features an automatic sheet-arrival control system. Visit Hall 2, Stand A01 at Drupa.
Offset Press Runs to 350 MPM
Rotatek, Barcelona, Spain; +34 93 674 52 50; rotatek.com
The RK Perfect NT shaftless rotary offset press works without mechanical transmissions between printing groups. Designed for continuous forms, leaflets, and more, press can be run from roll to roll, roll to fold, or roll to sheet. Speeds are to 350 mpm, and model is said to offer high printing quality as well as modern and ergonomic design. Visit Hall 11, Stand D44 at Drupa.
Print on Sheets from 1-40 Pt
MAN Roland, Westmont, IL; 630/920-2000; manroland.com
The ¾-size 500 sheet-fed press equips facilities to print on stock from 1-40 pt. Microflute, tags and labels, plastics, and more can be run at a top speed of 18,000 sheets/hr. Sheet size is said to yield 50% more output than conventional ½-size presses. Offers advantages of the PECOM press operating system. Visit Hall 6, Stands D57/E57 at Drupa.
Software Suite Coordinates Projects
Esko-Graphics, Vandalia, OH; 937/454-1721; esko-graphics.com
The Scope workflow environment encompasses a suite of preproduction software tools. Integrates design with production, adding overall collaboration and project coordination. Configurations combine a number of software components according to the customer's needs, including DeskPack plug-ins for Adobe Illustrator and Photoshop; ArtiosCAD for structural design; collaboration and asset management servers such as WebCenter; workflow servers and expert tools such as FlowDrive, BackStage, PackEdge, and Plato; and FlexRip RIPs as the imaging back-end. Visit Hall 4, Stand C40 at Drupa.
Change Rolls without Stopping
Martin Automatic, Rockford, IL; 815/654-4800; martinauto.com
The STR automatic transfer rewind for nonstop roll changing on narrow web presses is a spinning turret rewind. When specified footage has been rewound, completed roll is stopped and a festoon accumulates the printed web at full press speed. The turret indexes present the finished roll for removal, and the web is transferred to an empty one automatically. The transfer mechanism is designed to start new rolls without web foldback at the core, reportedly eliminating a source of wrinkling and material waste. Unit uses a lay-on roller for greater winding control, company adds. Visit Hall 3, Stand E47 at Drupa.
Gravure Press Changeovers Are Quick
Uteco Converting, Verona, Italy; +39 (0) 45 6174555; uteco.com
The Programm gravure press features lightweight, interchangeable trolleys; print-unit washdown facilities; and/or on-press impression roller sleeve changes. Features are said to result in quick makeready and fast job changeovers. In-line operations such as cold seal, PVDC, varnishing, laminating, and sheeting are possible. Press can be manufactured in widths from 500-1,900 mm to run at speeds of more than 650 mpm. Visit Hall 3, Stand C04 at Drupa.
Press Offers Direct Drive Benefits
Windmoeller & Hoelscher, Lincoln, RI; 401/333-2770; whcorp.com
The Primaflex CS flexo press offers easy-access printing decks featuring ink supply and wash-up capability. This eight-color, direct drive sleeve press offers a maximum repeat length of 800 mm and maximum output speed of 300 mpm. High-output, two-zone drying system is said to ensure dependable drying of both solvent- and water-based inks. Features a corona treater and camera-assisted print inspection system and is equipped with Procontrol TS touch screen operator desk. Visit Hall 15, Stand A41 at Drupa.
Improve Workflow Environment
Creo, Burnaby, BC, Canada; 604/451-2770; creo.com
The Synapse Director prepress workflow management module is said to enhance the new version of the Brisque 5.0 workflow environment by providing powerful production management and full connectivity between the Brisque and NGP systems. Allows users to create, manage, and automate their end-to-end print production workflow systems. Real-time production information now can be accessed from the Brisque and Synapse Director by Synapse Link software and interfaced to management information systems from NGP partners or stand-alone reporting tools. Visit Hall 4, Stand B10 at Drupa.
New Level of Laser Imaging
Presstek, Hudson, NH; 603/595-7000; presstek.com
The ProFire Excel laser imaging platform reportedly is designed to bring improved productivity, higher quality, and reduced cost to thermal CTP and DI applications. Design broadens the range of applications that can be produced on a DI press. Presses enabled with this product are designed to produce a line screen to 300 with no incremental costs, company says. Also said to offer increased flexibility and improved margin opportunities. CTP solutions equipped with product are designed to achieve imaging speeds to 20 plates/hr. Visit Hall 9, Stand B56 at Drupa.
Rewind with Glueless Start
AB Graphic Intl., Bridlington, E. Yorks, UK; +44 1262 671138; ab-graphic.com
The Omega converting system is for web widths of 270 mm (10.6 in.), 330 mm (13 in.), and 410 mm (16 in.) Available with Vectra turret rewinder designed to rewind from a completely glueless start. Visit Hall 10, Stand D60-3 at Drupa.
Check Color Proofs Effectively
GMG, Tuebingen, Germany; +49 (0) 70 71 9 38 74-0; colorproof.de
ColorProof 04 software features many improvements, company says, including a high level of automation and a seamless integration into various workflow systems. With complete package, which includes application software, a Gretag spectrophotometer, and a small label printer, user can verify and document the conformity of each proof by checking the color bar. Visit Hall 9, Stand D74 at Drupa.
Cutting Rules Are Ground Fine
Sandvik DieCutting Products, Benton Harbor, MI; 800/253-2437; smt.sandvik.com
Dieflex Brite reportedly satisfies a market demand for cutting rules for dies to process fine cartons and polymers needing an extremely clean edge, as in pharmaceutical, cosmetic, and high quality luxury goods packaging. Product is ground fine on the cutting edge for what is said to be sharp, clean cutting. Visit Hall 12, Stand E31 at Drupa.
Benefits of Waterless Offset
KBA North America, Williston, VT; 802/878-9400; kba-northamerica.com
A "short-run factory" will demonstrate the speed, versatility, and quality possible in waterless offset with new inking technology. "Factory" comprises a 74 Karat with Gravuflow inking units and integrated coater; a B3 Genius 52 five-color press for paper and board; and corresponding peripherals. New applications for the 74 Karat include printing on plastic and metal foil using oxidative inks. Also running will be a 46 Karat SRA3 waterless offset press with conventional inking units. Visit Hall 16, Stands B45/C45 at Drupa.
Inspection Tool Allows Defect Study
Advanced Vision Technology, Atlanta, GA; 770/541-9781; avt-inc.com
The PrintFlow optional tool for use with any of company's PrintVision automatic web inspection solutions features a versatile, standard SQL database platform. This option has been reconfigured to provide comprehensive job data, including the ability to study defects by type, frequency, and duration, and to view images of the master and defect images. Operators can edit the report, accepting or rejecting detected defects. Visit Hall 3, Stand F69 at Drupa.
Foil Stamp on Heat-Sensitive Materials
Gietz & Co., Dietlikon, Switzerland; +41 (0) 1/833 01 33; gietz.com
The FSA 1060 Foil Commander foil stamping and embossing machine is a 41.8×28.5-in. platen press. Because it allows a foil transfer at low temperatures, it is said to be suited not only for heavy-combination foil stamping and embossing jobs, blind embossing, and texturing, but also for flat foil stamping on heat-sensitive substrates. Offers an adjustable dwell time under pressure. Visit Hall 3, Stand B53 at Drupa.
CTP Plate Suited to All Substrates
Kodak Polychrome Graphics, Norwalk, CT; 203/845-7000; kpgraphics.com
The Flexcel NX CTP plate for flexo printing is said to deliver superior resolution and excellent color reproduction on any packaging substrate, from the thinnest PP to the thickest corrugated board. Plate is compatible with CTP devices with a sensitivity range of 830-1,064 nm and can run on press with alcohol, water-based, and UV inks. Plates are designed with wide exposure latitude and short drying times. Visit Hall 5, Stand D24 at Drupa.
Bag Production Is Gearless
Curioni Sun, Galgagnano (Lodi), Italy; +39 (0) 371 4021; curioni.it
The Sun Master 541 machine for making square-bottom paper bags with and without handles is a fully gearless version of the 540. Features fast changeover and precision with minimal manual operation, company says. Offers accurate cutting register, better paper bag quality, and high production speeds. Visit Hall 10, Stand C58 at Drupa.
Fast Service via Internet
Fischer & Krecke, Fairfield, NJ; 973/882-9460; fischer-krecke.biz
The Flexpress View is an Internet-based service and maintenance system said to deliver fast problem-solving via exceptionally high transfer rates. Allows for remote programming of servo motors. A mobile camera can deliver images of all events inside the press to service personnel at company headquarters or any place in the world. Visit Hall 15, Stand A21 at Drupa.
Unwind, Rewind on Same Side
Bimec, Vanzaghello (MI), Italy; +39 (0) 331 307491; bimec.it
New version of duplex slitter/rewinder STB/45 has the unwind and rewind on the same side and is suited for mother rolls to 800-mm dia and finished rolls to 450-mm dia. Model TCA/64.C duplex turret slitter/rewinder offers automatic change and shaftless unwind stand. Unwinds mother rolls to 1,000-mm dia and rewinds finished rolls to 600-mm dia. Visit Hall 11, Stand E68 at Drupa.
Mid-Web Press Is Flexible
Gidue Intl., Turate (CO), Italy; +39 (0) 29668181; gidue.com
The Unipro 730-mm, mid-web packaging press reportedly can print and convert virtually any kind of substrate, including PE, BOPP, PET, paper, aluminum, laminates, and carton board to 450 gsm without changing configuration. Printing head is an enhanced version of company's Flower flexographic printing head with two new added design concepts: the UNI-Lock for nonreversible printing and the Spider wash cycle for fully automatic print unit washup. Visit Hall 10, Stand C40 at Drupa.
UV Cure Heavy Laydowns
GEW, North Royalton, OH; 440/237-4439; gewuv.com
The NUVAplus UV curing system is optimized for curing heavy laydowns of both traditional and cationic inks and coatings on thermo-sensitive substrates at high press speeds. "Clean cool" airflow system with integral filter in the lamphead is said to eliminate dust or ink mist contamination and any disturbance from airflow to the web. Visit Hall 10, Stand E78 at Drupa.
Software Aids Communication
DiMS!, Lisle, IL; 630/649-7888; dims.net
Software designated 640 offers enhancements to company's ERP-print management system. Allows printers to connect internally to other individuals or remote entities within the organization and externally to customers and suppliers via a centralized, Web-enabled system. New set-up table enables users to link profit centers, company profiles, and financial companies to each other. Visit Hall 9, Stand A25 at Drupa.
Make Water-Based Inks Stronger
Flint Ink Corp., Ann Arbor, MI; 734/622-6362; flintink.com
X-Treme Dispersions is a concentrated color technology said to increase color strength of water-based ink systems by 20% without compromising the runnability of the ink. Using a proprietary chemistry to create stronger inks without increasing viscosity, technology is said to improve print quality, ink curing, and press speed. Visit Hall 3, Stand E52 at Drupa.
Water-Cooled UV System Is Compact
Prime UV, Carol Stream, IL; 630/681-2100; primeuv.com
The Diamond Series compact UV drying system is said to eliminate significant heat buildup while maintaining the highest UV intensity. Configures intense UV lamp system in 66% less space with a water-cooled system that will accommodate nearly all heat-sensitive materials (4 deg C or 7 deg F decrease at peak operation), company reports. Visit Hall 11 and Hall D01 at Drupa.
---