Published: December 31, 2003, By Edward Boyle, Contributing Editor
Labelexpo Americas Adds a Day
MILWAUKEE, WI, USA—Labelexpo Americas has added a fourth day to this year's exhibition, which will be held September 13-16 at the Donald E. Stephens Exhibition Center, Rosemont, IL.
"An extra day at Labelexpo Americas 2004 offers an added opportunity to research the new technologies and equipment properly narrow web suppliers have to offer during the show and also to spend some time attending the very useful seminar program," says Tag and Label Manufacturers. Institute president John Bankson. "In addition, it allows for a more flexible travel time schedule for everyone. Extending the show dates creates a win/win situation for both converters and suppliers."
---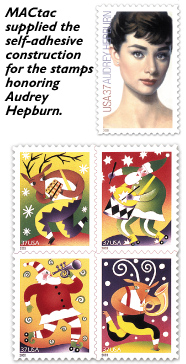 New Stamps Celebrate Holidays, Honor Beloved Star
STOW, OH, USA—Capturing the magic of the holiday season, this year's holiday postage stamps from the US Postal Service (USPS) feature a collection of familiar Christmas characters celebrating the season through music. MACtac supplied the self-adhesive construction for the approximately 2.1 billion stamps printed and formatted as panes and booklets of 20.
MACtac also supplied the self-adhesive construction for the 80 million commemorative stamps issued recently to honor Audrey Hepburn, the woman who made eccentricity lovable and the little black dress glamorous.
Ninth in the Legends of Hollywood series, the stamp was printed and formatted in souvenir sheets of 20.
---
---
Marketing Study on P-S Products
WHIPPANY, NJ, USA—"Pressure-Sensitive Products, IV" is the subject of a new multi-client, techno-economic marketing study completed by Skeist. The study says US production of p-s products amounted to more than 15 billion sq yd of material worth close to $15 billion in 2002. In five years, consumption should surpass the 19 billion-sq-yd mark at a value of $18 billion. The increase in yardage corresponds to a 5% annual compounded growth rate. Labels and decals are projected to grow at almost twice the rate of tapes.
The study provides marketing, technical, and economic analyses and forecasts of all significant end uses including tapes (consumer, industrial, electrical, medical and personal care), labels/decals, reflective sheets, shelf coverings, graphic arts, and many others. The components are further broken down as backings (substrates), adhesive masscoats, and release materials. A business section includes pertinent information on market structure, producers, their product mix and market position, competitive analyses, and acquisition opportunities. The top 75 companies, whose combined sales account for 95%, are profiled. The cost is $11,500. For more information contact Skeist at 973/515-2020 or visit skeistinc.com.
---
Film Suited for Medical Devices
WINDSOR, CT, USA—Bioflex Rx159S-001 from Scapa North America is a thin polyester film double coated with a permanent acrylic adhesive on one side and a removable acrylic adhesive on the other, reportedly making it ideal for the construction of medical devices that have replaceable or disposable parts.
The removable adhesive is protected by an easy-release 60# kraft liner. The permanent acrylic adhesive is said to exhibit high tack and peel, good heat resistance, and excellent adhesion to a variety of surfaces. The ultra-removable acrylic adhesive on the product's liner side adheres to many surfaces, including glass, stainless steel, and plastic, while removing easily without leaving any adhesive residue.
---