Published: December 31, 2003, By Nsenga Byrd Thompson, Associate Editor
With 18 years of hard work under its belt, GSI seems to have walked a successful but traditional road. Looks can be deceiving!
As you approach the tree-lined industrial park in Burr Ridge, IL, where Graphic Solutions Inc. (GSI) resides, the company appears to be a typical converting operation. But step inside and walk through the 40,000 sq ft of floor space in one building and 18,500 in another, and soon you will discover some of the applications in this converting plant are anything but ordinary.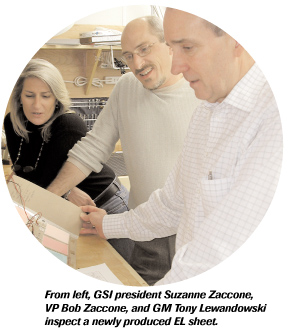 Known for its pressure-sensitive labels, aluminum nameplates, and polycarbonate panels, GSI is an ISO and QS9000-certified custom print house specializing in printing applications such as flexo, hot stamping, photofinishing (photo etching), and web and sheet-fed screen printing.
GSI opened for business in July 1985 as a small storefront in Downers Grove, IL, with only siblings Suzanne and Bob Zaccone and one employee to get the company up and running. Within six months, the Zaccones purchased a hot stamp press and hired more staff. Six months later came the nameplate equipment, more staff, and then a computer to handle artwork (along with the requisite artist). In 1989 the business expanded again after the purchase of an 18,500-sq-ft printing company in Burr Ridge. The acquired company — originally owned by Suzanne and Bob's parents but sold in 1985 to a competitor — was again under Zaccone leadership, and GSI's star continued to rise.
Don't Stop Thinking about Tomorrow
As a board member for 13 years and former president of the Tag & Label Manufacturers Association (TLMI), GSI president Suzanne Zaccone knows the tag and label market and in what direction the industry is going.
"There are many companies manufacturing traditional labels, nameplates, and panels, and the cost to enter into that field is getting lower and lower. You can purchase a press, put it into your plant, schedule long-term payments, and be able to start making money before you have to begin paying for the press," explains Suzanne. "Margins are being squeezed in many of the traditional industries converters serve, and customers are asking for concessions that would never have been entertained before. We knew we needed to diversify even further.
"We began by reviewing our current capabilities, what was coming forward in new technology, who was asking for it, what other materials we could potentially pull through our presses profitably, if it was synergistic to our strategic plan, and most of all, we wanted to be sure that we 'obsoleted' ourselves before our customers or the industry did it for us. We were also not keen on becoming one of many in a niche area. We have always preferred to do things that are kind of out there."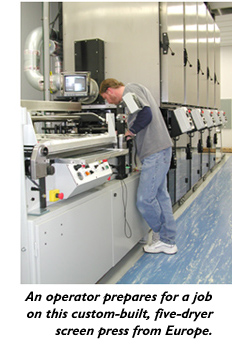 Adds Bob, "We asked ourselves: How we can be innovative with the capabilities we have today? We wanted to be open minded and consider that which was emerging."
The siblings' answer to being open minded? In 1995 the company advanced into new territory when it began producing printed circuitry. GSI has manufactured printed radio frequency identification (RFID) antennas, electroluminescent lamps (EL), and thin, flexible batteries, with the former two technologies printed on a unique, custom-built, five-dryer screen press. The one-color, five-dryer, proprietary screen press is housed separately from the company's core screen printing operation consisting of two, two-color re-registration web screen presses and two proprietary semi-automatic screen presses. The five large dryers on the screen press were added specifically to meet the strenuous drying demands required by the conductive inks and coatings.
Affordable RFID
With all the buzz surrounding RFID, one of the most challenging obstacles of this growing technology remains cost. More and more manufacturers and end-users of RFID technology are learning about cost-effective conductive inks and coatings being used to print RFID antennas, a less expensive alternative to the more widely used copper etching.
"Antennas are a big market, especially screen printing them versus the etching process," explains Gary Gresko, rigid products manager. "We know it is cheaper to print them, and we meet the same production parameters that are required. But then again, it depends on the application, customer requirements, and how much read range the customer needs."
GSI's RFID antennas not only are more economical but also are flexible and carry a much longer read range, Gresko reports. In 900 MH2 products, the performance of a printed antenna is equal to traditional copper-etched antennas. The printed antennas produced by GSI are capable of a frequency of 13.56 MH2 and 900 MH2. Substrates on which GSI can print these antennas include paper and polyester, with drying temperatures to 150 deg C.
Although drying the conductive inks and coatings used to print RFID antennas is a challenge, Gresko contends, "There is a bright future with printed RFID antennas."
So much of a future that GSI has taken on the world of conductive inks and coatings with two other emerging technologies — EL and thin, flexible batteries.
EL Magic
GSI is very interested in electroluminescence, a relatively new technology in the converting world. Last summer the company purchased the assets of BKL Inc., a leading provider of electroluminescent lamps based in King of Prussia, PA. Although GSI has been manufacturing EL lamps on its sophisticated screen press for the last two years, this past fall GSI moved its entire Flexible Products Div., which includes five Mark Andy CI presses, to a plant just a few blocks from its main facility to make room for BKL's EL lamp lines. This brave new acquisition places GSI in the forefront of this exciting technology.
What exactly are EL lamps? Electroluminescent "solid-state" lamp technology essentially consists of millions of tiny phosphor particles that light up when alternating current is applied to them. When electrons are relaxed and return to their unexcited state, light is emitted.
Renee Drendel, who works in R&D and process improvement, explains, "We start with a material that has a conductive coating on it, apply a layer of the phosphor, and then lay down a couple of layers of dielectric, which controls the current that is applied to the lamp. We then print an electrode on the back. Alternating current is required to light the lamp."
Drendel continues: "For example, you can use a 9-volt DC battery and an inverter, which converts the 9 volts DC to the required AC."
Drendel explains the lamp's functionality can be very versatile. "You can customize the lamps to whatever size or shape you want. Using an inverter, you can even make them sequence or flash."
GSI can produce EL lamps in roll form for large volumes or in sheet form for small volumes for various end uses including — but not limited to — cell phone display screens, automobile dashboards and gear shifts, emergency lighting, exit signs, palm pilots, and back lighting for handheld games, instruments, and medical equipment.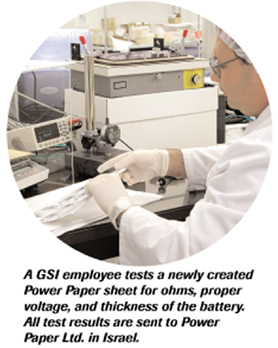 Powerful Paper
One of the most exciting of GSI's new technology ventures is its production of thin, flexible batteries. Power Paper Ltd., Tel Aviv, Israel, a leader in flexible battery technology, chose GSI to manufacture the batteries as a beta site. Production of these unique power sources can be found deep within GSI's converting facility, located behind closed doors in a clean room environment.
While the application most recognizable to the average consumer is probably greeting cards and other novelty items that light up or make a sound, the use of Power Paper's products in the medical and cosmetic industries is what attracted GSI to the flexible battery arena.
"There are very tight manufacturing tolerances that Power Paper requires," Gresko warns.
"Multiple passes through the presses are necessary to produce a battery. The positive and negative parts must be produced on their own dedicated presses separated by a wall to prevent cross contamination."
The company has a screen press specifically for the Power Paper batteries. It is equipped with dryers on both sides and is housed within the prototype area. Each sheet of batteries produced requires at least an hour of ink drying time.
"Proper drying is critical. If it isn't dried properly, the battery won't work," says Gresko.
There are several other ink layers that go into the mix of the battery printing. Specially formulated adhesive then is applied, and the two sheets are laminated together, using a heat-press machine. It is die-cut and sent for testing, all of which is done on-site at GSI. Ten percent of the lot is tested, with all results sent to Power Paper in Israel.
"There is a lot of downtime in the processing," continues Gresko. "It's not the fastest application. But then again, we are talking about our prototype equipment capacity. We can produce roughly 500 batteries a day on our prototype line and 850,000 a day on our roll-to-roll line."
Power Paper standard batteries are available in several different sizes and can be connected in series or stacked for greater voltage. Custom battery sizes and shapes also are available and are developed with the assistance of GSI's engineering department and the customer.
The batteries are said to offer high reliability and cost savings by eliminating mechanical hardware such as battery holders, contacts, and casing.
Batteries can be used for drug delivery, disposable biomedical testing sensors, hand-held medical devices, smart tags, cosmetic patches, labels, and more.
The possibilities seem almost endless for these emerging technologies now surfacing as exciting opportunities for converters. To take advantage of them, and to stay ahead of the pack, one must keep an open mind. For GSI, keeping an open mind is the fast track to success.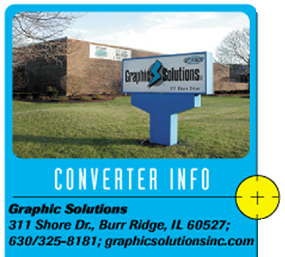 ---
The Ultimate Power Trip
Power Paper, Tel Aviv, Israel, recently extended its strategic relationship with GSI to leverage the growing demand for thin and flexible, environmentally friendly batteries in a number of products, including revolutionary active cosmetic patches and smart active labels.
As part of the agreement announced last April, GSI has received a license to become the first US authorized manufacturer of a Power Paper roll-to-roll battery production line, able to produce hundreds of millions of flexible energy cells per year. This continues GSI's practice of being able to provide prototype to production quantities for all of its printing disciplines. The batteries produced in GSI's roll-to-roll production line will be integrated into Power Paper's two Power Cosmetics product lines of micro-electronic patches, among other products. These unique active cosmetic patches, intended for home use, significantly boost topical delivery of cosmetic formulations, increasing their overall efficacy by several orders of magnitude.
Roll-to-roll production is a single, continuous microelectronics printing process in which the power source can be printed onto rolls of a flexible substrate using standard, automated, or semi-automated production equipment. The production line will be fully operational by the second quarter of this year. In addition to cosmetic patches, Power Paper's batteries are integrated into a number of products including smart active labels, toys, and hand-held equipment and novelty items.
---
SUPPLIER INFO
Mark Andy, Chesterfield, MO; 636/532-4433; 800/700-MARK; markandy.com
---