Published: November 01, 2010, By By Corey M. Reardon, AWA Alexander Watson Assoc.
The release liner industry has experienced a year of continuous pressure and change. Pressure has come in various forms: lower market growth rates, raw material price inflation, and waste creation and management issues. As a result, there has been considerable movement in many end-use market sectors. Our annual "state of the industry" online survey, conducted between December 2009 and January 2010, highlighted a number of challenges and issues.
Costs Are Increasing
Rising costs were a prime concern. While labor costs — probably as a result of the global economic crisis — remained reasonably stable at an average 2.04% increase in 2009, all other key cost areas increased more significantly (see Figure 1). Transportation costs increased 2.8%; energy 3.38%; and raw materials 4.6%. The release liner industry expected those costs to rise again overall in 2010. Survey respondents estimated materials to rise by no less than 5.6% and energy by about 4.2% (see Figure 2).
Across the release liner value chain, these increased costs have meant associated price increases that have added to the overall pressure on the industry — and on the market application areas release liners serve.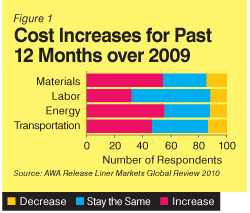 Supply Shortages, Consolidation
The market also has been characterized by continuing supply shortages, rationalization, and ongoing consolidation through both merger and acqusition (M&A) activity and forward and backward integration. According to Blaige & Co., Chicago, IL, approximately 90% of the leading paper suppliers to the release liner industry have used M&A as a strategic tool over the past six years, along with nearly 60% of the leading film suppliers, 70% of the leading coaters, and about 50% of the top 50 label converters. There also is visible global consolidation in the broader packaging sector.
Geographical Regions
Across all areas of application geographically, the Asia Pacific region is the fastest-growing release liner market at an overall 8.7%, although growth rates are slowing. South America now is showing dynamic growth overall at 5.3% annually, and in the pressure-sensitive (p-s) label market specifically, at 9.4%. South America's economies — particularly Brazil — will be the focus for investment and the establishment of a strong local supply chain in the coming years.
The release liner market in North America declined 4.9% in 2009. However, it grew 3.7% in Europe.
Material Changes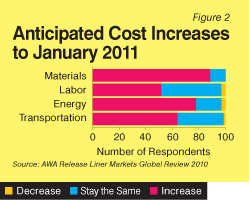 In terms of materials, a number of important industry trends are evident. There has been significant release base downgauging, in both paper and films, driven both by the manufacturing economies this offers and the current focus on waste and recycling.
There is vertical integration of a number of key processes, such as in-house lamination with printing and converting, and an increased focus on quality and supply consistency. This has been driven in part by raw material shortages and also by the extensive destocking seen in the past year at all levels of the supply chain as a result of the global financial crisis. This has created a new definition of just-in-time manufacturing. Stocks overall continue to be low.
Release liner and the environment, the increasing global impact of the REACH (Registration, Evaluation and Authorization of Chemicals) legislation, and the continuing lack of alternatives to platinum as the catalyst also are topics of high current interest.
World Market by Application
Although p-s label stock remains the largest overall market for release liner, there are other important end-use markets (see Figure 3). The largest of these is p-s tapes.
P-S Tapes | Release liners play a key role in specialty tape applications. Different end-use tasks demand many different properties from a release liner, and no single liner can fulfill all requirements.
Liner specification cannot be separated from adhesive and carrier specifications, and the chemistry of the release system and adhesive may need to be adjusted to meet different demands. Customization will become increasingly important in the coming years to match the chosen adhesive with its target application.
Industrial | Industrial applications for release liners, such as building/construction, HVAC, film casting, envelopes, etc., are dependent on the market for new home starts and office and consumer purchasing dynamics. They have suffered as a result of the economic downturn — in both the market for p-s and process liners for industrial applications.
Medical & Hygiene | The medical, hygiene, and woundcare markets present specialist challenges. Generally, the key requirements for liners in these segments can be a fiber-free surface, the ability to be sterilized (ETOX/gamma radiation), Food & Drug Administration approval, and even a requirement for thermoformability. These requirements favor film liners.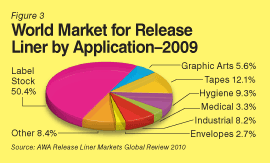 There is increasing evidence of the use of film liners and carriers in the developing woundcare market — both in terms of ethical and over-the-counter (OTC) products. However, change is influenced by the extensive time for product revalidation, if any "substantial" change in the components is made, varying sometimes from 10-36 months.
Professional wound and skin care, stoma care, surgical incision films and drapes, electrode terminals, and related applications in the medical market are strong and growing markets for release liner around the globe. Hydrocolloid adhesives, which reduce the risk of skin irritation and increase patient comfort — partnered by a choice of highly breathable and conformable film carriers and film release liners — now offer a real advance in the technology available for woundcare products and are available for OTC purchase.
The hygiene market offers strong volume growth opportunities as the market for disposable diapers, feminine hygiene, and incontinence products increases. However, for some applications today, the separate release liner is eliminated through the use of the outer packaging material serving as the adhesive carrier.
P-S Graphic Arts | For p-s graphic arts applications, paper-based liners account for the bulk usage. The key requirements are dimensional stability, layflat, and rigidity for all the converting processes employed, from traditional screen print through computer cutting and wide-format digital print.
P-S Label Stock | The p-s label stock applications represent more than 50% of the total market for release liner. While glassine and calendered krafts take more than 41% of the market, film liner's share today has grown considerably to around 20%.
Sustainability & Waste Management | Release liners remain controversial in terms of sustainability, despite their positive aspects. Waste management in the p-s label market is a key issue for the future, because everything the packaging value chain undertakes today comes back to two defining and limiting factors: value and cost.
Papers are claimed to be the natural answer to sustainability issues in packaging, but release paper recycling is under-utilized. Calvin Frost, CEO of Chicago-based Channeled Resources Group, has said, "Everyone talks about innovation, but what we really need in this industry is cooperation and collaboration in liner recycling."
Last year, Frost and Petri Tani joined forces to launch Cycle4Green — a "cradle to cradle" solution for paper release liner, based not so much on reuse but on repulping. The Cycle4Green initiative — commercially available now — employs a process that creates high quality de-siliconized pulp (DSP) from paper release liner waste.
Film release liner — primarily polyethylene terephthalate (PET), especially for "no label look" applications, but also polypropylene and polyethylene — is gaining market share and also has a strong environmental profile. While film release liner needs to be sorted by polyolefin type for waste recycling, it is easy to handle in industrial waste recycling processes and needs no prior treatment to remove silicone, adhesive residue, etc.
What's more, "clean" film liner waste can command high prices and can be viewed as a generator of income, not as a waste product. Low-caliper film release liners also can contribute to sustainability in terms of delivering more labels per roll, less downtime for roll changes, and less weight and volume (so less transportation/energy costs and storage space).
What Does the Future Hold?
Price is one of the key issues that is holding back the full-scale adoption of film liner in the p-s label stock area, as well as paper's attributes and strong position. However, today there also is visible interest in linerless labels, especially in food pre-pack/catchweigh labeling applications, in which the limitations on label shape are not an important factor.
As a contribution to the success and flexibility of p-s labels, release liner is, indeed, much more than just the sum of its parts, and its role here — whether paper- or film-based — is unlikely to be usurped by other technologies. Release liner waste management is a key issue, particularly for "clean" used liner, and commercial collection/recycling systems could create a revenue stream if done creatively and efficiently.
Corey M. Reardon is president and CEO of AWA Alexander Watson Assoc., Amsterdam, Netherlands, a market research firm that specializes in monitoring the coating, laminating, metallizing, label, and packaging markets around the globe. Contact him at www.awa-bv.com.
Save the Date
AWA Alexander Watson Assoc. will host the annual industry updating/networking event, the Global Release Liner Conference 2011, at the Hyatt Rosemont Hotel, Chicago, IL, March 31-April 1. AWA publishes regular market reports on the release liner industry. For more information visit www.awa-bv.com.
Exclusive content provided by AWA Alexander Watson Assoc.