Published: August 01, 2010, By By Edward Boyle, Contributing Editor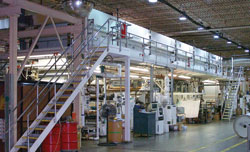 When Lou Guzzetti took over as chairman and CEO of what was then Spinnaker Industries in spring 2001, what he was stepping into wasn't exactly a bed of roses — though it could have been used to fertilize one!
Its largest operating unit, Spinnaker Coating, a manufacturer of pressure-sensitive label stock based in Troy, OH, was a relatively small player in a market dominated by the likes of Fasson, MACtac, and Raflatac. In fact, it's not too much of a stretch to say that those companies probably generated more waste than Spinnaker did finished product.
At the time, Spinnaker Industries was highly leveraged, in good part due to its 1998 purchase of S.D. Warren's Westbrook, ME, variable information p-s facilities for what Guzzetti says was an inflated price of $53 million.
Making matters worse, Spinnaker Coating was the largest supplier of p-s stock for the US postage industry, which accounted for a very significant percentage of its business. Unfortunately, the demise of the "collector's stamp" was turning what was once a high quality, high-margin market into a commodity business. Finally, the company's employees had succeeded in June 2001 in their third effort to unionize Spinnaker's Ohio plants, adding to the company's then-murky fiscal future.
"Despite all the problems, we saw there was a business here with potential, provided we reduced our debt to a reasonable level and reverted to the operating strategy that had made the company successful in the past, which was to focus on being a service-oriented company," says Guzzetti.
From the outset, however, he also recognized and appreciated the positive aspects of the company, most notably its experienced and dedicated workforce. Notes Guzzetti, "Over the course of my career, working with 45 or 50 companies, I had never seen another organization where virtually every person was so incredibly focused on serving the customer."
He credits this to a "Midwestern work ethic that embodies good values and high standards of performance." The employees are also both loyal and experienced, notes Guzzetti. The average tenure of the 215 people working at its two Ohio plants is 15 years, with 27 employees having served for 30 years, and eight with more than 40 years of experience.
"We have virtually no turnover, and there is a really strong business acumen throughout the organization," he says. "This fact, as well as a strong resilience in the face of adversity — such as the dramatic drop in demand we experienced in the fourth quarter of 2008 — are the qualities that enabled our workforce to hang in there and work with management to overcome the many challenges we have had to put the company on a solid footing."
Although Spinnaker was established in its current form less than a decade ago, its roots run more than eight decades deep: Its well-known predecessor, Brown-Bridge Industries, was founded in 1928 as a manufacturer of water-sensitive conventional gummed papers and cloths. Brown-Bridge Industries saw its family of products expand over the years into a variety of adhesive technologies, including water-sensitive dry gummed papers, heat-sensitive papers, and now sheet and roll p-s products.
In 1997, the company changed its name to Spinnaker Coating and began to focus almost exclusively on the p-s market. Commitment to quality and customer service has enabled Spinnaker to establish itself as a leader in supplying label converters and its merchant customers with a wide variety of quality label materials.
On March 28, 2002, senior management, with the support of a private equity company, acquired the business and began operating under the name Spinnaker Coating LLC. On April 24, 2006, management increased its ownership position and replaced the private equity company with a small number of individual investors.
When Guzzetti first got involved with Spinnaker in 2001, he quickly came to two conclusions: As a much, much smaller company, Spinnaker could never compete head-on with the market's biggest players due to simple economies of scale. And, just as obviously, he saw that there was no need to do so.
"There are almost 2,000 converters in the industry, but a relatively small number — maybe 200 — represent a very large portion of industry volume — perhaps $1.7 billion of the $2.5 billion," he says. "But that still leaves a very large number of converters who are what we call the 'underserved' segment of the market — not big enough to justify the close attention of the largest p-s manufacturers. To make matters worse, the needs of these converters are very different from the needs of the largest converters because they usually do not have technical staff devoted to understanding the nuances of p-s materials. To top it off, as smaller businesses, they're often shorthanded in other areas as well and are in dire need of a quick response from their p-s suppliers to be able to respond to their own customers' increasing demands for a quick turnaround."
Next Page: Serving an Underserved Market
Serving an Underserved Market
To deliver that "quick response," Spinnaker operates two facilities in Troy, OH: a 100,000-sq-ft plant that houses essentially all of its coating and slitting equipment, and a 75,000-sq-ft portion of the original Brown-Bridge facility that the company now uses primarily for sheeting and shipping products for its merchant clients. The company also has slitting and distribution facilities in Lemont, IL, and Newburgh, NY.
Its Troy coating facility operates two 60-in. coaters: a Magna Graphics (Davis-Standard) emulsion unit and a Park (Bolton Emerson Americas) hot melt unit; a $2.5 million 60-in. Black Clawson (Davis-Standard) unit that operates at 1,400 fpm and is used for silicone coating, and a 60-in. coater its engineering and mechanical staff fabricated in 2004 primarily to serve the short-run needs of the merchant business. Spinnaker also utilizes eight slitters, four in Troy and four in the two distribution centers; three of the slitters in the distribution centers are 78 in. All of its other slitters are 60 in. The sheeting facility houses two precision sheeters. In total, Guzzetti says that its range of equipment is well-suited for meeting the needs of small- to medium-range converters, as well as its merchant customers.
"We don't have tamdem coaters geared for the large-volume commodity markets that run at 3,500 feet a minute," he explains. "On the specialty side of the business, you need short-run capabilities, and that's the kind of equipment we have; it fits with our strategy, and the people we have here execute strategy extremely well. When we got involved in 2001, we sensed that there was a need for someone who would pay attention to the smaller guys, and fortunately, we were wise when we made that assumption — or very lucky!"
In 2003, Spinnaker added to its product line — and its versatility — by developing a trimless stock program. Today, says Guzzetti, the company offers more than 200 varieties of trimless product. "We differentiate ourselves by being able to produce these trimless offerings of lower-volume product," notes Guzzetti. "The big guys do it mostly on high-volume products, because there's a much better chance of using the whole width more effectively with minimal handling. But if you have a smaller-volume product and you've got to get something out today, they may not have the orders to make the most efficient use of that roll, so they don't offer it. We do."
Most importantly, says Guzzetti, Spinnaker is capable of giving its 850 customers most of what they want, when they want it. The company has 250 stock items in various substrates and widths that are available for immediate shipment. More than 1,000 custom-made roll products, with varying combinations of substrates, liners, and adhesives, can be delivered within seven to ten days.
"We know who we are and understand our limitations," says Guzzetti. "We try to overcome those limitations by being flexible and easy-to-do-business with, especially for small and mid-size converters, but also for some very large converters who feel underserved in some respect. If we stick to our mission, we are confident there will be a place for a Spinnaker in this industry for a long time — provided we stay focused on what we do best."
Converter Info
Spinnaker Coating LLC | 518 E. Water St. | Troy, OH 45373 | 800-543-9452 | www.spinnakercoating.com
Supplier Info
Davis-Standard Converting Systems | www.bc-egan.com
Circle 308 or visit www.freeproductinfo.net/pff
Bolton Emerson Americas | www.boltonemersonamericas.com
Circle 309 or visit www.freeproductinfo.net/pff
Contributing editor Edward Boyle, based in Reading, PA, has covered the converting industry for more than 24 years. Contact him at EJB Communications; 610-670-4680 This email address is being protected from spambots. You need JavaScript enabled to view it..
Hear More from Lou Guzzetti
Spinnaker Coating's chairman and CEO is the subject of PFFC's July 2010 "Experience Speaks" column. Read about the sustainability efforts his company has made — and more — at www.pffc-online.com/management/0701-guzzetti-shares-style.