Published: December 10, 2013
MENTOR, OH | Avery Dennison has introduced a Select Solutions Food Safety and Promotion portfolio. Company says the portfolio features a collection of fluorescent and dissolvable label materials to help brand owners run promotions, create product awareness throughout the food value chain, and safeguard consumers against illnesses related to material residue.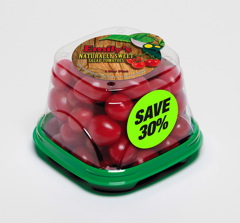 "Label materials are important links in the food value chain," said Yaron Zimmerman, product manager, specialty products, Avery Dennison Label and Packaging Materials—North America. "From the warehouse to restaurant level, our new food safety and promotion portfolio addresses applications that include on-container retail promotions, in-transit freshness labeling and dissolvable labels for re-usable food service containers."
The portfolio includes fluorescent label material, which can be used as promotional, inventory, or warning labels. Suited for both the store level or other areas of the food industry, the labels are said to provide exceptional supply chain visibility and are used to draw attention to important freshness and shipping information.
Also offered are dissolvable labels said to simplify the washing and relabeling process and counter bacterial growth by eliminating residual adhesive and label materials. After providing on-container tracking and identification, labels dissolve and wash away with tap water and slight agitation. The label simply disintegrates during the washing process, yielding a safe, residue-free container for reuse, company says.
This email address is being protected from spambots. You need JavaScript enabled to view it.