Published: September 24, 2013
LONG BEACH, CA | Epson reports the launch of PrecisonCore next-generation inkjet printing technology. Global president Minoru Usui says the company combined years of technical expertise with recent breakthroughs in piezo material and high-precision MEMS (micro-electromechanical systems) manufacturing to create an innovative new print chip. The chip is said to deliver commercial-grade performance in a compact, modular form, and enables Epson to scale the technology from single-pass industrial presses to workgroup and desktop printers.
Reportedly, the technology provides superior color, print quality, and output durability on a wide range of media for products ranging from labels, packaging, and textiles to business documents, photography, and signage.
"For the first time, one printing technology offers the performance and scalability to fundamentally change how business approaches printing," says Keith Kratzberg, senior VP, Epson America. "[While this announcement] showcases the power of PrecisionCore in the prime label and packaging industry, the technology will soon extend to a full range of PrecisionCore-based products designed for today's office printing environments."
At the recent Labelexpo Europe 2013, Epson demonstrated the SurePress L-6034VW, the first digital label press to use the PrecisionCore linehead technology, and the first to use company's new LED-cured UV ink with in-line digital varnish technology. The press, said to deliver precise quality with maximum reliability, flexibility, and performance, is available in two models: CMYK with digital varnish and high-opacity white ink (SurePress L-6034VW) and without white ink (SurePress L-6034V).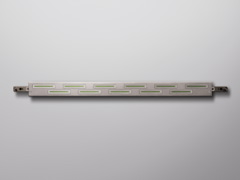 Company says the new PrecisionCore linehead is the key component behind the high performance, high reliability, low maintenance, and low running costs of the press. Each of the six lineheads in the press comprises 11 PrecisionCore print chip modules (totaling 52,800 nozzles) said to deliver precise quality with fine, multi-size dot control and high native resolution. The linehead is designed to work with company's new low-energy LED-cured UV ink and in-line digital varnish technology to deliver the best combination of 600 x 600 dpi quality at up to 49.2 fpm with vibrant color, smooth gradations, and ultra-fine text, lines, and images.
Suited for short- to mid-run labels with durability on standard film and paper label substrates from 3.15–13-in. wide to 0.013 in. thick, press enables printing onto heat-sensitive substrates such as PE, maximizing the range of materials that can be used, and the curing process uses long-life LED lamps for lower energy consumption.
Digital varnish feature enables users to apply matte, gloss, or a combination of both in patterned or selective spot varnish effects during printing. This can be done on the same label or vary from label to label in the same print run.
Additional benefits include automatic monitoring, maintenance, and cleaning features; in-line corona treater and additional UV curing unit; easily accessible unwinder/rewinder with high-accuracy web guide; and high-capacity ink system using 3-liter ink cartridges.
This email address is being protected from spambots. You need JavaScript enabled to view it.