Published: July 02, 2013
BLAUVELT, NY | More and more people want to have younger looking skin and trust products that reduce lines and wrinkles. Product counterfeiters, who view this desire as a lucrative business opportunity, sell fake products under the name of the original product. In the worst cases, such counterfeits may contain harmful ingredients.
The threat posed by pirated medical products is particularly high in China. Therefore, Q-Med—a Swedish company specializing in medical-cosmetic products—makes it possible for doctors and patients to authenticate its anti-wrinkle product, named Restylane. Schreiner MediPharm developed a security seal with an encrypted code and further counterfeit-protection features for this purpose.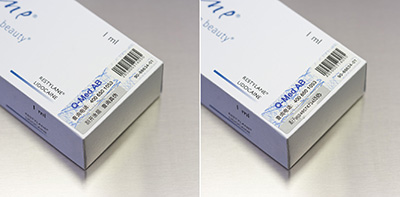 In a nationwide raid in China, counterfeit pharmaceuticals worth $180 million were confiscated in August 2012, prompting the government and citizens to call for reliable protection of health-relevant products. Q-Med AB— wholly-owned by Galderma, a pharmaceutical company focusing exclusively on dermatology—is aware of the threat and protects the health of Chinese customers with a special security seal that has been successfully used for the Restylane product since 2012.
"Our customers rely on a product that has been subjected to years of research and testing. This makes it all the more important for us to prevent them from suffering undesirable side effects and health problems by counterfeit products," says Lars Carlson, head of purchasing at Q-Med, a Galderma division.
Restylane is a crystal-clear, injectable gel based on hyaluronic acid that is used for restoring lost facial volume, smoothing wrinkles and plumping up lips. Doctors who administer the treatment receive the product packaged in prefilled syringes. For reliable authentication, a syringe label with overt and covert security features is applied. In addition to a security printing image, a 23-digit KeySecure code is printed on the label underneath a scratch field.
To authenticate the product, the doctor or therapist exposes the code by scratching off the cover with a coin or fingernail, dialing the phone number provided on the label, and entering the security code on the phone's keypad or touchscreen. In a matter of seconds, the authenticity of the product and number of queries are checked, and the caller immediately receives an automated message informing him of the result.
"The KeySecure tracing system allows products to be tracked anywhere in the world. Aside from the telephonic query, web-based queries are possible too, depending on the manufacturer's requirements. If desired, we can also make automatic checks using smartphones available," says Gene Dul, president of Schreiner MediPharm US.
Furthermore, through the telephonic code queries, Q-Med receives important information on user behavior and indications of specific threats, such as an increasing amount of false codes entered in a particular region. For further quality assurance and documentation, a bar code referencing the security code is integrated into the label. Undetected tampering with the label is prevented as well. "The adhesive that is specifically tailored to this application and security cuts prevent non-destructive removal and relabeling," adds Dul.
This email address is being protected from spambots. You need JavaScript enabled to view it.