Published: May 08, 2013
STROMSTAD, SWEDEN | The success of a Martin Automatic MBNT splicer fitted to an ABG Omega SR410 DC line at Skipnes Labels & Flexibles encouraged the converter to buy a second unit. The second MBNT is fitted to an MPS narrow web press that was installed when printing was added as a service onsite. Both Martin Automatic machines were sold and commissioned by Convertec, Scandinavia's independent converting technology specialists.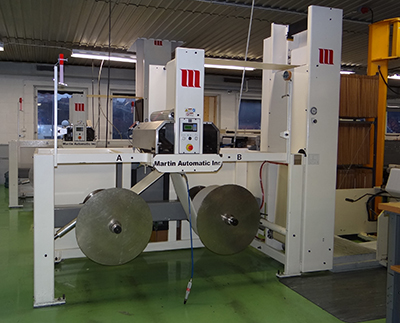 The need for the first Martin Automatic splicer arose from the difficulty Skipnes was encountering with tension control on the ABG machine. Installed in the mid-90s at the company's Trondheim plant to handle RFID tags, the Omega line was moved to Strömstad in 2008 and fitted with the MBNT splicer to run 4000 meter rolls of blank labels that are die-cut and fed into a Vectra turret rewinder, with the matrix removed and rewound. Poor infeed tension, owing to the lack of a dancer roll, had been causing a variation in label length, but at one stroke the Martin machine solved the problem and improved the accuracy.
According to Espen Johansen, site manager at Strömstad: "The Martin allows us to run non-stop on a 410-mm-wide web, matching our process speed of 75 meters per minute. It saves about eight minutes per roll change, which adds up to almost one hour saved on every shift. We're running mostly thermal stock on it at present and the extra efficiency allows us to work a single shift pattern."
The decision to add printing at Strömstad was based on successful experience with MPS presses at Trondheim. The installation of an MPS EXLp 410 model in 2010, also fitted with a Martin Automatic MBNT splicer, is seen as a major boost to productivity, with the eight-color press running consistently at around 125 mpm on foil laminate work for yogurt pot lids that is supplied to the customer on the roll. To date, the majority of work run through the MPS is on paper-based substrates, but Johansen says the company is keen to grow its film and foil work, and believes the MPS/Martin combination will help it to do this. "The Martin improves efficiency on short and longer run work—from 1,000 linear meters upward," he commented.
Skipnes is also looking to grow its sales in the IML business and is currently undergoing a test with a Norwegian customer on run lengths that would be considered too short and commercially unviable for many converters. Espen Johansen believes the company has spotted a local niche market for which its technology is ideally suited. He also sees business opportunities with supermarkets, especially on runs of around 60,000 labels, where the margins are better. "We are well placed to handle the smaller customers with shorter run lengths because the Martin equipment reduces our waste to the minimum and the combination UV/hot air capability of the MPS gives us great production flexibility," he said.
The factory at Strömstad dates from the late 1960s, and Johansen says the company is keen to improve the workflow and warehousing, as well as updating the plant list, which includes a six-color gravure press producing metallized paper butter wraps, and two CI flexo presses, an offline slitter/embosser, and a new die-cutter for the IML work. "We have made the decision to produce all our primary contact food labels here in Strömstad, and our policy is to provide a service that includes finishing inline, packing, and delivery. We call it the 'Skipnes standard,' and our investment in technology is completely focused on meeting it," concluded Johansen.
This email address is being protected from spambots. You need JavaScript enabled to view it.