Published: October 01, 2008, By By Edward Boyle, Contributing Editor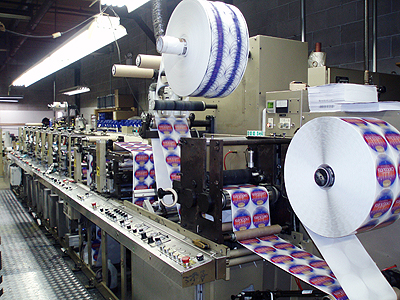 Don Earl, founder and president of Overnight Labels, says he is serious about making the highest quality narrow web labels and packaging required by the company's 1,000 customers from coast to coast. But that doesn't mean he and his 30 employees can't have a little fun along the way.
For example, the awards section of the company's website, which touts its 2007 Flexographic Technical Assn. Best of Show Award among others, reads: "Shameless self promotion, patting ourselves on the back, blowing our own horn…Call it what you want, but we're proud of our success."
Perhaps that's because Earl himself recognizes the short life cycle of virtually all of Overlook's products. He makes sure his products — whether its 2 million fast food packets or 1,000 specialty labels — do their job. But ultimately, he says with a laugh, "We tell people that we're just making landfill. You can't take yourself too seriously. There's a lot of pressure, so we like to have fun."
A Bar Code Beginning
Earl got into the label business 21 years ago when his brother-in-law, who was a defense contractor, lamented the lack of reliable sources for pressure-sensitive bar code labels. Sensing an opportunity, Earl installed a thermal transfer printer in his basement, taught himself how to print, bought blank labels from a nearby converter, "then all the sudden we just started printing stuff — 100 of this, 1,000 of that — and now here we are."
One of the company's first leaps in technology came in 1990, when a customer asked Overnight to print and convert anti-static bags with black and yellow descriptive labels for computer chips and components. The company was able to meet that demand for 400,000 bags/wk by installing the first of three two- and three-color, 6-in. Manhasset presses (no longer being manufactured).
The company further expanded its capabilities four years later when another customer went from requiring two- and three-color labels to four-, five-, and six-color labels. To meet that need, Overnight purchased the first of its five 10- to 13-in. Aquaflex presses with ultraviolet (UV) coating capabilities and printing to eight colors.
"It was either jump into more sophisticated work or lose the customer," recalls Earl, "so we went out and bought our first Aquaflex to service them. That pushed us to the next level."
Earl says the company originally chose Aquaflex at the recommendation of an employee who had used the equipment while working for another converter. The press worked so well on its range of p-s labels, shrink sleeves, and narrow web packaging that Overnight added more Aquaflex presses with rotary silkscreen, hot stamping, and cold foil capabilities, as demand required.
Shrink Sleeves and More
Today, Overnight Labels produces shrink sleeves; neck bands; flexible film for pouches and sachets; booklet, peel-back, and piggyback labels; IRC coupons; confectionery wrappers; clamshell inserts; and p-s and non-p-s products using substrates from Fasson Roll North America and UPM Raflatac. And recently, to meet the growing demand for shrink sleeve labels, Overnight installed an eight-color, 13.5-in. flexo press with UV coating.
The new press, which is designed specifically for shrink sleeve printing, will be 100% dedicated to producing high quality shrink items, including sleeves, neck bands, and multipacks. The press is capable of running at high speeds, so output is expected to increase, and it will free up capacity on the other printing presses.
Says Earl, "We pretty much do anything. We'll run 1,000 labels, then 5,000 shrink sleeves, then 2 million powder packets, so it's all over the place." And, they can do it quickly. With eight presses and 30 employees at its 15,000-sq-ft Deer Park, NY, facility, Overnight Labels has an average turnaround of just eight days.
In addition to its presses, the plant houses one Lederle slitter/rewinder, two Lederle high-speed rewinders, and two Web Techniques slitter/rewinders, all with digital counters. A prepress department includes an Agfa SelectJet 5000 Imagesetter, a Latran Prediction 1420 Digital Proofing System, an HP Color LaserJet 5500 printer, and a Creo (Kodak) direct-to-plate digital platemaking system.
Earl says the company's range of converting and prepress equipment allows it to meet the needs of small to medium-sized end-users that prize quality and, when required, quick turnaround. He says high-volume converters can better meet the needs of equally high-volume end-users. Others turn to Overnight Labels.
"I'm not really interested in competing with the big guys," explains Earl. "The smaller companies come to us because of the customer service, the attention to detail, and the speed, because we've got unbelievable people working here."
Earl says that in many cases, being a smaller supplier gives Overnight Labels the flexibility to deliver products more quickly, allowing it to serve customers thousands of miles from its Long Island facility even better than converters that are geographically closer.
Being a smaller converter, Earl says his company doesn't have the luxury of specializing in a particular market niche and essentially will meet the needs of "anybody who's breathing and can pay!"
No doubt, he'll have a little fun along the way.
Contributing editor Edward Boyle, based in Reading, PA, has covered the converting industry for more than 24 years. Contact him at EJB Communications; 610-670-4680; This email address is being protected from spambots. You need JavaScript enabled to view it..
Overnight Labels Joins OTA
Overnight Labels has become an associate member of the Organic Trade Assn. (OTA) to express support for the association's influence on regulations for the organic industry. Overnight's membership was granted, in part, for its ability to provide environmentally friendly printing processes, including water-based inks, aqueous coatings, and eco-substrates.
OTA associate members comprise businesses, organizations, and individuals that support the principles consistent with those of organic agriculture. For more information visit www.ota.com.
Converter Info
FTA Gold
Overnight Labels won a gold award from the Flexographic Technical Assn. for this 3-in. circle label for Danielle Peck.
Supplier Info