Published: June 14, 2018
The In-Mold Decorating Assn. proudly announces the winners of its 12th Annual Awards Competition.
The 2018 IMDA Awards Competition honors the industry's best in-mold labeled packaging and in-mold decorated durable products. The winning entries were chosen based on creativity in design, engineering, and innovation. This year's winners are hallmarks of innovation and sophistication, leading the industry forward with new applied concepts sure to gain consumer acceptance. The judging panel this year included Pat Reynolds, Packaging World's editor emeritus; Hallie Forcinio, packaging journalist of Forcinio Communications; and Yolanda Simonsis, Paper, Film & Foil Converter's editorial director emeritus.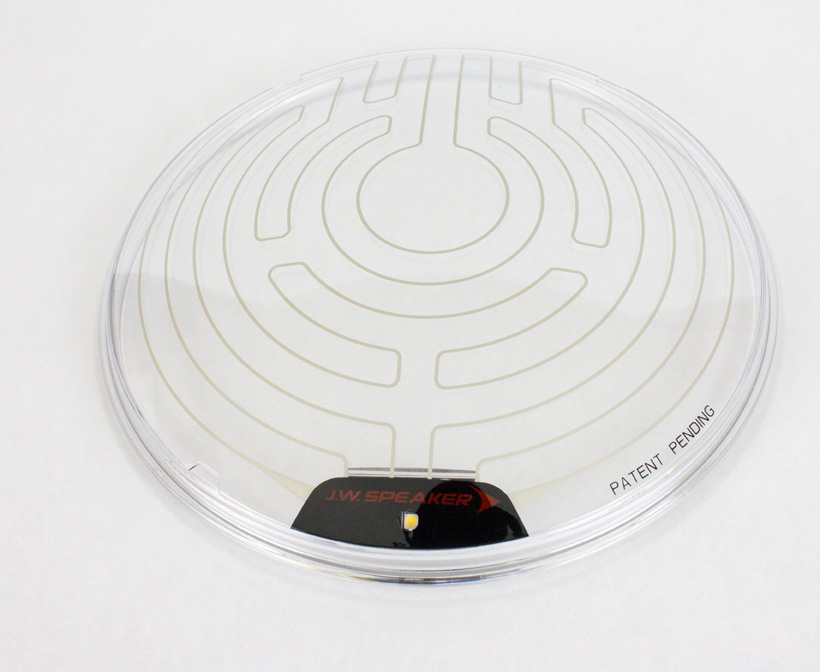 Best of Show & Best Injection Molded Durable (IMD) Part, Gold Award 
This intriguing entry was voted unanimously as Best of Show along with a Gold Award. Global IMD supplier, ADS, and its customer, JW Speaker, have created a unique and innovative product which marks one of the first production applications of IME–In-Mold Electronics, or "plastronics" as it is sometimes called. Working together, the companies have developed a solution to the problem of LED-based vehicle headlights not generating enough heat to defrost themselves in winter driving conditions. This robust and demanding application features a layer of polycarbonate film onto which a conductive heating element has been printed prior to in-molding into the headlamp lens. The technology is pushed even further with the inclusion of the electronic components, which control the heating cycle of the lamp and feature a specially-designed connector system, to access these embedded electronics. IME is widely regarded as the logical next step in the development of in-mold technology and ADS finds itself at the leading edge of this development with this award-winning application.
Judges Observations: A lot of R&D went into commercializing this leading-edge product. Innovative and sophisticated, the headlamp reflects a merging of IMD and printed electronics. Judges felt it will open the door to ever-expanding adoption of IME.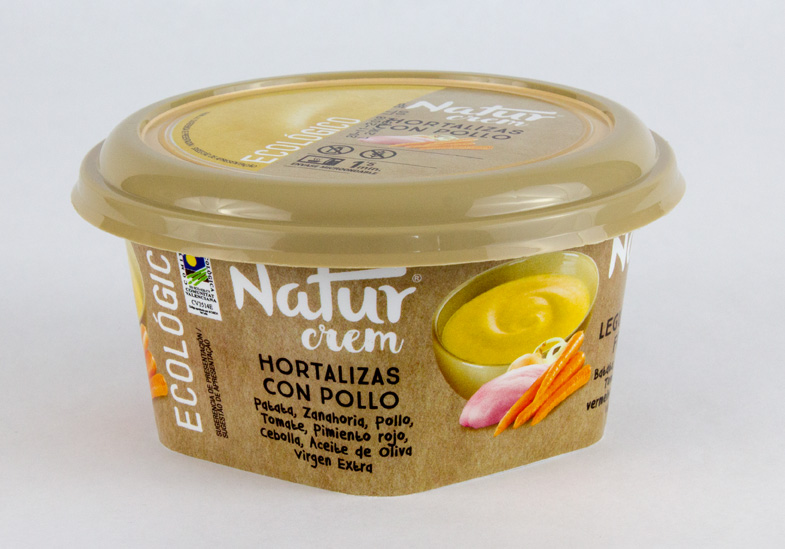 Best Injection Molded (IML) Package, Gold Award 
Spanish food producer Dulcesol approached injection molder ITC Packaging and label producer Verstraete IML with the request to provide an innovative solution to its single-serving soups. The new Naturcrem creamy soups are completely organic; there are absolutely no preservatives. The result is an attractive package with an IML oxygen-barrier label from Verstraete, which extends the products' shelf life without requiring refrigeration. Verstraete IML utilized a combination of specific inks, a special lacquer, and a special pasteurization-resistant oxygen barrier film to create this innovative package. As a result, the labels on the IML package maintain their quality and look, even after pasteurization.
Judges Observations: Impressive throughout, this "miracle" package protects the shelf-stable product and eliminates the need for refrigeration. IML with a barrier label enables the package to overcome some serious challenges, minimizes energy consumption during converting, distribution, and storage and supports recyclability.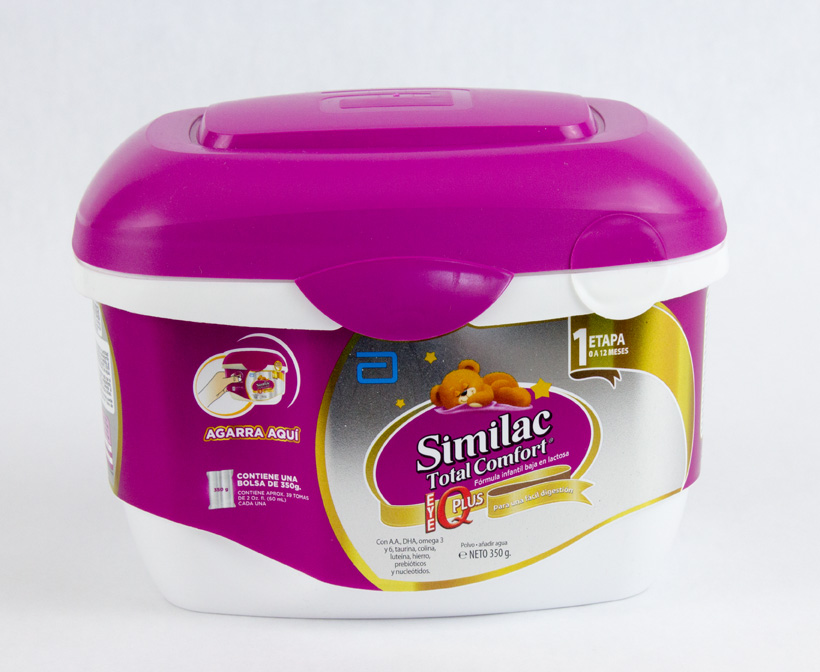 Best Injection Molded (IML) Package, Silver Award 
Similac Infant Formula Package 
Submitted by: Abbott
Brand Owner: Abbott 
Molder: Grupo Phoenix
Label Supplier: Verstraete In-Mold Labels
Abbott introduces a newly designed Similac infant formula container with compelling shelf presence. This new packaging features a large metallic label, color coded for each SKU; a practical size for portability; and an easy-grip feature for ease of use. The packaging is aesthetically pleasing with generous organic curves and contours, and a harmoniously flowing label through the grip feature. It is paired with a vibrant colored domed-shaped hinged lid, and an overall package designed for easy cleaning and proper storage.
Judges Observations: IML is the only way this look could be achieved. A combination of technical achievement and shelf impact, the label enhances brand image and is precisely registered to the curves of the container.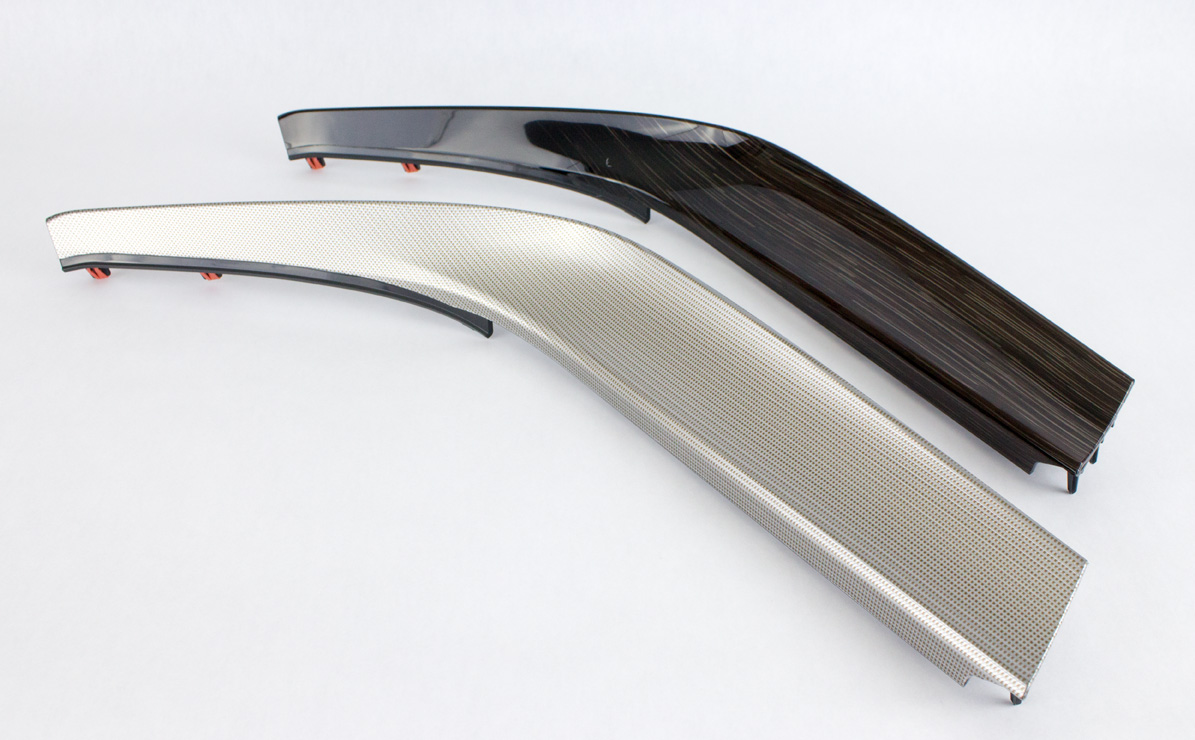 Best Injection Molded Durable (IMD) Part, Silver Award 
Garnish, Instrument Finish Panel 
Submitted by: Eimo Technologies 
Brand Owner: Toyota 
Molder: Eimo Technologies
Label Supplier: Nissha and DNP
These automotive IMD parts are produced by a unique hybrid process called Simulforming that involves the decorative film being vacuum formed into the injection mold cavity prior to injection. This unique process allows for deep draw shapes and contours common in automotive interiors in a most cost-effective way by eliminating the pre-forming process. A registration feature for this project was added so the gradation pattern fades from wood to black in the same pattern every time. Eimo developed a state of the art 6-axis robot cell utilizing an ultra-sonic knife for post mold trimming.
Judges Observations: The combination of vacuum forming and IMD is intriguing. The process imparts an attractive, classy, durable finish to interior car parts. The panel agreed, "We'd love to see how it looks in the car." The panel also appreciated the fact that the film trim is recycled.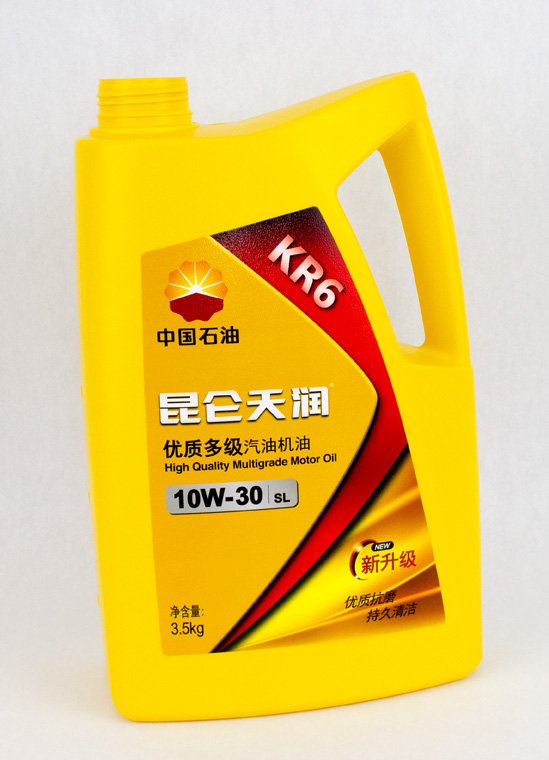 Best Blow Molded Part/Package, Gold Award 
Kunlun Tianrun Lubricating Oil K86 
Submitted by: Beijing Yazhengyuan Colorful Printing Co. 
Brand Owner: Kunlun
Molder: BoYu Precise Mould Making Co.
Label Supplier: Beijing Yazhengyuan Colorful Printing Co.
This entry was judged as an outstanding label design that allows interaction with consumers and provides the brand owner a new way of marketing. Anti-counterfeiting features, including Microtext and UV imaging, built into the label help the brand owner protect the brand image and reduce loss caused by counterfeit products. A QR code printed on the label provides the brand owner a means of communicating with consumers.
Judges Observations: This label design is notable because it combines anti-counterfeiting features with strong consumer engagement. As a result, there's no need for separate anti-counterfeiting features or related application operations.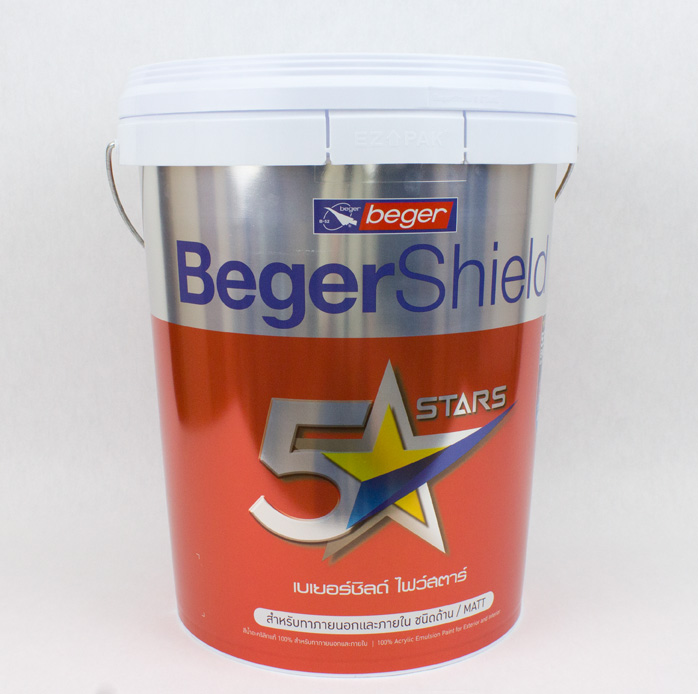 Best Label Design, Gold Award 
This award winning Best Label Design is Beger Shield 5 Star, a premium selection of paint from Beger. Molder Srithai Superware made this innovative packaging happen together with metallized film in-mold labels from Korsini-SAF, for the first time in the Asia Pacific market. Creativity in design and a label printed in a special "full UV" represent an exclusive, premium quality product. The metallized film labels on premium plastic pails made on a standard Beck automation system contribute to sustainability by decreasing the use of metal cans. Sustainability is further emphasized by a "one-step" IML process which reduces labor, machinery, and electricity.
Judges Observations: The metallized film and graphic design of this label elevate a commodity product above the crowd. Taking the use of metallized film to the next level, the label is a beacon on the shelf. Judges remarked: The registration is incredible! Gorgeous!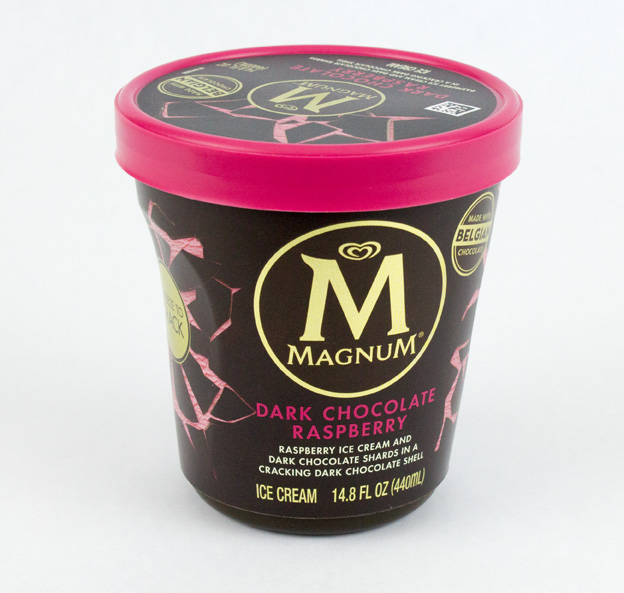 Best Label Design, Silver Award 
Magnum Pints 
Submitted by: Verstraete In-Mold Labels 
Brand Owner: Unilever 
Molder: MikoPac 
Label Supplier: Verstraete In-Mold Labels
Magnum Pints, a new a dessert featuring IML decorating, has been available since spring 2017 on ice cream shelves in parts of Europe. IML label producer Verstraete IML and plastic packaging producer MikoPac were asked by brandowner Unilever to translate the design ideas for Magnum Pints into a packaging solution. The packaging is considered innovative and unique, as Magnum Pints are "carefully made to be broken." The IML label, produced by Verstraete IML, plays a crucial role in the unique cracking experience for the consumer. The combination of Metallic IML, UltraGloss IML and Matt IML makes this packaging a real eye-catcher in the freezer!
Judges Observations: The label effectively shows how to prepare the chocolate-coated product with "squeeze to crack" instructions at the proper points on the container. The design also provides consumers with a tactile experience and enhances the ice cream's premium brand image.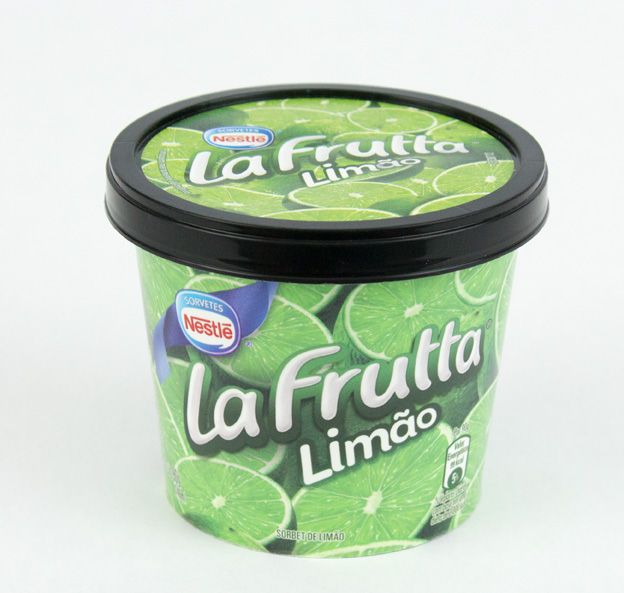 Best Part Design, Gold Award 
Froneri Ice Cream 
Submitted by: Verstraete In-Mold Labels 
Brand Owner: Froneri 
Molder: Plasticos Regina 
Label Supplier: Verstraete In-Mold Labels
Nestlé Brasil Ice Cream launched a series of 140 ml mono packs with a peelable IML lid including a spoon-in-the-lid. This packaging solution was specially designed for the on-the-go consumer. Plastic packaging producer Plasticos Regina, ice cream producer Froneri, and IML label producer Verstraete IML were responsible for the development and production of the unique IML lid. The IML spoon-in-lid packaging eliminates two steps in the regular production process: the label does not need to be adhered afterwards since it is integrated into the lid and the spoon is an integral part of the lid. The ice cream cup shows increased production efficiency, a commitment to responsibility, and a clever use of materials thanks to the IML spoon-in-lid.
Judges Observations: Pronounced "smart" by the judges, the IML lid of this single-serving ice cream container protects an integrated spoon. The built-in spoon simplifies on-the-go consumption and differentiates the product.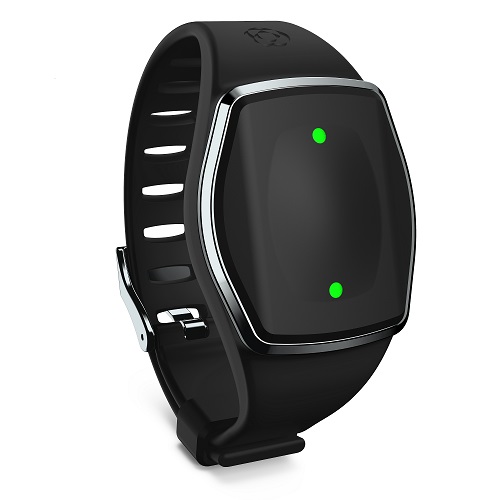 Best Part Design, Silver Award 
This part functions as the front face of a unique wearable medical alert by GreatCall, which is designed for the active aging community to feel safer on their own. One push of the button initiates a call on the user's smartphone to an IAED certified agent who will confirm their location, evaluate the situation, and get the help they need 24/7. This 2-shot/IMD part is a called a unique design that incorporates an in-mold embossed button, TPE over-molded on the back side for a soft feeling yet very positive actuation, and dead-front printed LED signal lights. This design delivers a finished part within one cycle of the mold with no need for assembly of a die-cut rubberized disc to actuate the switch like in most embossed IMD button applications or add light pipes for the LEDs saving assembly time and sourcing efforts.
Judges Observations: This technically advanced design requires extremely precise registration to ensure the visibility of tiny LED indicators. A matte black finish delivers an elegant appearance as well as the durable surface needed for a wearable device.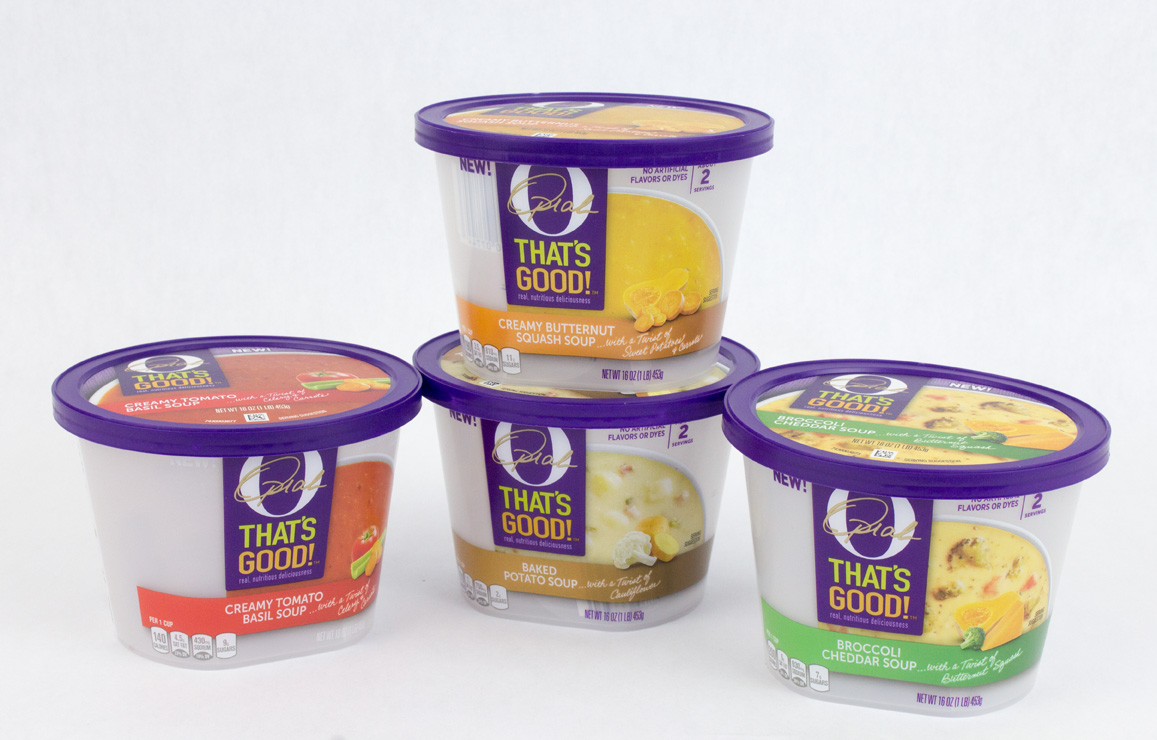 Best Product Family, Gold Award 
410 Plus Family 
Submitted by: Berry Global 
Brand Owner: KraftHeinz 
Molder: Berry Global 
Label Supplier: Verstraete In-Mold Labels
Berry Global developed the 410 Plus family to address consumers' desire for fresh foods. It is claimed the first family of its kind in North America to have a barrier in-mold label on a clear container. The barrier in-mold label helps to keep foods fresher longer. Available in four sizes, including 8 oz, 12 oz,16 oz, and 20 oz, the 410 Plus family is reported ideal for fresh foods like soups, sauces, and dips. The shape is differentiated on the shelf and is suited for microwave use.
Judges Observations: Colorful soup bowl photography provides appetite-tempting imagery while color-coded labels make it easy to grab the desired flavor. Labels increase shelf impact and clearly impart the message that this lineup isn't the usual soup out of a can. Judges also appreciated the barrier properties the IMLs add to the container
Best Product Family, Silver Award—Beger, Thailand for Beger Shield 5 Star IML Pail 
Beger Shield 5 Star IML Pail 
Submitted by: Srithai Superware PLC 
Brand Owner: Beger Co., Ltd. 
Molder: Srithai Superware PLC 
Label Supplier: Korsini-SAF
The many package designs within the Beger Shield 5 Star paint family represent product features suitable for a variety of applications. This is reported as the first commercial use of metallized labels in the Asia- Pacific region by the Beger brand in Thailand. As this is a premium selection of paint, brand owner Beger implies added value by choosing rigid packaging from molder Srithai Superware together with metallized film labels from Korsini-SAF to develop these IML plastic pails with their shiny titanium look for this premium products line. The striking visual appearance helps the products easily communicate each paint feature to customers and give an outstanding look to the whole product family when put on store shelves. Judges Observations: This attention-grabbing label is even more impactful when multiple SKUs create a billboard effect. The metallized film and graphic design of this label elevate a commodity product above the crowd. Taking the use of metallized film to the next level, the label is a beacon on the shelf. Registration is spot-on and stunning.
The 2018 IMDA Awards will be presented to the winners at the 2018 IMDA Symposium, November 12, 2018, Rancho Bernardo Inn, San Diego, CA, USA. This email address is being protected from spambots. You need JavaScript enabled to view it.