Published: April 19, 2018
BENNINGTON, NH | Monadnock Paper Mills, a family-owned manufacturer of specialty papers for the technical, packaging, and printing markets, introduces Envi 96 Label. Envi 96 is described as a brilliant white, durable, Forest Stewardship Council Certified, wet strength label stock ideal for beverage and other consumer packaged goods labeling applications.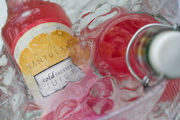 The product is engineered to withstand the rigors of print and postpress processes, through the bottling line, onto the shelf or cooler, and finally into an ice bucket. Envi 96 is suitable for embossing, foil stamping, and intricate die-cutting, and reportedly the brilliant white surface will make labels pop on a crowded store shelf.
"In response to demand from our customers, we created this brilliant white, high-performance label stock," says Richard Verney, chairman and CEO of Monadnock. "We are pleased to offer yet another sustainable option from our EnviPortfolio of label substrates.
This email address is being protected from spambots. You need JavaScript enabled to view it.