Published: March 29, 2018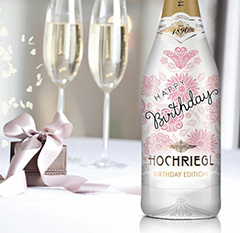 MASON, OH | Multi-Color Corp. has created a writeable label for Hochriegl, a top quality sparkling wine brand from Austria. Hochriegl is said to offer a precious taste experience for any occasion, a tradition that started in 1890.
The brand has proven its innovative power once again by introducing Hochriegl's "Happy Birthday" edition. Multi-Color Germany printed this special edition, shrink sleeve label using a gravure process with nine colors and glossy metal-effect inks. The incorporated Iriodin pigments create a decorative color effect on the 50 μm sleeve, which varies depending on the transparency, refractive index, and coating.
The label even includes a personal birthday congrats for the recipient. Consumers may write an individual name in the personal labeling field at the front, which makes this novelty edition a perfect birthday gift or bring along beverage – for the family, colleagues, friends or acquaintances.