Published: January 24, 2018
BARRINGTON, IL | Grafotronic offers the new SCF Super Compact Finishing machine, a fully servo driven machine for the finishing of digitally printed labels. The machine is described as a compact version of the company's converting lines. Reportedly, despite a very compact design and smaller footprint, it can still finish most digitally printed jobs.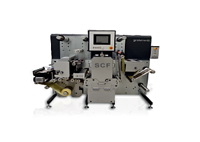 Web width is 14 in.; speed is 147 fpm. Machine features a full rotary servo drive of 500 fpm, maximum unwind of 24 in., and maximum rewind of 24 in.
This email address is being protected from spambots. You need JavaScript enabled to view it.