Published: December 14, 2017
STOW, OH | Mactac Performance Adhesives Group is expanding its revolutionary CHILL AT all-temperature label product line with the addition of two new product constructions. The two new product line additions—EDP7812 and AJR7802—are said to be ideal for short-term, indoor labeling needs and to excel in cold temperatures.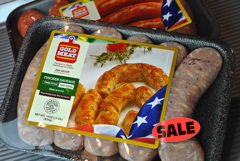 EDP7812 is a premium 50# uncoated EDP product that is bright, white, and smudge-proof. It is said to offer outstanding print quality for both impact and continuous feed laser printing, and its 50# Super Calendared Kraft (SCK) liner makes it ideal for pin-hole punching, die-cutting, stripping, label dispensing, and fan-folded applications. It is most commonly used in shipping, cross docking, and bar code labeling, product identification, cold storage labeling, and warehouse labeling.
Company says AJR7802 features a bright red fluorescent facestock and is ideal for flexographic and continuous feed laser printing. Called an optimal solution for fragile, caution and danger labeling, rejected material labeling, do not double stack labeling, discounted or reduced cost merchandise labeling, inspection labeling, hot rush labeling, and keep refrigerated labeling. Features a semi-bleached 40# SCK liner that is said to be excellent for die-cutting, stripping, and label dispensing. Designed primarily for roll-to-roll applications, the entire product construction of AJR7802 coverts and prints on wider webs and higher speeds than typical rubber-based adhesive-coated papers, adds company.
"We are excited to announce the launch of EDP7812 and AJR7802 to our growing CHILL AT all-temperature label line," says Allie Braham, marketing manager, Mactac Performance Adhesives. "With such a versatile temperature range, CHILL AT products offer customers numerous highly advantageous performance characteristics—especially in harsh environmental conditions—and meet more application needs with less inventory. The addition of the new CHILL AT solutions will help our customers further excel in their businesses.
This email address is being protected from spambots. You need JavaScript enabled to view it.