Published: October 31, 2017
RAMSEY, NJ | Konica Minolta recently announced the AccurioLabel 190 full-digital toner press for Europe that was developed and manufactured in cooperation with Danish company Grafisk Maskinfabrik (GM). Shipping is expected to start in December. Elsewhere in the world, the winders will still be provided by established partner Miyakoshi for Konica Minolta's label systems.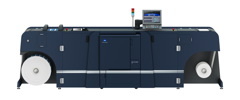 The company says its label press systems fill the gap between entry-level and high-end digital printing presses and converters benefit from its ease of operation, production flexibility, fast turnaround, and variable data printing capabilities, as well as world-class support and service.
The AccurioLabel 190 is said to be easy to operate and to benefit from stable color consistency and 1,200x1,200-dpi offset-style quality. No pre-coating is required. The new machine for Europe comes with a web guiding system as standard. Press can work as an in-line-finishing solution together with the GM DC330Mini or the two devices can work as stand-alone solutions. Features Impose software which reportedly provides a fast and efficient imposition of label.
Reinforcing the strategic alliance between MGI Digital Technology and Konica Minolta, the two companies recently launched the digital embellishment press JETvarnish 3Dweb for label and flexible packaging, including shrink film. The digital inkjet press produces in-line flat and 3D spot UV coating, 3D embossed varnish textures, and flat and embossed foil effects. The full solution also includes a flexo priming station for uncoated material surface management and a semi-rotary die-cutting system at the end of the production for an all-in-one production.
Charles Lissenburg, general manager, Professional Print Division, Konica Minolta Business Solutions Europe, says, "We are extremely proud of just how far we have come in a short space of time since entering the labels market. Our proven digital toner technology is used extensively at customer sites across the globe and is backed by world-class service and support that is provided locally, along with delivery of parts and consumables. Finishing is provided on- or off-line."
He adds, "Two years ago—after carefully screening and listening to the market—we introduced a system that had real unique selling points and thus created new business opportunities for our growing customer base, which now covers more than 100 sites globally. We have listened carefully to their feedback, which has really helped shape our ideas and thinking. The new AccurioLabel 190 takes us on to the next stage of our development as a serious player in the industrial markets."