Published: June 19, 2017
LONG BEACH, CA | Epson America reports it has achieved record sales of the SurePress L-4033AW and L-6034VW digital label presses for the fiscal year ending April 30. The company and its global affiliates continued its record-breaking momentum with more than 250 SurePress units installed worldwide.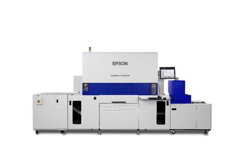 "Between the continued momentum of the SurePress L-4033AW and the addition of the SurePress L-6034VW, this just-ended fiscal year was record-breaking for Epson's digital label presses," says Victor Gomez, group product manager, Label Products, Epson America. "The demand for the new SurePress L-6034VW is a testament to the need for a press that delivers excellent print quality and flexibility. Not only is this sales achievement a great win for Epson, it is also a win for our customers that rely on Epson to deliver their customers with high quality, consistent, and repeatable labels."
Company says the SurePress L-4033 and L-6034 digital label presses deliver industry-leading precise quality with extraordinary flexibility and exceptionally accurate color reproduction, providing pre- and postpress versatility to meet the demand of various labels and package printing needs.
Designed for prime label converters and commercial printers, the SurePress L-4033AW is said to be an easy-to-operate seven-color inkjet digital label press with white ink that makes high quality label printing easier and more efficient, even on clear and metallic substrates.
The SurePress L-6034VW is the company's first single-pass industrial press, the first to use its PrecisionCore linehead technology, and the first to use low migration LED UV curing ink. It reportedly delivers precise quality and high-speed printing ideal for jobs across all industries, including health and beauty, nutraceuticals, and food and beverage, as well as standard consumer packaged goods.