Published: June 13, 2017, By Yolanda Simonsis
The In-Mold Decorating Assn. names the winners of its 2017 IMDA Awards competition with submissions spanning the commercial gamut from food to industrial, as well as a glitzy crystalline prototype.
The In-Mold Decorating Assn. (IMDA), Phoenix, AZ, gives tribute to the 2017 winners of its annual IMDA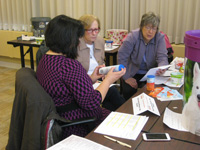 Awards competition, spanning from food, to industrial to glitz 'n' glam. This year's winners, as in the past, continue to raise the bar of in-mold decoration to advance its awareness and acceptance by OEMs, brand owners, and marketers.
The judging panel this year included Linda Casey, editor-in-chief of Package Design Magazine; Hallie Forcinio, packaging journalist of Forcinio Communications; and Yolanda Simonsis, editorial director of Paper, Film & Foil Converter.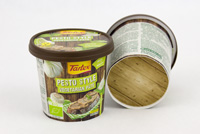 Best of Show & Best Injection Molded (IML) Package, Gold Award
This year found a Vegetarian Paté as one small but mighty submission, winning both in its category as well as the coveted Best of Show category. This plastic package connotes natural flavor with a graphic design and shape that mimics a wooden barrel. The design is conveyed via barrier in-mold labels that deliver more than premium graphics with strong shelf appeal. Judges appreciated that the IML also delivered high barrier properties that work in concert with the plastic package to provide a shelf-stable paté product that is good for a full year.
Tartex brand's line of 100% plant-based, meat alternative spreads uses a specially designed PermaSafe IML package from Sonoco. The solution combines maximum convenience and long shelf life with an eye-catching appearance at the point of sale. Allos Hof-Manufaktur produces the organic "Brotzeit" spreads at the company's site in Freiburg im Breisgau, Germany. Sonoco worked in close cooperation with Allos Hof-Manufaktur to develop a customized packaging solution designed to be user friendly and resealable. The label, supplied by Rahning GmbH, features a special matte finish developed by Sonoco for a natural, paper-like feel. These qualities underscore the naturalness of the product and give it an appetizing appearance. After sterilization, the spreads have a twelve-month shelf life without refrigeration, providing a modern and consumer-friendly alternative to metal cans.
Best Injection Molded (IML) Package, Silver Award
Vibs & Wöw Oxo IML Container SuperLock Pots
Submitted by: RPC Superfos Pamplona
Brand owner: Cool Vega
Molder: RPC Superfos Pamplona
Label supplier: Korsini-SAF
This packaging solution is a combination of an injection and autoclave-resistant, oxygen barrier IML labeled pot and injection molded twist lock system lid decorated with a standard IML label. The system's most important features are threefold: the autoclave-resistant oxygen barrier properties that protect the product's organoleptic characteristics, the pot´s transparency that shows the natural and fresh product´s quality at the final sales point, and the easy opening and closing system for the end user.
Convenience food products are said to stay fresh far longer in the RPC's SuperLock pot. The combination of Korsini-SAF's autoclave resistant oxygen barrier IML on all surfaces and a membrane seal with O2 barrier properties reportedly ensures an almost non-existent oxygen transmission rate. By using RPC Superfos' plastic packaging with Korsini-SAF's In-Mold labeling, the product can be fully branded on all surfaces for an attractive appearance. Increased shelf life is said to make this package competitive with products in glass jars.
Best Injection Molded Durable (IMD) Part, Gold Award
Telescopic Cylinder Cover for Industrial Trucks
Submitted by: Guarnitec SRL
Brand owner: Hyva
Molder: Guarnitec SRL
Label supplier: Korsini-SAF Italy
This IMD part is a dust cover for front-end telescopic cylinders used on industrial trucks. HYVA required a replacement for the older silk screened lesser quality print labels with a more attractive resistant cover, made to withstand extreme weather conditions in combination with superior UVA and abrasion resistance. Molder Guarnitec SRL solved this challenge by making the cover visually more attractive with Korsini 's two-layer high resistant label, adding a strong reflecting silver band behind the logo. The end result is claimed to include increased visual and functional quality with decreased production time.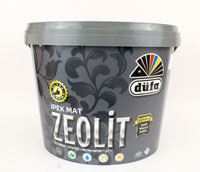 Best Label Design, Gold Award
Judges felt this is not your standard paint bucket for mineral paint. They felt everything about it is unusual, starting with its well balanced industrial-size oval shape and integrated handle that's easy to hold for larger hands. While graphics are simple, judges felt they're also elegant in shades of gray with spot UV coating that adds to the premium quality complemented by an artistic burst of color.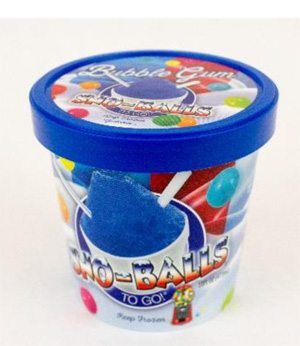 Best Label Design, Silver Award
With so many years of experience and expertise in optimizing and developing packaging, Berry Plastics suggested IML packaging to brand owner Sno-Balls as an alternative to their previous packaging. The result is an IML package that reportedly exceeded Sno-Balls' wildest dreams: Their product stays in perfect condition in the freezer and the contrasting IML labels from Verstraete IML attract attention on store shelves. Matte IML gives the packaging a matte and natural look, while UltraGloss IML provides a high-gloss finish that intensifies the colors. The contrasting combination of the look and feel options highlights the details in the artwork of the IML label.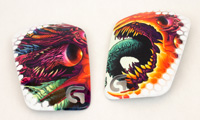 Best Part Design, Gold Award
The Sideplate is an interchangeable insert for the right and left sides of Logitech's Artemis Spectrum wireless surround-sound gaming headset. It can be switched out by the consumer, providing literally endless possibilities for customization and branding with maximum flexibility. New graphic designs can be produced by switching out labels without so much as a tool or resin change and can be on store shelves in just weeks to coincide with game launches. Manufactured to exacting tolerances to fit the curve of the headset, the Spectrum Sideplate featuring ZoMazz Digital-IMD graphics gives the brand owner and the consumer maximum flexibility to customize with a minimum investment of resources.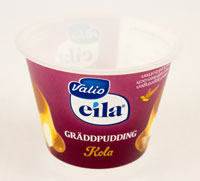 Best Part Design, Silver Award
Eila Lactose-Free Panna Cotta
Submitted by: Verstraete In Mold Labels
Brand owner: Valio Ltd
Molder: RPC Superfos
Label supplier: Verstraete In Mold Labels
The Finnish leading dairy producer Valio Ltd. presented a lactose-free panna cotta in a specially developed package that allows the consumer to serve this dessert quickly and attractively. A new customized pot with a convenient click-and-push feature at the bottom was developed by packaging company RPC Superfos. Valio was looking for premium quality and opted for an IML decoration. The IML labels of Verstraete IML are reported strong, hygienic, and resistant to moisture and extreme temperature fluctuations.
Best Product Family, Gold Award
Pauluns & Lovemade Oxo IML Container SuperLock Pots
Submitted by: RPC Superfos Besancon
Brand owner: Orkla Food
Molders: RPC Superfos Besancon
Label Supplier: Korsini-SAF
Premium baby food and soups are packed in plastic packaging solutions with oxygen barrier protection thanks to RPC Superfos' re-closeable SuperLock solution. This packaging solution provides an ambient shelf life of up to 24 months and is suited for a wide range of products, including baby food, ready meals, soups, sauces, nuts, jams, vegetable spreads and pickles. The SuperLock solution in combination with Korsini-SAF's autoclave-resistant oxygen barrier labels allows for post filling sterilization up to 120-deg C for 80 minutes, decoration flexibility, and prolonged shelf life, all providing an advantage for commercial purposes.
Options include the ability to have decorations made anywhere on all surfaces and also permit leaving empty space for transparency. The end-user reportedly gets the visual impression and feel of glass as well as all the advantages of plastic. This allows product placement in retail stores under ambient temperatures alongside competing products sold in glass. And like glass products, the pot can be re-used at home multiple times, adding value to the product.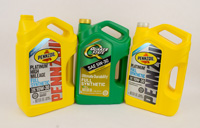 Best Product Family, Silver Award
Product differentiation in the automotive lubricants space is an important tool in validating price point comparisons among multiple product offerings. During a global bottle re-launch the brand owner decided to use a single bottle color for all their individual brands' product grades in the North American market, which made the decoration a critical component in communicating product line differentiation. WS Packaging's In-Mold labeling provided an aesthetically superior look, and this metallized in-mold label was chosen for the flagship brand's top-of-the-line product because its visual appeal reflects a premium image for a premium product.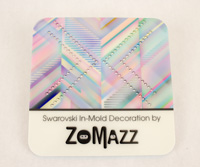 Best Prototype Part, Gold Award
The ZoMazz Crystal Coaster began life as a proof-of-concept part to demonstrate the company's ability to incorporate crystals from Swarovski (through an exclusive partnership with the Austrian crystal manufacturer) into the ZoMazz Digital-IMD process. Utilizing a clear film with crystals attached to the molded side allows for the secure display of crystals, as well as the appearance of different colored crystals based on the imaged color of the clear film. Proprietary crystal placement/adhesion technology, combined with the ZoMazz Digital-IMD process, results in an eye-popping yet durable decoration that's claimed suited for any brand or product.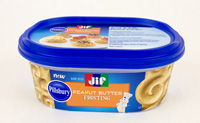 Best Thermoform IML Package, Gold Award
Submitted by: Verstraete In Mold Labels
Brand owner: J.M. Smucker
Molder: Tech II
Label supplier: Verstraete In Mold Labels
As a leader in the consumer packaged goods industry, J.M. Smucker partnered with Tech II and Verstraete IML to launch a new Pillsbury Peanut Butter/Chocolate Frosting product. Utilizing Tech II's uniquely shaped Apollo thermoform in-mold labeled (T-IML) container, this package provides visibility of the product, an oxygen barrier layer to increase product shelf life, picturesque graphics, and is fully recyclable.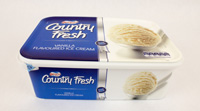 Best Thin Wall Package, Gold Award
Country Fresh Ice Cream Package
Submitted by: Verstraete In Mold Labels
Brand owner: Dairymaid
Molder: Dairypack Tubs
Label supplier: Verstraete In Mold Labels
Plastic packaging producer Dairypack Tubs, a div. of Polyoak Packaging, joined forces with Verstraete IML for the development of the new Dairymaid ice-cream packaging. The new Country Fresh IML packaging is considered the first ice-cream packaging in South Africa with an IML label that covers the entire lid. The efficient stacking of the new IML packaging is claimed to make transport more stable. Additionally, thanks to advanced injection molded technology, the packaging is said to weigh 10% less than conventional packages, reducing the ecological footprint. The new IML packaging reportedly gives the Dairymaid Ice-Cream attention on the store shelves.
For more information on the In-Mold Decorating Assn. and this competition, visit: www.imdassociation.com.
This email address is being protected from spambots. You need JavaScript enabled to view it.