Published: March 23, 2017
WIGTON, CUMBRIA, UK | Innovia Films reports the launch of RayoForm ICU, a new in-mold label film produced using company's bubble process and said to offer exceptional clarity to showcase brands and products.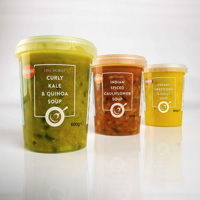 Richard Southward, global product manager, labels, says, "There is a continued trend towards clear containers. Brand managers favor them because they allow consumers to see the nature, quality, and color of their products before purchase. Clear containers also allow brands to enhance their on-pack branding and offer greater shelf impact."
RayoForm ICU is also said to maximize printing and molding performance and efficiencies. Company says print trials have shown ICU can readily exceed industry standards for sheets per hour, and the films' balanced mechanical properties offer potential SKU reduction as sheets can be sheet-fed in multiple directions. For the molder, RayoForm ICU reportedly offers increased productivity through faster label handling, enhanced container shape retention, and more efficient stacking.
Adds Southward, "RayoForm ICU is currently available in thicknesses of 58 micron/230 ga. We are already seeing a lot of interest in this new product and are happy to provide trial rolls to prove its excellent performance."
This email address is being protected from spambots. You need JavaScript enabled to view it.