Published: January 04, 2017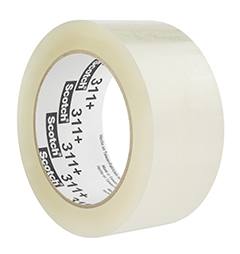 ST. PAUL, MN | The chilly environments for packaging palletized shipments in the food and beverage industries are necessary to preserve perishable goods, but low temperatures can hinder the adhesion of box-sealing tapes. The latest innovation from 3M for a broad range of temperature applications is Scotch Box Sealing Tape 311+, which is specifically designed to tightly seal highly recycled corrugated boxes.
Scotch Box Sealing Tape 311+ is an industrial packaging tape for box sealing, splicing, recouperage and other demanding packaging applications on light to medium weight boxes. The tack and adhesion of most other tapes fails when temperatures drop to 40ᵒF. Scotch Box Sealing Tape 311+ maintains superior hold and adhesive performance in application temperatures +20ᵒF to + 150ᵒF, and operating in -30ᵒF to +150ᵒF, to keep boxes tightly sealed.
Kaveh Faghihi, US marketing manager, says, "We believe this innovative tape will be the new staple for sealing highly recycled corrugated boxes." When this tape was applied in shipping plants nationwide under varying climate conditions, the tape exhibited consistently high performance in both cold and damp environments. Its new colors help to quickly identify the product throughout the distribution channel.