Published: November 30, 2016
BARRINGTON, IL | Grafotronic offers the Wasberger Label Equipment Easy Finishing 13-in. EF 330 unit featuring a UV lamination station with a heavy-duty waste unwind, high-efficiency UV curing, and a core holder with a fully expanding periphery for maximum holding power.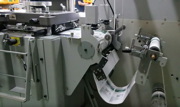 The operator master control panel is said to include a state-of-the-art touch screen design and simple access and control of all press functions. Also includes a robust flexo printing station for better control over varnishing or coating materials.
Optional is a flat-bed hot-foil embossing system, reported to have very accurate register due to combination of multiple steps on one single tool.
This email address is being protected from spambots. You need JavaScript enabled to view it.