Published: September 29, 2016
MENTOR, OH | Avery Dennison Label and Packaging Materials (LPM) reports the introduction of High Performance Primax and FasClear, fully conformable film innovations created for challenging bottle shapes, irregular containers, tubes, or wherever a larger billboard is desired.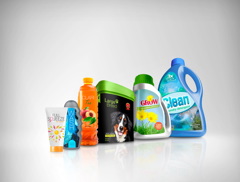 Engineered for larger or complex label designs, High Performance Primax and FasClear reportedly give users a durable, flexible facestock and a lower total applied cost across the value chain.
Kevin Rinehart, Films marketing director, says, "High Performance Primax and FasClear not only build on the reliability of our legacy Primax and FasClear products but incorporate years of customer feedback to provide the greatest possible functionality and versatility for manufacturers, converters, and brand owners alike."
Company says the films are machine direction oriented films, providing a balance of rigidity and conformability that deliver the widest possible operating window for less waste, less packaging line disruption, faster run speeds, and faster time to market.
Plus, when combined with company's ClearCut adhesive technology, the resulting construction is said to offer exceptional clarity and reduced downtime, eliminating the problem of adhesive buildup on press and dispensing equipment.
Films are said to be well suited to applications in Home and Personal Care, Beer and Beverage, Food, Industrial, Lawn and Garden, Wine & Spirits and Durable Goods markets, and to provide the following attributes:
Improved esthetics and durability
Better ink adhesion, enabling the use of high-intensity inks and high-definition printing
Improved productivity
Material reduction
Greater sustainability.
This email address is being protected from spambots. You need JavaScript enabled to view it.