Published: August 25, 2016
NOTTINGHAMSHIRE, ENGLAND | Impression Technology Europe (ITE) will launch the Eclipse DC 220 ST (Shuttle Type) label cutter at Labelexpo Americas 2016, September 13–15, at the Donald E. Stephens Convention Center, Rosemont, IL.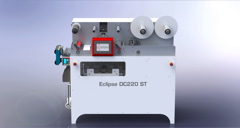 Company reports features include web tensioning, web guidance, a crush cut slitting system, state-of-the-art servo control with ease of use, and dual reversible label rewind devices.
ITE director Roy Burton says, "Every year we are innovating in the digital finishing space, and 2016 is no exception. There are many gaps in the finishing market where clients are not able to access the machinery that they actually need for their business due to budget and return on investment, and our mission since 2011 has been to design finishing machines that fit what certain market segments require, not vice-versa. I'm really pleased to welcome this new addition to complement our existing range of label cutters.
This email address is being protected from spambots. You need JavaScript enabled to view it.