Published: August 22, 2016
MENTOR, OH | Avery Dennison reports the launch of TT Sensor Plus, said to be a simpler, more reliable, and cost-effective way to track temperatures during a product's supply chain journey. TT Sensor Plus uses the latest temperature data logging technology to provide brand owners the ability to collect data regarding the temperature ranges their goods are subjected to during shipping. These analytics allow them to know if the item's quality has been compromised.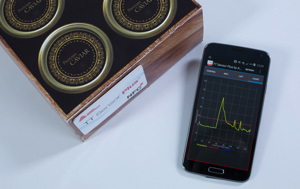 This credit-card sized label can be adhered to or placed inside a shipping package. Its sensor logs temperature data at regular intervals and stores that data in an embedded Near-Field Communication (NFC) chip powered by a built-in battery. The data is accessible at any point in the journey. A user can simply tap the label with an NFC-enabled Android smartphone or tablet loaded with company's free, purpose-built app.
The new product is intended for use with products such as pharmaceuticals, food and beverage, chemicals, and polymers. Company says it offers significant advantages over bulky, device–style data loggers commonly used to monitor temperatures with these products and is simple to use, requiring no specialized training. Also, because sensor is intended for one-time use, brand owners can avoid the cumbersome return process associated with data loggers and avoid extra costs related to non-return of those devices.
Product can be adhered to either the inside or outside of packaging to help users understand the temperatures not only within the packaging but within trailers, distribution centers, and other supply chain environments.
"TT Sensor Plus has a very desirable form factor," says Mary Greenwood, director of new technology and business development, Avery Dennison. "Its size and simplicity means it can be placed on or inside of cartons of various sizes and used to easily track temperature data throughout the supply chain. These are benefits that we believe will be very attractive to the food, pharmaceutical, and other industries. It really is a 'smart solution,' using innovation to do a job better."
This email address is being protected from spambots. You need JavaScript enabled to view it.