Published: June 01, 2016
STELLENBOSCH, SOUTH AFRICA | Distell brand Savanna is one of the world's largest selling ciders and South Africa's leading cider export, available in more than 60 countries. After 18 years, the Applied Ceramic Label (ACL) decorated pack required an upgrade. Constantia Flexibles, South Africa, was tasked with converting the bottle decoration from ACL to a pressure-sensitive label (PSL), while maintaining the same level of tactility.
Initially, Constantia's challenge was to achieve the correct tactility while maintaining a consistent roll profile, in order to accommodate the high-speed applicators. After extensive testing, the technical team was able to identify a suitable tactile height, combined with high quality visuals.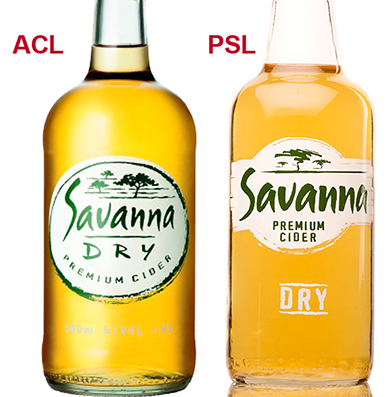 Distell's Tania Kotze says, "The move from ACL to PSL improved the overall tactility of the label. The green ink also appeared to be much fresher when compared to ACL inks. Furthermore, PSL label application allows the brand to be more flexible within the supply chain as well as promotional designs."
The Constantia team was closely involved with the label development from inception. A single label was proposed for the front of the bottle but, after research and development, the option for two labels was favored. The main front label is refined with a clean finish. The small, lower base label isolates the variant name, which allows it to stand out more prominently.
Simultaneously to this project, Distell tasked Constantia with migrating its popular brand of Hunters from paper to PSL. The implementation of this project was very successful, moving eight brands into PSL without any inconvenience to the business.