Published: March 23, 2016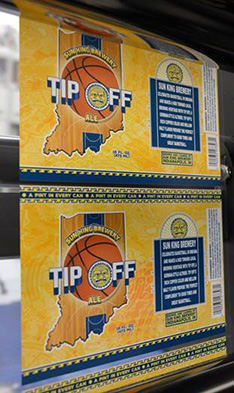 BOWLING GREEN, OH | Enabled by HP Indigo digital printing technology, Century Label is helping microbreweries produce unique seasonal shrink sleeves that stand out on store shelves. Using three HP Indigo WS6800 Digital Presses and HP SmartStream Mosaic technology, the company is able to produce the vast majority of labels and packaging jobs with customization and proven quality embraced by the world's leading brands.
Most recently, Century Label partnered with Sun King Brewery to produce customized shrink sleeves for its Tip-Off Ale, a seasonal craft beer that debuted at the Indiana Pacers' home opener. Featuring commemorative blue-and-gold basketball-themed graphics, a basketball court cut in the shape of Indiana, as well as the Sun King Brewery logo, the label was designed as a tribute to the Pacers and Sun King Brewery's community's love of basketball.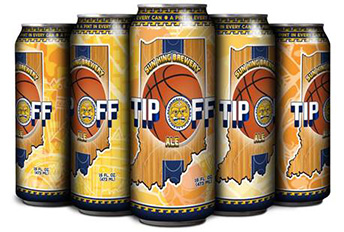 HP SmartStream Mosaic enabled each individual can to feature a different background design.
"We have a focus on creating seasonal and unique specialty beers, and part of our legacy is developing creative labels that demand attention," said Elizabeth Belange, marketing and promotions director, Sun King Brewery. "Our relationship with Century Label and the quality they deliver with HP Indigo digital printing technology has enabled us to highlight our partnership with the Pacers and celebrate Hoosiers' love of basketball."
Using HP Indigo WS6800 Digital Presses, Century Label produces full-color personalized labels without plates, significantly reducing the cost of short-run printing for seasonal labels and packaging needed by microbreweries.
Century Label also can produce the exact quantities needed, when they are needed, helping Sun King Brewery and other microbreweries avoid inventory costs.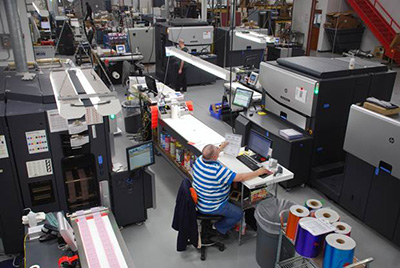 "We have a solid infrastructure of equipment and people to keep growing in our core products and services, including shrink sleeves, while expanding into new markets, such as flexible packaging," said Heidi Chambers, director, Century Label. "With our HP Indigo WS6800 Digital Presses, we are perfectly poised to grow our business and offer exciting new programs, such as Speedy Sleeve, which will provide full-color shrink sleeves to customers within three days."