Published: February 09, 2016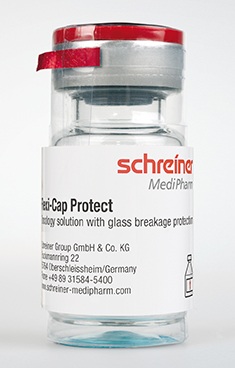 BLAUVELT, NY | Schreiner MediPharm, a Germany-based global provider of specialty pharmaceutical labeling solutions, will introduce its new Flexi-Cap Protect to the US market at INTERPHEX NYC (Booth No. 1053), April 26-28 at the Jacob Javits Center. In addition to the combined label-and-cap combination utilized in the original Flexi-Cap, the new product employs an additional cap that protects the bottom of bottles or vials against glass breakage and surface contamination.
Flexi-Cap Protect works as follows: In addition to the cap which covers the closure and upper part of the container, a second cap is added to protect the bottom and lower part. Both caps are affixed to the container using a label, which can optionally be provided with an integrated foam layer to provide further protection against lateral impact. Consequently, the container's surface is completely protected.
Another important aspect of Flexi-Cap Protect is that its label and two caps are applied without heat, so that the medicine's properties are not impaired. In addition, the upper cap offers space for imprinting warning notices, codes for track & trace systems, or integrating NFC inlays for interactive applications.
Flexi-Cap Protect was initially developed to contain cytostatics—highly potent substances that combat cancer cells but are extremely toxic for healthy cells. Therefore, it is imperative to protect packaging against surface contamination and glass breakage. Despite sophisticated advances in the filling and packaging processes for such caustic pharmaceuticals, contamination of primary packaging cannot be completely avoided, and breakage of the glass containers that house them can have serious consequences.
Of course, Flexi-Cap Protect also offers the anti-counterfeiting benefit of its predecessor. Like the original Flexi-Cap, Flexi-Cap Protect comprises a film cap positioned over the closed container. The label is applied without covering the peel-open tab of the opening strip. Once the strip is opened, the bottom part of the cap, together with the label, remains attached to the container. Attempting to remove the rest of the cap destroys the label, eliminating the possibility of unnoticed illegal reuse. Flexi-Cap enables flexible use with different container types, forms and sizes.
"Flexi-Cap Protect guards pharmaceutical manufacturers and medical professionals against possible contamination and, in the case of harsh cytostatics, physical harm," said Gene Dul, president of Schreiner MediPharm US. "With both benefits, Schreiner MediPharm's goal is the same: to reliably maintain the integrity of the primary packaging."
This email address is being protected from spambots. You need JavaScript enabled to view it.