Published: February 02, 2016
ST. LOUIS, MO | Rotoflex, a supplier of inspection, slitting, rewinding, and die-cutting equipment, has released Vericut3, the next generation of its off-line finishing solution for digital and conventional printed web.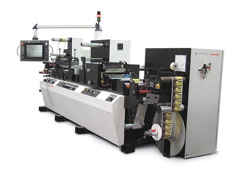 Company says the new Vericut3 is 100% servo-driven for precise tension control and flexibility, from unwind to rewind and all print and die-cut units in between, including the matrix removal unit. Motorized roll lift, innovative URC 2.0 proprietary control system featuring the exclusive Report Management System (RMS), and biometric log-in offer advanced operation and control. In addition, the redesigned unit features what is said to be an efficient web path for reduced set-up waste, a motorized capstan, and optimized operating speeds.
Reportedly, the new version has sophisticated motion control technology and delivers high accuracy and precision for many off-line applications and processes. Design is said to reduce material waste through the automated die-cutter and flexo unit setup and addresses inspection rewind requirements to maximize digital workflows, accommodate shorter runs, and reduce costs. A variety of optional processes can be added, including lamination, hot and cold foil, screen, and coatings.
This email address is being protected from spambots. You need JavaScript enabled to view it.