Published: November 24, 2015
AMSTERDAM, THE NETHERLANDS | AWA Alexander Watson Associates (has issued two new surveys covering the Asian label and product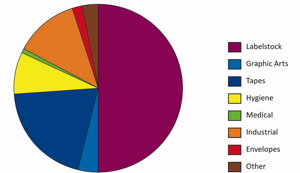 decoration market, and the parallel release liner market. AWA says the developing profile of this regional market is a current major focus around the world, as third quarter Chinese market growth, at 6.9%, continues to slow.
AWA Asian Labeling and Product Decoration Market Study 2015 provides detailed analysis of markets, materials, and technologies—pressure-sensitive/self-adhesive, glue applied, sleeving, and in-mold—and key trends and drivers. It also delivers market forecasts to 2019.
AWA Asian Release Liner Market Study 2015 analyzes the same region in the broader context of release liner, which spans many more market segments. It assesses market size, growth, material trends, and the changing market structure across all the main segments, from p-s/self-adhesive labels through tapes, hygiene, medical, graphics, industrial, and other applications.
Both studies finish with a regional supplier directory, complete with up-to-date company profiles, said to add easy-access contacts for study users who are considering, or already active, in the region.
These two new studies will shortly be complemented with a third report with an Asian focus, AWA Asian Extrusion Coated Materials Market 2015.
This email address is being protected from spambots. You need JavaScript enabled to view it.